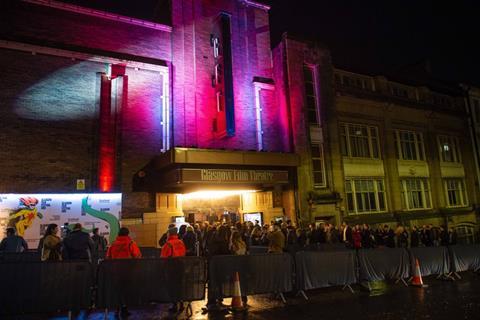 The Glasgow Film Festival (GFF) has abandoned plans to host a hybrid event next month and will instead shift entirely online due to ongoing Covid-19 restrictions.
The 17th edition of the festival was set to physically screen titles in Glasgow as well as 23 partner cinemas around the UK, opening on February 24 with Lee Isaac Chung's awards contender Minari and closing with Suzanne Lindon's Spring Blossom on March 7.
But with cinemas across much of the UK remaining closed due to lockdown restrictions, festival organisers have taken the decision to move all activity to its new online platform, Glasgow Film At Home.
Allison Gardner, Glasgow Film CEO and co-director of Glasgow Film Festival, told Screen: "It's not going to be the same experience but it will still be a great experience. We're hoping to bring the same friendly vibe and we have a beautifully curated programme."
The full line-up will be revealed on January 14 and will comprise around 50 films, "mostly UK premieres at a minimum," said Gardner.
Distributors had already agreed for these titles to be made available online as part of the hybrid festival so the programme largely remains the same, with details to be confirmed at next week's launch.
The festival has also agreed to split online takings 50-50 with filmmakers, sales agents or distributors. "That's putting money back into the film business," said Gardner. "So, if audiences buy a film from us, they're not only supporting a not-for-profit educational charity like GFT (Glasgow Film Theatre) but also the filmmakers directly."
Gardner added that the 23 partner cinemas in Scotland, England, Wales and Northern Ireland are being approached to help promote the festival and films during the event and are in discussions to screen key titles when theatres reopen under the banner GFF on Tour in late Spring.
Many of the virtual screenings will also include filmmaker Q&As, with plans to schedule live-streamed conversations as well as pre-recorded discussions.