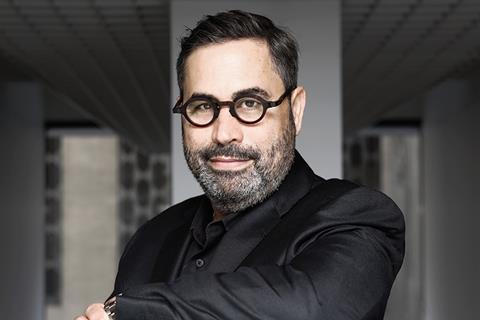 The line-up of industry events for the 63rd BFI London Film Festival (LFF) has been unveiled, with names including FilmNation's Glen Basner, Wild Bunch co-founder Vincent Maraval, Fox Searchlight co-chairmen Nancy Utley and Stephen Gilula, and Mariette Rissenbeek, who took over as executive director of the Berlinale last year.
Highlights include a series of conversations with leading film executives. Glen Basner will be in London on Oct 3 to talk with BFI deputy chief executive Ben Roberts about FilmNation's work to date and its expansions into different mediums.
Dede Gardner and Jeremy Kleiner, co-presidents of US production outfit Plan B Entertainment (Moonlight), will deliver a talk on Oct 4 focused on championing new voices and supporting stories that matter.
Vincent Maraval, co-founder of Wild Bunch, will discuss the future of European cinema, including how the emergence of the new streaming platforms is good news for arthouse cinema and theatrical distribution (Oct 11).
Nancy Utley and Stephen Gilula will reflect on 25 years of Fox Searchlight in the context of independent film production and distribution on Oct 4.
Filmmakers delivering Screen Talks this year include Rian Johnson (Knives Out), Kim Longinotto (Shooting The Mafia) and Lukas Moodysson (Gösta).
There will also be a series of agenda-setting conversations, bannered as The Big Pictures, on topics including sales, distribution, festivals and high-end TV. Screen International will host the sales discussion on October 9 with Ryan Kampe, President, Visit Films; Thania Dimitrakopoulou, head of sales, Match Factory; Dave Bishop, CEO, Protagonist Pictures; and Sebastien Beffa, partner, Playtime.
For the first time this year, the LFF will be partnering with Facebook at the social media giant's London HQ for a day of industry sessions focused on how to reach audiences in the digital age.
The Film London Production Finance Market, held annually during the LFF, will run Oct 7-8.
Also running Oct 8 is an LFF distribution and sales market that will see 200 meetings programmed distributors, film buyers and international sales agents.
As part of LFF's emerging talent focus, the festival will provide delegate passes to Screen's 2019 Stars of Tomorrow, and will also host a reception with the British Council to facilitate networking between first and second time filmmakers playing this year's LFF and the Stars.
"This year's LFF industry programme tunes into the fact that the film, TV and wider screen industries are experiencing huge global change, and that UK businesses are continuing to seek international collaborations despite uncertainty. We wanted to offer a platform for urgent conversations about those industry changes, and how we are adapting," said Tricia Tuttle, BFI London Film Festival director.