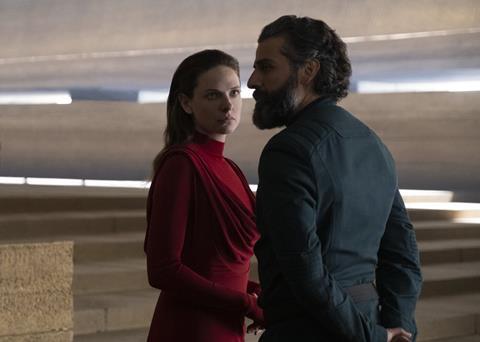 Worldwide Box Office September 24-26 2021
| Rank | Film (Distributor) | 3-day (World) | Cume (World) | 3-day (Int'l) | Cume (Int'l) | Territories |
| --- | --- | --- | --- | --- | --- | --- |
| 1 | Shang-Chi (Disney) | $27.2m | $363.3m | $14m | $166.9m | 45 |
| 2 | Dune (Warner Bros) | $26.3m | $76.5m | $26.3m | $76.5m | 32 |
| 3 | Cloudy Mountain | $10.5m | $58.2m | $10.5m | $58.2m | 1 |
| 4 | Free Guy (Disney) | $9.2m | $317.4m | $5.1m | $203.3m | 49 |
| 5 | Dear Evan Hansen (Universal) | $7.5m | $7.5m | n/a | n/a | 2 |
Credit: Comscore, all figures estimates
'Dune' hits $76m
UPDATED: Warner Bros and Legendary's Dune delivered a strong second session in its early wave of international markets, grossing a confirmed $26.8m from 32 territories, including eight newly opened smaller countries. In the 24 holdover markets, the decline from the opening session was a slim 32%. Total after two weekends of play is $77.8m.
Dune has yet to release in many major international markets – such as China, UK/Ireland, Japan, Mexico and Brazil – rendering invalid simple comparisons with headline numbers for other titles after two weekends of play.
However, in like for like markets, and at the same stage of release, Dune is 49% ahead of Black Widow and 64% ahead of Shang-Chi And The Legend Of The Ten Rings, advises Warner Bros on background.
Among the new territories, United Arab Emirates opened with $964,000, and Saudi Arabia with $952,000.
Russia/CIS, France, Germany, Italy and Spain were the top five countries for Dune at the weekend, and are also the top five overall. In cumulative totals, this quintet are as follows: Russia/CIS ($15m), France ($14m), Germany ($10.2m), Italy ($5.2m) and Spain ($4.9m).
Imax accounted for $3.1m (11%) of the weekend total, and has reached $8.2m cumulatively, which is 11% of Dune's total.
Also for Warner Bros, Sopranos prequel The Many Saints Of Newark grossed an estimated $1.3m in two early markets, including $1.2m for the UK/Ireland, where it has landed a week ahead of new James Bond film No Time To Die. The Many Saints Of Newark arrives in a further eight territories this coming weekend.
'Shang-Chi And The Legend Of The Ten Rings' stays top in global ranking
While Dune was a convincing winner in the international rankings, the film is not yet released in North America. In the global rankings, Disney's Shang-Chi And The Legend Of The Ten Rings retains the top spot thanks to estimated takings of $27.3m: $14m for international and $13.3m in North America. Total to date is $363m – $196m in North America and $167m internationally.
Shang-Chi once again remained the number one film in key markets Australia, Brazil, Mexico and UK/Ireland – all territories where Dune has yet to open. In UK/Ireland, the film resisted the challenge of new release The Many Saints Of Newark. Overall, the film dropped 38% in international markets from the previous weekend.
The one new opening was in Indonesia, where the film delivered an estimated $1.2m.
For cumulative totals, UK/Ireland leads the way among international territories, with $25.3m, ahead of South Korea ($14.6m) and France ($10.5m). Next come Russia/CIS ($8.3m), Japan ($8m), Germany ($7.8m) and Hong Kong ($7.6m).
Shang-Chi's $363m global tally after four weekends compares with $344m for Black Widow at the same stage of release. Shang-Chi is closing in on Black Widow's $378m total, which is the third biggest of 2021 for a US studio title, behind Fast & Furious 9 ($717m) and Godzilla Vs Kong ($468m).
Shang-Chi has yet to open in China, and also most of south-east Asia where cinemas mostly remain closed (exceptions being Singapore, Malaysia and Indonesia).
'Free Guy' hits $317m worldwide
The top end of the global rankings remains unchanged from the previous weekend, with Shang-Chi ahead of Dune and Chinese title Cloudy Mountain (see China box office report). Disney's Free Guy, now in its seventh week of release, remains in fourth place.
Weekend box office for Free Guy was an estimated $4.1m in North America (dropping just 19% from the previous session) and $5.1m for international, combining for $9.2m. Cumulative totals are $114m for North America, $203m for international, and $317m globally. Free Guy remains the fifth-biggest US studio release of 2021 at the worldwide box office.
Universal's Dear Evan Hansen rounds out the global top five (see chart above) with an estimated $7.5m box office – all earned in the domestic North America market. The film has yet to open internationally.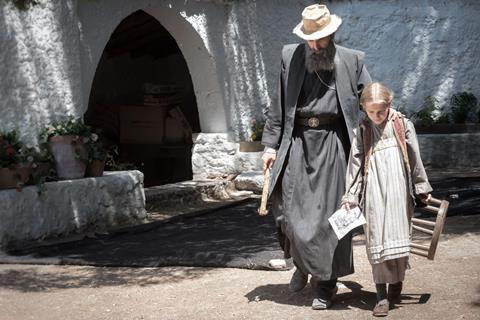 'Man Of God' dominates Greek box office
Greek film Man Of God, depicting the trials and tribulations of Saint Nektarios of Aegenia (1846-1920), has dominated the Greece/Cyprus box office for the past month, topping the chart for four straight weeks since opening on August 26, and delivering 270,000 admissions and an estimated €1.8m ($2.1m) in that period.
In doing so, the Feelgood Entertainment release has resisted the challenge of new titles such as Disney's Shang-Chi and Warner Bros' Cry Macho, directed by Clint Eastwood.
Yelena Popovic (LA Superheroes, 2013) writes and directs the biographical drama, which stars Aris Servetalis (Christos Nikou's Apples) as Nektarios, alongside Russia's Alexander Petrov and Mickey Rourke. Man Of God premiered at the Moscow International Film Festival in April. Los Angeles-based Pinnacle Peak Pictures is selling other international rights.