James Bond will return in seven days, and the release of No Time To Die on September 30 comes not a moment too soon for the UK cinema industry.
With cinemas still recovering from enforced closures across 2020 and 2021, the scarcity of tentpole blockbusters, combined with the underperformance of several that have released, has offset wider positivity around box office recovery.
Screen has spoken to stakeholders from across the sector about preparations for the 25th film in the Eon series, and what it could mean for the future of cinema in the territory.
Exhibition
No Time To Die will open in over 700 cinemas across the UK and Ireland, marking the largest release of the year, surpassing the 650 sites for Disney's Black Widow in July.
With final numbers still to be confirmed by distributor Universal, it may yet challenge for the widest release of all time in the region, currently held by Star Wars: The Rise Of Skywalker which opened on 744 sites in December 2019, just ahead of Mary Poppins Returns which went out on 743 a year before that.
Both of those titles were released by Walt Disney Studios; Universal's widest UK release to date is Downton Abbey, which started in 732 locations in September 2019.
Cineworld, the UK and Ireland's second largest cinema chain by number of venues, will be showing the film in all 100 of its sites, with the majority of those playing it at one minute past midnight on the Thursday opening day. Advance ticket sales opened on September 13, with the film becoming the chain's highest pre-selling title since Avengers: Endgame in 2019 after only four days.
Key venues such as the Cineworld O2 in Greenwich, southeast London will be showing the film 50 times per day, according to Stuart Crane, Cineworld Group's VP of Film. "We already have screenings selling out so it is looking likely that we will need to add additional showings," said Crane.
The chain will also have the first UK-Ireland cinemas to show James Bond in 4DX, a multi-sensory format which adds effects including motion, wind and in-auditorium lights to the experience; and in ScreenX, which offers additional footage extended onto the side walls of the auditorium in a 270-degree screen.
Vue Cinemas will show the film in all 91 of its locations, with a maximum of 25 screenings per day at its flagship Westfield London site. The company is also recruiting 10% extra frontline staff to handle increased demand around the film; newcomers will join in permanent roles, "in anticipation of a sustained level of overall increased admissions," said a Vue spokesperson.
Interest is equally high at mid-size chains. With 13 venues, Curzon Cinemas is bringing in additional staff to handle the extra business, "initially on temporary contracts but with the hope of making them permanent if trade continues to be strong and business isn't impacted by Covid," said director of operations Alex Sheldon.
Advance bookings at Reel Cinemas' 15 venues are more than 900% up on its typical level, according to the brand's head of operations Muhammad Faisal, with over 2,000 tickets sold across the sites after four days, compared to a standard of 200.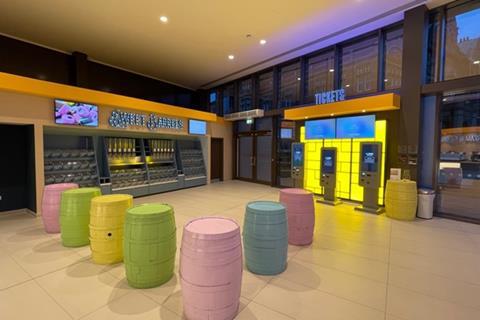 Since cinemas reopened in May, Reel Cinemas has set all standard tickets at £3.50 for screenings starting after 1pm, and £2.50 for those starting before. No Time To Die marks a test of the company's low-cost post-Covid policy.
"We took the very tough decision about how we want to bring people back in," said Faisal. "It's not about our losses because losses were happening. It's about how to bring the habit back for people to come out; how to show them how safe an environment [the cinema] is."
The brand is also running separate Facebook campaigns for each of its cinemas, reducing the 'customer journey' for online booking to a single click from Facebook through to the booking page. Other efforts from Reel include a Bond quiz, and marketing with local press – "just to create more of a sense that James Bond is coming, and there's no delay anymore," said Faisal.
Independent venues
With its two hours-and-43 minutes run time, the landmark film poses different questions for independent venues, which look to balance blockbusters such as Bond with smaller, arthouse fare. The Keswick Alhambra cinema in Cumbria has been in continuous operation for over 100 years since its 1913 opening, screening many Bond titles in that time.
"Bond years are always the best years for us," said Carol Rennie, co-owner of the venue. "We're looking forward to a great boost of numbers, particularly people who might not often go to the cinema – especially when it rains!"
After finding a new business partner during last year's lockdown, the Alhambra is undergoing a restoration of the building, including the addition of a second screen. Completion in time for No Time To Die was to be "the cherry on the cake" says Rennie, but construction delays mean the cinema will now reopen two weeks later on October 15. Rennie still anticipates big numbers of 5,000 admissions, with the film running at least a few times a week for at least four months.
For Newcastle-upon-Tyne's historic Tyneside Cinema, the film represents an opportunity to regain audiences, with the venue having been closed for 16 months between March 2020 and August 2021. "At the moment, we're not where we were in terms of how films of this scale have historically performed at the Tyneside," said Andrew Simpson, director of film programming. "In previous years when we put the likes of a James Bond or a Star Wars on sale, we'd be selling out the first week or so of shows almost straight away. That's not quite happened yet."
Simpson added that he is "confident the film is going to be a big hit" at the cinema, which will be running four shows per day, including three in the main 'Classic' screen.
While many are glad of the cash boost, others have sounded caution about looking solely down the Bond barrel.
"No Time To Die is not a priority for us," said Jason Wood, creative director of film and culture at Manchester's HOME cinema. "We will still have other independent titles and remain committed to those, and to the independent distributors releasing them. We will also have BFI London Film Festival (LFF) titles. So Bond is just one film amongst many."
Wood acknowledged that the release will bring "much-needed revenue", including private hire business, trade in food and beverages (F&B), and "hopefully some audiences that might usually visit the multiplex".
"Universal have been very good to work with," he added. "They are protecting their asset but understand that as a cultural venue we also prize the other films we are playing and will not be making sacrifices for them."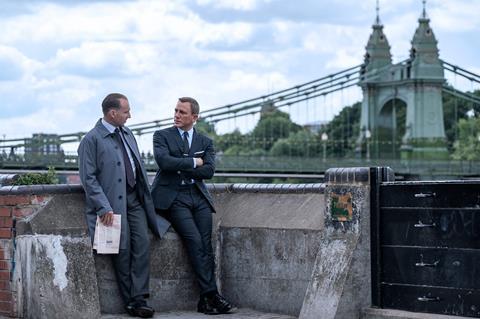 "Given the last 18 months, No Time To Die is more anticipated than ever, not least as a way of bringing back to the big screen those older or more infrequent cinema-goers who have so far not returned since cinemas were allowed to re-open in May," said Phil Clapp, chief executive of exhibition trade body the UK Cinema Association (UKCA).
"While the reasons for the delay are understood, recent moves to other titles in the film slate perhaps understandably caused some concerns – so everyone was hugely reassured by confirmation from Eon, MGM and Universal that it was staying on date," Clapp added, regarding the thoughts of UKCA members about the release.
Security
Having kept the completed film under wraps for almost two years now, security is understandably of primary importance for Universal. Several exhibitors told Screen they do not expect to receive the film until within 24 hours before the first screening, through the standard method of an encrypted digital cinema package (DCP), with separate key to unlock the content at the appropriate time.
"We're excited to hear what codename it will arrive under!" joked Damian Spandley, director of programme at Curzon Cinemas, which will play the film at all its sites bar one – the Curzon Soho, which traditionally does not play Bond films, and will instead host festival films from LFF, Raindance and the Romanian Film Festival in London.
The two most recent Bond films, Sam Mendes' Skyfall in 2012 and Spectre in 2015, are the second and third highest-grossing titles of all time in the UK and Ireland, with £103.2m and £95.2m respectively.
With consumer confidence not back to pre-pandemic levels and some venues still maintaining social distancing measures in screens, the £100m mark may be out of reach for No Time To Die. However, the film is still tracking towards a huge start; film technology firm Gower Street Analytics is predicting it will represent 92% of the total UK-Ireland market across its opening week.
It is also estimating that the film will take 12.8% of the total UK-Ireland box office by the end of 2021 – or to put it another way, one in eight cinema tickets sold this year will be for No Time To Die.
For Reel Cinemas, Faisal projected that the new title will take 75% of the total for Spectre, which did just over 100,000 admissions across the company's 15 sites. "That is a very reserved number," he added. "I am hoping more in my heart – and I would not be surprised."
Wood expected the film to do similar business to Skyfall at HOME.
Competition
Bond's impending screen dominance has led to many other distributors avoiding that first weekend of October. Just five other new titles are set to open alongside No Time To Die, compared to 14, 19 and 15 in the three weekends preceding it.
One of those five is Jan Bubenicek and Denisa Grimmova's stop-motion animated comedy Even Mice Belong In Heaven, which Signature is distributing in 150 locations. Jon Bourdillon, COO at Signature, said he did not expect Bond to affect the takings for the film, describing it as "a very different offering, which is what programmers and audiences alike want – variety.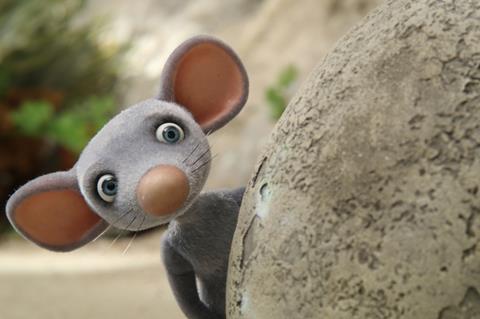 "Parents will still need family programming for their children to enjoy," Bourdillon added. "With the ever-changing landscape and release strategies from the studios, independent films are now more important than ever to ensure cinemas remain thriving."
Other new titles arriving that weekend include Philipp Reichenheim's music documentary Freakscene: The Story of Dinosaur Jr. through Munro Films; and Irish dark comedy Redemption of a Rogue through Wildcard Distribution.
UK filmmaker David Wilkinson is releasing his documentary Getting Away With Murder(s), about the lack of prosecutions for the majority of perpetrators of the Holocaust, through his own distribution company, Guerilla Films. The film will play as an event release, with 15 screenings booked so far and another 20 to come across October and November.
"I should buy Barbara Broccoli and Michael G. Wilson a drink, because never in my 51 years in the industry has the release of any one film been as important as No Time To Die," said Wilkinson. "Far from being upset or annoyed, I embrace the fact we are coming out at the same time. Getting Away With Murder(s) will be reviewed on the same page as the latest edition of the greatest film franchise the UK has ever produced, or will ever produce.
"For a documentary filmmaker who has made a micro-budget film, what better accolade is there than sharing the review section with this iconic film? People will now read about my film who never normally would."
Altitude Film Distribution has taken a different path, deliberately choosing the day before No Time To Die for a one-night-only event release of Ric Burns documentary Oliver Sacks: His Own Life, about the British neurologist and author. The film will play in 120 locations on September 29, before landing on digital platforms from October 4. "We purposely picked a date that came before Bond so we didn't have to compete for sites with it," said Bryony Forde, theatrical sales director at Altitude. "It was a fairly empty week as traditional film releases will only get six days play, so there aren't many new films to compete with.
"It's sometimes frustrating to see mammoths like Bond playing in nine out of 10 multiplex screens," added Forde. "But especially this year, we understand the need to maximise showtimes. We are hoping it does well for the sake of the cinemas, so they can afford to keep supporting our indie releases.
"A good result for Bond is good for the whole ecosystem. The problem is when a bad result for Bond threatens the whole ecosystem's survival which is what some would have you believe. It suggests there's a lot of work to be done in engaging bigger audiences for medium and small films."
Commercial potential
The film also represents a chance for commercial success in other avenues, such as food and beverages, and adverts. "The demand from advertisers looking to book into the film has been extremely high," said Karen Stacey, CEO at market-leading cinema advertising firm Digital Cinema Media (DCM). "The film presents a huge commercial opportunity and we saw a record number of forward bookings, with brands getting behind the upcoming cultural phenomenon. All premium spots sold out two months in advance, with a range of brands taking advantage of the most prestigious positions in cinema advertising."
The most prominent products advertising around the film include telecoms, finance, food and drink, and entertainment and leisure, Stacey said.
Exhibitors are reluctant to reveal which trailers they will play before the film. Simpson said the Tyneside will push "upcoming films of real scale that audiences watching Bond will like to see", such as Dune and The French Dispatch. The Tyneside will also be screening a trailer for its own Christmas programme, which will time its ticket sale opening with the week of Bond's release to capitalise on the audience numbers.
"It's rare to be able to screen a film that virtually everyone wants to see, and which has this level of cultural resonance," said Simpson. "It's a great way to get much of our audience back to the venue for the first time in a long time."
James Bond will return, and the wait is almost over.