Bulgarian-Danish-French drama previously won festival awards in Locarno and Sarajevo.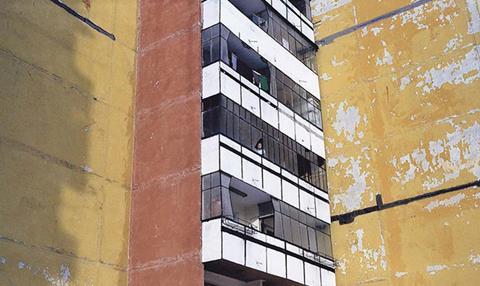 Ralitza Petrova's Godless has won this year's Golden Puffin, the top award at the 13th Reykjavik International Film Festival (RIFF)
The jury, comprised of Goteborg artistic director Jonas Holmberg, Rams director Grimur Hákonarson and bestselling Icelandic novelist Yrsa Sigurðardóttir, said, "The Golden Puffin goes to a bleak but beautiful film with poignant acting and atmospheric cinematography. The film combines the downbeat suspense of an medicalised crime story with a subtle portrayal of the agony in a post communist society where redemption is only glimpsed in the sacral world of music."
Godless, which is a Bulgarian-Danish-French co-production, previously won the Golden Leopard in Locarno and the Special Jury Award and the Heart of Sarajevo for best actress (Irena Ivanova) at Sarajevo Film Festival. It also won five national awards at the Golden Rose National Film Festival in Bulgaria.
Petrova is a graduate of the UK's National Film and Television school (read Screen's interview with her). The film is set in Bulgaria yet also has Nordic ties – it was co-produced by Denmark's new production company Snowglobe Film, which is also on a festival hit streak this autumn with Amat Escalante's The Untamed.
RIFF's competition, for first or second features, also awarded a special mention to Johannes Nyholm's debut feature The Giant (Swe). The jury said it was an "imaginative film about friendship, alienation and yearning. With spectacular imagery and heartfelt character portrayals it shows us the importance of loyalty, the joy of sports championships and the ambiguity of size."
UK director Mike Day's documentary The Islands And The Whales, about the Faroe Islands, was awarded RIFF's environmental award. That jury noted that film's "breathtaking cinematography, its intimate and unflinching portrayal of a hunting tradition that threatens both predator and prey, and its refusal to reduce complex issues to simple sentiments or easy solutions."
The audience award went to Tomer Heymann's Mr. Gaga, about Israeli contemporary dancer and artistic director Ohad Naharin.
Best Icelandic short was Nanna Kristín Magnúsdóttir's Cubs (Ice-US) and best international short was Daniel Mulloy's Home (UK-Kos). The Golden Egg for best short from the Talent Lab went to Max Barbakow's The Duke (US).
RIFF's honorary prizes this year went to Darren Aronofsky and Deepa Mehta, who both attended RIFF to accept their awards and give talks. Other special guests included Chloe Sevigny presenting her short film Kitty and Alejandro Jodorowsky's son Brontis presenting a masterclass about his father's films.
Industry events included a trip to local filming locations with scouts from Truenorth; and the launch of North Atlantic Talents (NAT), a new film development and professionalisation programme for Iceland, Greenland and the Faroe Islands.