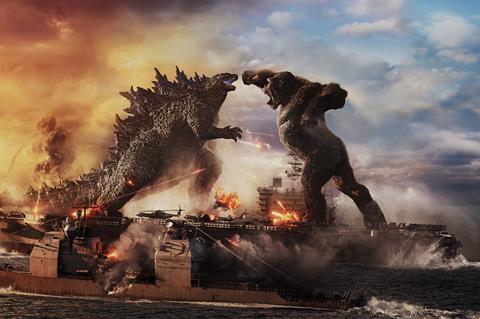 A sequel to 2021 monster feature Godzilla Vs Kong has been set to film in Queensland, Australia and will double the economic boost to the state of the previous film.
The as-yet-untitled feature will be made at Village Roadshow Studios later this year and marks the fifth title in Legendary Entertainment's MonsterVerse Franchise, co-produced and distributed by Warner Bros.
A director has yet to be announced but Godzilla Vs Kong director Adam Wingard has previously stated he would want to continue the story.
It will become the third MonsterVerse feature to shoot at the Queensland studios, which previously hosted Godzilla Vs Kong in 2019 and Kong: Skull Island in 2016. Eric McLeod is again producing, having been a key figure on those two titles.
"The highly skilled crews, first-rate facilities, and unique locations make filming in Australia a great experience," he said in a statement issued by Australia's federal government.
The new film will receive A$16m ($11.8m) through the location incentive and is likely to get a further 16.5% of local expenditure as a tax rebate through the location offset (applications can only be made upon completion). The offset is guaranteed providing eligibility criteria are met while the location incentive is discretionary. Securing both equate to a 30% discount on spend.
The monster feature is also set to receive a contribution from the Queensland Government, via its screen agency Screen Queensland, which declined to say how much.
Paul Fletcher, the (federal) minister for communications, urban infrastructure, cities and the arts, said the new film would inject A$119m ($88m) into the Australian economy.
Queensland Premier Annastacia Palaszczuk said Queensland would receive a A$79.2m ($58.5m) economic boost from the film, meaning A$40m will go to businesses in other states. This is more than double the A$36.5m ($27m) that Godzilla Vs Kong brought to the state and "is a welcome boost to our economy as we recover from the impacts of the global pandemic and south-east Queensland flooding events," added Palaszczuk.
It will create 505 jobs for local cast and crew, plus opportunities for 750 extras.
Some 15 of the 29 principally foreign film and television productions that have benefited from the A$540m ($400m) put aside for the location incentive grants since mid-2018, have been Queensland based. The A$289m ($213m) in public funding for these 29 projects has generated A$2.2m ($1.6m), 18,300 employment opportunities and earnings for 17,400 businesses, according to the federal government.
Godzilla Vs Kong received a notable release in March 2021 as the tentpole title went out theatrically and on subscription streaming service HBO Max simultaneously, after being delayed from a November 2020 release due to the Covid-19 pandemic.
It took $468.2m at the worldwide box office, making it the eighth highest-grossing film of 2021, and was the most successful launch to date on HBO Max, until being overtaken by Mortal Kombat.