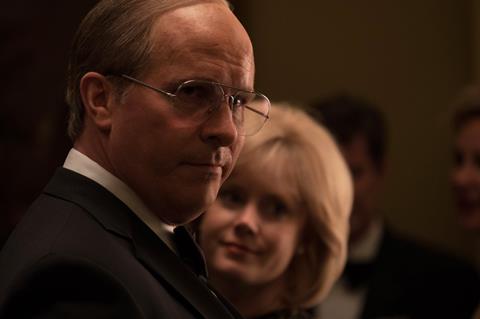 Heading into Sunday's 76th Golden Globe Awards (January 6), the winners announced by the Hollywood Foreign Press Association (HFPA) will make sufficient noise to play a part in getting Academy voters to focus more acutely on their awards heavyweight contenders before they announce Oscar nominations on January 22.
Golden Globes 2019: full list of nominations
However the two voting groups do not align neatly –there's a huge gulf in the size between the two groups, they vote on different categories, and sensibilities don't always overlap – and contenders overlooked by the HFPA can always find love among Oscar voters.
When the Globes nominations were announced last month, it was a great day for Vice, which surprised everyone to lead the pack on six nods and will look to parlay its noisy end-of-year arrival into Oscar love when the Academy unveils its nominations on January 22. The distributor behind Adam McKay's political satire, Annapurna, shares the most nominations for a distributor with Fox Searchlight on ten apiece. McKay is a seasoned operator and the film, despite its flaws, has energised a fairly open season with its irreverent tone and imaginative execution.
Vice has impressed at guild screenings, earning a particularly enthusiastic response by SAG at the end of November, and should be regarded as a contender for a bag of Oscar nods, which will be music to the ears of Megan Ellison and her Annapurna cohorts at the end of a challenging year for the company.
Even though the split in Globes acting categories offers more opportunity for talent, best musical or comedy actor nominee Christian Bale is admired and could well land an Oscar nomination in the Academy's more limited lead actor contest for his portrayal of former US vice president Dick Cheney in what is not a vintage year for male acting. The HFPA loves Amy Adams and she looks good for a best supporting actress Oscar nod alongside her fellow Globes nominee Regina King for If Beale Street Could Talk, who will push her hard for the Globe on January 6. So will The Favourite's Rachel Weisz and Emma Stone, whose performances as the devious courtiers of Queen Anne are the kind of dynamic, intelligent roles the Academy likes to reward.
A Star Is Born, Green Book and The Favourite sit one nod behind Vice on five apiece, confirming their Oscar potential. Bradley Cooper becomes a rare triple nominee as director, actor and producer of A Star Is Born – the first time that has happened since Kevin Costner did it with Dances With Wolves 17 years ago. And speaking of rarities, Black Panther became the first Marvel Studios film to earn a dramatic picture nod alongside BlacKkKlansman, If Beale Street Could Talk, A Star Is Born and another surprise addition, Bohemian Rhapsody. There was no place for Can You Ever Forgive Me?, or Widows, nor for First Man, nor The Front Runner, neither of which has enjoyed awards season.
The HFPA has acknowledged ethnic diversity (breakout hit Crazy Rich Asians is in the running for best musical or comedy, and Constance Wu earned a comedy or musical actress nod) even though it still has work to do in gender recognition. No female director was nominated in a year that has seen impressive work from Debra Granik (Leave No Trace), Marielle Heller (Can You Ever Forgive Me?) and Karyn Kusama (Destroyer), and none of these films earned a best picture nod. It is hard to see the Academy not recognising at least one of the first two films with a nomination in its best picture category, and possibly a directing nod. Granik shared an Oscar screenplay nod for Winter's Bone in 2011.
In musical or comedy, the HFPA predictably found a place for Mary Poppins Returns, which also earned acting recognition for Emily Blunt and Lin-Manuel Miranda, as well as best score for Marc Shaiman. While it was a big surprise to see Bohemian Rhapsody among the dramatic best picture nominees, similar recognition by the Academy would be a shock. Rami Malek's acting nod is no shock, given that he shines in a film whose other elements are strangely flat, and Oscar voters have enjoyed him this season.
Once again this has been a very strong year for female actors and competition for the Golden Globe is fierce. Lady Gaga earned a best dramatic actress nod to complement Cooper's recognition, and she has been the surprise of the season and is a heavyweight contender. It remains to be seen whether she can prevail in the category against HFPA darling Nicole Kidman for Destroyer – oddly left out of the supporting actress race for Boy Erased – but she is an Oscar front-runner alongside Globe dramatic and musical or comedy nominees Olivia Colman for The Favourite, Melissa McCarthy for Can You Ever Forgive Me?, Glenn Close for The Wife, and Rosamund Pike, who has won admirers for outstanding work in A Private War. The HFPA left out Viola Davis for Widows, which did not earn a single nod, and Julia Roberts for Ben Is Back (Roberts earned a Globes nod for Homecoming in the TV categories) – but don't rule them out when the Academy announces in January.
First Man's Claire Foy is on the supporting actress roster, and Justin Hurwitz earned recognition for his score. Apart from that, Damien Chazelle's space-race drama has been muted in an awards season where it has barely registered, and its dismal box office run hasn't helped. Regarded as sombre and ponderous by some voters, it still has the class to notch up several nods with the Academy, not least for its technical wizardry.
ROMA, a film many critics and industry professionals view as the best of the season, is in contention for foreign language, and director and screenplay for Alfonso Cuaron. He is likely to get similar recognition from the Academy, and possibly a best picture nod if the pro-Netflix lobby can overcome the traditionalists among voters. Oddly for a group of international journalist-voters, the Mexican film was ineligible for the Globes best motion picture categories because it is not in English. The omission of Pawel Pawlikowski's Polish Cold War, and Lee Chang-dong's South Korean Burning was a suprise, although both are expected to land Oscar nods.
This article has been adapted from the original that appeared on December 7, 2018.
Read more: Golden Globe nominations 2019: the key talking points
Read more: Globes reactions from 'BOOM SHAKALAKA' to 'partners in crime', to an ode to dogs