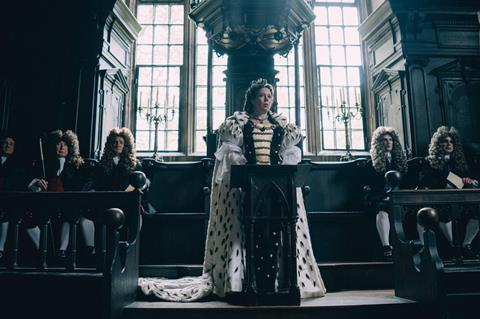 The global film industry's great and good have expressed their gratitude and delight on the morning they learned about their Golden Globe nominations.
Spike Lee, up for best director for BlacKkKlansman, used the basketball expression 'Boom Shakalaka' when he heard about his nomination, while best supporting actor nominee RIchard E. Grant called Can You Ever Forgive Me? best actress nominee Melissa McCarthy his 'true partner in crime'.
For Alexandre Desplat, a nod of recognition for Isle Of Dogs inspired him to pen an ode that listed several of his loves, among them, appropriately enough, dogs.
The 76th Golden Globes will be handed out on January 6, 2019. Below is a sampling of nominees' reactions:
MOTION PICTURES
BEST MOTION PICTURE – DRAMA
"BlacKkKlansman was a responsibility none of us took lightly. With Spike Lee at the helm, we knew this important story would be told fearlessly. We are honored that the HFPA recognized this eye-opening film, Spike's genius and the incredible performances by John David Washington and Adam Driver."
Sean McKittrick, Jason Blum, Raymond Mansfield, Jordan Peele, Shaun Redick, producers, BlacKkKlansman
"We would like to thank the HPFA for recognizing our film If Beale Street Could Talk. Congratulations to all the nominees - we are in extraordinary company. Congratulations to Barry Jenkins and Regina King and to the rest of our brilliant cast and crew. And of course, our immense gratitude to the master, James Baldwin, whose words and unparalleled insight into race and reality in America we have the honor of bringing to the screen."
Adele Romanski and Sara Murphy, producers, If Beale Street Could Talk
BEST MOTION PICTURE – MUSICAL OR COMEDY
"Can I put emojis in a quote? Because Not in my wildest dreams did I ever think our movie would be embraced to this magnitude by the audience and now the HFPA. What an honor to be included on such a beautiful list of diverse human experience stories amongst storytellers I have looked up to my entire life. I could not be more proud of our movie, our cast, our community and our industry. In response to Eleanor Young, we were always good enough."
Jon M. Chu, director, Crazy Rich Asians
"We are honored to be recognized by the HFPA! Congratulations to Constance Wu and the entire cast and crew of this film. This journey continues to be incredibly fulfilling and earth shifting. We could not have asked for better partners with Kevin Kwan, Jon M. Chu, Nina Jacobson, Brad Simpson and of course the rock star team at Warner Bros. Our dream from the beginning with SK Global and our international division of Ivanhoe Pictures was to bring compelling local stories to global audiences. 'Crazy Rich Asians' has helped to prove that this is in fact possible, and needed, in a huge way!"
John Penotti, producer, Crazy Rich Asians
"The Favourite has been in the works for two decades, so I can honestly say the HFPA nomination is a dream come true. It was a privilege, a joy – and a lot of fun - to help once again bring Yorgos Lanthimos' singular vision to the screen. It's the story of three brilliantly clever women with equally strong survival instincts – and Olivia, Emma and Rachel could not have been more perfect for their parts."
Ceci Dempsey, producer, The Favourite
"We are delighted with these nominations, which are a brilliant tribute to the team behind THE FAVOURITE including Yorgos, the amazing cast and crew as well and Tony and Deborah. We are also so grateful to the HFPA and our wonderful partners Scarlet, Fox Searchlight, Film4 and Waypoint as well as the team at Element. This recognition is so important to the life of the film and will give it extra momentum as it continues its expansion in the US and beyond."
Ed Guiney and Andrew Lowe, producer and executive producer of The Favourite
"We are so thrilled and grateful to be honored by the Hollywood Foreign Press today. MARY POPPINS RETURNS is a true passion project straight from our hearts — so to be recognized in this way feels like a magical adventure Mary Poppins herself would have dreamt up!"
Rob Marshall, John DeLuca, Marc Platt, producers, Mary Poppins Returns

"I'm so happy for our amazing cast of VICE being acknowledged with multiple nominations. Lord knows they deserve it. And the Best Picture nomination is a nod to our entire crew who went way above and beyond to make this film. Thank you to the HFPA and also to Annapurna, Plan B and Gary Sanchez."
Adam McKay, Best Director, Best Screenplay, Vice
"We're grateful for the recognition this morning by the Hollywood Foreign Press Association for VICE. Adam McKay continues to break new ground as a filmmaker and the support of the HFPA in recognizing him and the incredible performances by Christian, Amy and Sam is truly an honor."
Kevin Messick – Gary Sanchez Productions, producer, Vice.
BEST DIRECTOR
"I found out about these Golden Globe Nominations for BLACKkKLANSMAN in between advising my NYU Grad School students because I teach on Thursdays. The first word that came to mind was 'BOOM SHAKALAKA'. Thank you to the HFPA!"
Spike Lee, BlacKkKlansman
"I am so happy, it feels like Christmas in December. I am also so very grateful to the Hollywood Foreign Press and to Mahershala Ali, Viggo Mortensen, Linda Cardellini, Nick Vallelonga, Brian Currie and Octavia Spencer along with the entire cast and crew of 'Green Book'. This is truly an overwhelming honor."
Peter Farrelly, Green Book
"I am so grateful to the HFPA for honoring ROMA. I share this with everyone on the cast and crew who helped me bring this film to life, a big part of this thanks go to Yalitza Aparicio who is the heart of the film. When I came up with this idea over 12 years ago, I couldn't imagine that the story of Cleo would have such a profound impact on audiences around the world. Thank you to the HFPA for recognizing this in ROMA and continuously championing my work. At its core, this film is about celebrating families and people, and encourages in my belief that the human experience is one and the same for all."
Alfonso Cuaron, ROMA
BEST ACTRESS, DRAMA
"I am thrilled and amazed to be nominated by the members of the Hollywood Foreign Press. I'm so proud of my non-biological brother - Richard E. Grant - on his nomination. Forever grateful to Marielle Heller, our brilliant ship's captain. I'm humbled to be in the company of the other dreamy nominees."
Melissa McCarthy, Can You Ever Forgive Me?
"I am so grateful to be nominated for such an untraditional female character. Erin Bell is complicated, raw and dangerous, and it was a privilege to portray her. I share this with Karyn Kusama as well as all of the cast and crew. It was truly a passion project for all of us. A huge thank you to The Hollywood Foreign Press."
Nicole Kidman, Destroyer
"I am over the moon about the nomination for A Private War!! It is moving that the question Marie Colvin asked so much about her work as a journalist, "Will people care when the story reaches them?" has been answered with a resounding "yes" by the HFPA. For a little film like ours, this recognition means the film won't fade from conversations, means people will keep talking about Marie and her work. To step inside Marie's fierce, passionate, humorous, empathetic soul was an amazing thing. Matthew Heineman and Jamie Dornan were thoughtful, committed and inspiring partners and we have been trading texts all day. It feels so significant that something we all care so deeply about has been recognized."
Rosamund Pike, A Private War
"I'm so grateful for all of the nominations for A Star Is Born today! The film has truly been a passion project for everyone involved and we've all become a family. I couldn't be more happy to see Bradley recognized for his incredible vision and performance. And for the recognition for my songwriting collaboration with the amazing Mark, Anthony, and Andrew for "Shallow". And I cant believe I'm nominated as best actress at the Golden Globes for a film! I am so appreciative of the HFPA's support. Thank you so much."
Lady Gaga, A Star Is Born
BEST ACTRESS, COMEDY OR MUSICAL
"This has been such an extraordinary morning! I am beside myself with excitement! I never imagined something like this would happen for me, because I had never seen it happen to another Asian-American actress before. I was always just an actress because I loved acting. In Hollywood, Asian actors (including myself) have always supported another culture's story, but for the first time in 25 years this film was about our culture. That's so important for kids who grew up as minorities–it tells them that their country values their story, even if they're a little different. Because our culture isn't just how we look, it's how we live and breathe and laugh and love. I'm glad to be a part of this movement and so grateful for the HFPA's recognition of it."
Constance Wu, Crazy Rich Asians
"I am absolutely bowled over and thrilled to be nominated for the Golden Globes. Being part of "The Favourite" was such a treat anyway, it's the gift that just keeps on giving! I can't wait to be there with Emma and Rachel and Yorgos. I would very happily go everywhere with them all. A million thanks to the HFPA, woohooo! I'm so excited. Thank you."
Olivia Colman, The Favourite
"Thank you ever so much to the HFPA! I'm blown away and over the moon. I delighted in playing every aspect of this extraordinary and iconic character. The entire experience working on it was spellbinding and that's largely to do with the incomparable Rob Marshall who took on this project with great love, depth and courage in his heart. I'm thrilled for Lin and for the recognition for our beautiful score as well as the film as a whole. Thank you again."
Emily Blunt, Mary Poppins Returns
BEST ACTOR, DRAMA
"Thank you, Hollywood Foreign Press Association, for this incredible honor and for your support of BlacKkKlansman. My deepest appreciation to the legendary Spike Lee - we stand on your shoulders, sir. Thank you to the most talented group of actors and the crew, and to Focus Features for their unwavering support. Most importantly – Ron Stallworth, you're a hero. Thank you for allowing me to tell your story on screen. This is a surreal moment, wow. Thank you."
John David Washington, BlacKkKlansman
"Waking up in the dark this morning, getting ready and heading out to film into the freezing Canadian Rockies, I received this wonderful news. Today will make for a much warmer day."
Willem Dafoe, At Eternity's Gate
"To play Freddie Mercury was a profound honor. To be a part of telling a story like this, of lives like these, is something I will forever cherish. I am eternally grateful to Brian May and Roger Taylor, and to Graham King, Denis O'Sullivan, 20th Century Fox and New Regency. I feel deeply fortunate and grateful to be acknowledged by the Hollywood Foreign Press Association. Thank you. Finally, my most heartfelt and humbled thank you to the man this is for and because of, Freddie."
Rami Malek, Bohemian Rhapsody
"Thank you to the Hollywood Foreign Press Association for this nomination, which I proudly share with the LGBTQIA community as well as with Joel Edgerton, Nicole Kidman, Russell Crowe, the rest of the cast and crew, and most of all, with Garrard. I was honored to be a part of this story which will hopefully one day help put an end to conversion therapy in the United States where it is currently still legal in 36 states."
Lucas Hedges, Boy Erased
BEST ACTOR, MUSICAL OR COMEDY
"I am grateful to the HFPA for this recognition, and proudly share it with Mahershala Ali, Linda Cardellini and the rest of GREEN BOOK's wonderful cast. Thank you, Peter Farrelly, for making a movie that inspires hope and compassion. By inviting audiences to laugh and be genuinely moved, and also to think profoundly about our society's past and present, you have given us a story equal to the best work of Frank Capra and Preston Sturges."
Viggo Mortensen, Green Book
BEST SUPPORTING ACTRESS
"Thank you to the members of the HFPA for this honor! It was an unbelievable joy to get to work alongside my two true loves, Olivia Colman and Rachel Weisz on this film, along with all the other wonderful actors, Tony, Deborah, and our incredible producers. The Favourite wouldn't exist without the visionary that is Yorgos Lanthimos. Thank you especially to Yorgos for your guidance, brilliance, and friendship."
Emma Stone, The Favourite
"Thank you to the Hollywood Foreign Press Association for recognizing The Favourite. I'm so proud to be nominated alongside such a brilliant group of actresses, including my incredible co-star Emma. And all hail our nominated Queen Olivia! These honors are a testament to the brilliance of our director Yorgos Lanthimos."
Rachel Weisz, The Favourite
"It's such an honour to receive this nomination today. I'm so proud of 'First Man' and share this nomination with all the cast and crew. I also share this with the entire Armstrong family who have been so generous and kind throughout the whole process of making this film. Thank you so much HFPA…see you in January!!!!"
Claire Foy, First Man
"I am overwhelmed. Thank you so much to the Hollywood Foreign Press Association for the acknowledgments. I am blessed to have been involved in these two amazing productions this year and am grateful to everyone who has contributed for their hard work and dedication."
Amy Adams, Vice
BEST SUPPORTING ACTOR
"WOW! Have woken up with a rush of gratitude and excitement this morning! I see the other men in my category, some of whom I've already gotten a chance to meet, and I am humbled to even be considered alongside their wonderful performances. Thank you to the HFPA for supporting another indie-minded film, I am soaking up all the gratitude I can. Thank you!"
Timothée Chalamet, Beautiful Boy
"I'm very thankful to the HFPA and pretty blown away by all of this. To be at the Golden Globes in January representing BlacKkKlansman with Spike and John David means a great deal to me. I'm very proud to be in their company."
Adam Driver, BlacKkKlansman
"I am utterly stunned and astonished to be nominated by the members of the Hollywood Foreign Press Association. Humbled and enormously THRILLED to be sharing this honor with Melissa McCarthy, my true partner in crime!!! Gratitude abounds for our brilliant director Marielle Heller."
Richard E. Grant, Can You Ever Forgive Me?
"I'd like to thank the HFPA for this extraordinary honor. I'm humbled that all our work has been recognized in such a broad capacity, especially that of my friends Viggo Mortensen and Peter Farrelly. Green Book offered a unique opportunity to embody a man with breadth, virtuosity and complexity. I'm so grateful that our story has resonance in a time that calls for empathy."
Mahershala Ali, Green Book
BEST FOREIGN LANGUAGE FILM
"I'm enormously grateful to the Hollywood Foreign Press Association for this nomination and to be included in the company of such remarkable filmmakers. GIRL was a labor of love for me that was made in close collaboration with my dear friend Nora, whose journey towards becoming a dancer is what inspired the film. By honoring this film, you honor Nora and the spirit of anyone who overcomes adversity to achieve their dreams."
Lukas Dhont, director, Girl
"Thanks to many people's help, Shoplifters has spread its wings farther and farther since the Cannes Film Festival in May. As it is my first nomination for Golden Globe Awards, I am looking forward to being a part of this new experience. My thanks to the Hollywood Foreign Press."
Hirokazu Kore-eda, Shoplifters
BEST SCREENPLAY
"On behalf of the entire Beale Street family, it's an honor to have our film recognized by the Hollywood Foreign Press Association, particularly alongside such varied and wonderful work by our peers. It's a critical time to be telling stories and creating art that reflects the world we live in. We'll take this recognition as an affirmation to continue to do so."
Barry Jenkins, If Beale Street Could Talk
"How does a writer describe the joy and excitement of being nominated by the Hollywood Foreign Press Association for their first screenplay? Impossible! I am honoured to have played a part in Yorgos Lanthimos's masterpiece. And of course this could not have happened without Tony McNamara. When I wake up tomorrow my first thought will be that I must have been dreaming!"
Deborah Davis, co-writer, The Favourite
"I am so grateful to the incredibly brilliant Yorgos Lanthimos. And to Deborah Davis for finding this incredible story. Also shout outs to the amazing Olivia, Emma and Rachel! It's the first time I've been nominated by the Hollywood Foreign Press and it's a lovely surprise. Thank you."
Tony McNamara, co-writer, The Favourite
BEST SCORE
"Thank you to the Hollywood Foreign Press. Thank you to Damien for making this beautiful film and pushing me to dig deep for the themes and moods of this score. In writing this music and thinking on the subjects of love, loss, loneliness, perseverance, and family, I felt a lot and revealed a lot of myself. I'm grateful to the HFPA for recognizing the work."
Justin Hurwitz, First Man
"What fantastic news!
"So many thanks to the HFPA
"I love dogs
"I love cats
"I love Japan
"I love Wes (Anderson)!"
Alexandre Desplat, Isle Of Dogs
TELEVISION
BEST TELEVISION SERIES - MUSICAL OR COMEDY
"What an incredible honor! I'm so thrilled for the nominations The Kominsky Method, Michael and Alan received this morning. This show is so special to me and I'm deeply touched to be recognized among all the other nominated shows. Thank you to our extraordinary cast and crew as well as the Hollywood Foreign Press Association for all their support!"
Chuck Lorre, The Kominsky Method
BEST LIMITED SERIES OR TV MOVIE

"I am honored the HFPA has recognized our show. We're grateful to Showtime for believing in this production and supporting it so fully, and the people of the North Country and Clinton Correctional for helping to bring it to life. I'm so proud of Patricia for her fearless work, and our whole cast and crew who worked so hard to tell this story."
Ben Stiller, director and executive producer
BEST SUPPORTING ACTRESS IN SERIES, LIMITED SERIES OR MOTION PICTURE MADE FOR TELEVISION
"Playing Donatella, who I admire so much was a huge honor and working with Ryan was a truly wonderful experience. I am so grateful to the HFPA for this nomination and even more excited that Edgar, Darren and the show are being recognized as well. Thank you."
Penelope Cruz, The Assassination Of Gianni Versace: American Crime Story
BEST SUPPORTING ACTOR IN SERIES, LIMITED SERIES OR MOTION PICTURE MADE FOR TELEVISION
"Thanks to the members of the Hollywood Foreign Press for this recognition that I share with the phenomenal team of great professionals that National Geographic put together to create this complicated, controversial and amazing Genius. I would love also to mention my home town of Málaga, birth place of Picasso too, for its continual effort to become a referential city of culture."
Antonio Banderas, Genius: Picasso
"This is wonderful news for us, Michael Douglas, and everyone associated with the show."
Alan Arkin, The Kominsky Method
"It is such an honor to be nominated as a comedy actor for The Kominsky Method."
Michael Douglas, The Kominsky Method
BEST PERFORMANCE BY AN ACTRESS IN A LIMITED SERIES OF A MOTION PICTURE MADE FOR TELEVISION
"I cannot even put into words how I feel right now hearing this exciting news from set. Just elated. So proud of these two amazing and beautiful projects. I'm incredibly lucky and humbled that these roles chose me. For Beale Street, honoring the words and legacy of James Baldwin is truly special. Thank you Hollywood Foreign Press!"
Regina King, Seven Seconds
BEST PERFORMANCE BY AN ACTOR IN A TELEVISION SERIES (DRAMA)

"WOW! Thank you to the HFPA for supporting and embracing our show. And to Ryan Murphy, Steven Canals, Brad Falchuk and the POSE gang for believing in us. I'm so grateful to have lived long enough to see this day when the stories of LGBTQ people of color are front and center! The category is…LOVE!"
Billy Porter, Pose