The Goteborg Film Festival (Jan 26-Feb 5) has unveiled its 2018 of 399 films from 78 countries.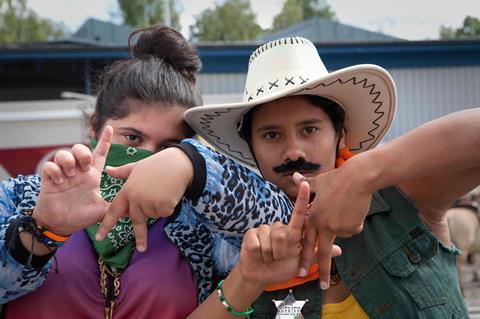 Gabriela Pilcher's Amateurs will open the festival and also compete for the lucrative Dragon Award for best Nordic film (full list of competition titles below).
Pilcher, who previously directed festival hit Eat Sleep Die, presents the world premiere of her second feature, which is about a small town in Sweden that hopes to revive its economic activity by bringing in a German discount supermarket. The supermarket brand asks local teenagers to make films about their hometown, but the films don't turn out as expected.
The festival's new prize, the Dragon Award for best international film, will be fought over by 20 international films that will be voted on by the festival audience for a $6,000 (SEK 50,000) prize.
Films competing are:
Disobedience by Sebastián Lelio
The Death of Stalin by Armando Iannucci
Angels Wear White by Vivian Qu
Western by Valeska Grisebach
Nico, 1988 by Susanna Nicchiarelli
Mademoiselle Paradis by Barbara Albert
Pity by Babis Makridis
Over the Limit by Marta Prus
Marlina the Murderer in Four Acts by Mouly Surya
The Wound by John Trengove
Men Don't Cry by Alen Drljevic
Good Favour by Rebecca Daly
Sweet Country by Warwick Thornton
Pororoca by Constantin Popescu
Makala by Emmanuel Gras
The Other Side of Everything by Mila Turajlic
Outside In by Lynn Shelton
Israfil by Ida Panahandeh
Anna's War by Aleksei Fedorchenko
The Eternal Feminine by Natalia Beristáin.
The festival's prestigious Dragon Award for best Nordic film remains one of the festival world's most lucrative awards, worth $121,000 (SEK 1m). The Nordic films competing for that prize are:
Amateurs by Gabriela Pichler (Swe)
The Charmer by Milad Alami (Den/Swe)
Euphoria by Lisa Langseth (Swe/Ger)
What Will People Say by Iram Haq (Nor/Ger/Swe)
Jimmie by Jesper Ganslandt (Swe/Aus/Cro),
The Violin Player by Paavo Westerberg (Fin)
The Return by Malena Choi (Den)
Holiday by Isabella Eklöf (Den)
And Breathe Normally by Ísold Uggadóttir (Ice/Swe/Bel)
The competitors for the Dragon Award for best Nordic documentary (worth $12,000/SEK 100,000) are:
That Summer, dir Göran Hugo Olsson (Swe/US/Den)
The Deminer, dir Hogir Hirori, co-dir: Shinwar Kamal (Swe)
The Distant Barking of Dogs, dir: Simon Lereng Wilmont (Den/Swe/Fin)
My Heart Belongs To Daddy, dir: Sofia Haugan (Nor/Swe)
Entrepreneur, dir: Virpi Suutari (Fin)
A Good Week for Democracy, dir: Cecilia Björk (Swe)
Golden Dawn Girls, Håvard Bustnes (Nor/Den/Fin)
Letters, dir: Marie Told and Jero Yun (Nor/So Kor/Den)
Ingmar Bergman, who was the festival's honorary president until his death in 2007, lends his name to the international debut award, presented for the 11th time. Those eligible are "debuting filmmakers who in their film treats an existential theme with a dynamic or experimental approach to the cinematic means of expression." Those nominees are:
Dead Pigs by Cathy Yan (Chi/US)
Ava by Sadaf Foroughi (Iran/Can/Qat)
Malila: The Farewell Flower by Anucha Boonyawatana (Thai)
Death of a Poetess by Dana Goldberg, co-director: Efrat Mishori (Isr)
Microhabitat by Jeon Go-woon (S Kor)
The Flower Shop by Ruben Desiere(Bel/Slo)
Menina by Cristina Pinheiro (Fr)
The Blessed by Sofia Djama (Alg/Fr/Qat)
Guests expected to visit the festival include Juliette Binoche, Alicia Vikander, Laurie Anderson, Armando Iannucci, Robert Guédiguian, Ian McEwan, Olivier Nakache and Eric Toledano, and Margarethe von Trotta.
Elsewhere, a special programmes will focus on young Chinese filmmakers "who explore new cinematic paths beyond the standardized commercial film culture."