Projects participated in the Nordic festival's works in progress event.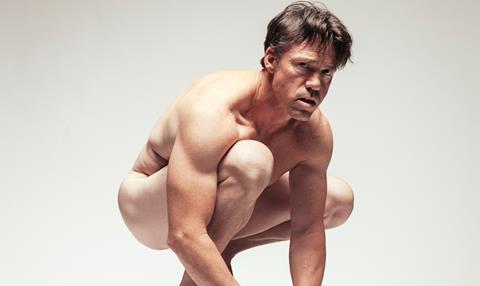 Ruben Ostlund got buyers and festival programmers hopping with excitement in Goteborg as he presented the first footage from his forthcoming fifth feature The Square during the festival's work in progress pitches.
Ostlund screened about seven minutes from one scene of the new film, during which a controversial performance artist (played by Terry Notary) makes guests at a black-tie art gala very uncomfortable. "You know I love awkward situations," the director said.
Goteborg's audience of industry experts commented that they were impressed by the confidence of the unnerving scene, which showed Ostlund working on a bigger scale even than his last hit, Force Majeure.
At a festival session later for the public, Ostlund previewed a second clip from the film, in which a museum director (Claes Bang) delivers a self-centered video apology to a boy he had accused of being a thief.
Another high-profile title that unveiled first footage in Goteborg was Janus Metz's Borg/McEnroe.
The team presented a clip showing McEnroe (played by Shia LaBeouf) out at a nightclub drinking champagne, with the Sex Pistols' "Pretty Vacant" playing in the background, while imagining Borg's meticulous pre-match rituals and superstitions. Another clip showed McEnroe on court – with LaBeouf demonstrating eerily similar mannerisms and facial expressions to McEnroe – having a tantrum about pigeons.
The other titles that sellers, buyers and festival programmers said they were especially intrigued by were Danish low-budget thriller The Guilty, Danish relationship story A Horrible Woman, Swedish social drama The Real Estate, Icelandic drama The Swan, and Finnish sisters' story Miami (full info on each title below).
Goteborg works in progress 2017:
A Horrible Woman (Den), wr/dir Christian Tafdrup; prods Marta Mleczek, Thomas Heinesen
Danish director Tafdrup's second feature, after Parents, is the story of a woman's destructive dominance in a relationship, as seen from her boyfriend's point of view. "It's a tragedy but not without humour," the director said. "It's a story about all the horrible things I think women can do to men in a relationship and it's partly inspired by my ex-girlfriends and by a lot of men I spoke to… This film is about everyday life terrorism, it's not that I hate women or anything, it's that I've spent 25 years of my life trying to figure out how to deal with them." The film will be delivered by early summer.
Sales: LevelK, niklas@levelk.dk
All In (Den), dir Christian Dyekjaer, prod Maja Dyekjaer
The Danish director's third feature is about a gambler and car salesman (Dejan Cukic) who reconnects with his estranged son, who racks up gambling debts of his own. Dyekjaer said, "It's character-driven drama but also a portrait of this man. I wanted to make an unglorified picture of the life of a gambler. I chose to do this film in a different way, with only four or five people on the set, and I used a DoP (Henrik Bohn Ipsen) who normally works with documentaries, so it's shot very much with real people in real situations." To be delivered in late spring with the Danish release set in November.
No sales company attached yet; contact maja.dyekjaer@gmail.com
Becker – The King of Tingsryd (Swe), dir Martin Larsson, prod Erik Magnusson
A self-made man's feeling that he's the king of his small town changes one day. Swedish director Larsson makes his feature debut on this Anagram production after working in TV and directing several shorts. Larsson said, "I wanted to tell a story with warm humour and some kind of realism in it. I wanted a strong main character." The film will premiere in early autumn.
No sales company attached yet; contact erik.magnusson@anagram.se.
Borg/McEnroe (Swe), dir Janus Metz, prods Jon Nohrstredt and Fredik Wikstrom Nicastro
This hotly anticipated sports rivalry drama stars Sverrir Gudnason as Bjorn Borg, Shia LaBeouf as John McEnroe, and Stellan Skarsgård as Borg's coach. Metz said, "In addition to being a sports movie about tennis, it's a drama about two men who strive for acceptance, love, perfection in their sport and who through meeting each other bring out the best and worst in each other. Its also a film where we get to know that maybe they have more in common than what they were presented as. They were presented as each other's perfect opposites."
Metz's credits include TV's True Detective and Cannes award-winning war documentary Armadillo. The film will be ready for summer delivery (it looks like Cannes will be too early) and will premiere in Sweden in September.
Sales: SF Studios, international@sfstudios.se
Darling (Den), dir Birgitte Stærmose, prods Peter Aalbaek Jensen, Marie Gade Denessen
This Zentropa production is about a world-famous Danish ballerina, Darling (Danica Curcic), and her husband, Frans (Gustaf Skarsgard), who return to Copenhagen for the first time in years. Stærmose first met Curcic while teaching at the Danish theatre school. "This is her first lead. She has undergone a transformation for the role, she lost 16 kilograms to look like a dancer." The film will capture the intimacy of the ballet world. "I was curious about the drama in the rehearsal scenes and the backstage feeling, I was interested in getting behind the performance and into the workspace," the director added. The film will be delivered in early summer for a Danish release by the end of 2017.
Sales: TrustNordisk, info@trustnordisk.com
Jimmie (Swe), dir Jesper Ganslandt
A four-year-old boy goes on a road trip with his dad to find his mother; uniquely, the story is told from the young boy's perspective. The director, whose credits include Falkenberg Farewell and the forthcoming Daniel Radcliffe-starring language Beast of Burden, stars with his own son. Ganslandt said "Jimmie is the most personal film that I've made yet…I've wanted for years to make a movie considered from the perspective of a child." The film will be delivered by spring or summer.
No sales company attached yet, contact jesper@fasad.se
Lake Over Fire (Nor), dir Joern Utkilen, prods Ruben Thorkildsen, Isak Eymundsson
Utkilen's debut feature is a satire about what happens when wealth invades a remote desert town. Eymundsson said the film is "a fairytale Western abut the time we live in….it's quite scary to see it how correct it has landed in last year's political events. We hope the film can help us understand a polarized society cannot have a good ending." The film will be delivered in spring and the cinema release will follow in the autumn.
No sales company attached yet, contact isak@apeogbjorn.no
Miami (Fin), dir Zaida Bergroth, prod Miia Haavisto
Two estranged sisters – one an exotic dancer, one a timid small-town girl, reunite when their father dies. Bergroth said the film is "A psychological drama about complex family relations but set in a world of exotic dancing, I wanted to play around with the genre…I wanted to surprise myself a little bit and find something new and exciting."
No sales company attached yet, contact miia.haavisto@helsinkifilmi.fi
The Ash Lad – In The Hall of The Mountain King (Nor), dir Mikkel Brænne Sandemose, prods Synnove Horsdal, Ashild Ramborg
The director of Cold Prey and Ragnarok returns with this fantasy family epic based on Norwegian folk tales. A poor farm boy must save a princess from a troll known as the Mountain King. Braenne said, "It's a classical fairytale with good versus evil, princesses and princes, but like a good action adventure should be, it's got something about family values." The film is still doing VFX work now and will be delivered by summer, with the Norwegian premiere set for September.
Sales: TrustNordisk, info@trustnordisk.com
The Charmer (Den), dir Milad Alami, prod Stinna Lassen
Alami, whose short Void screened in Cannes Directors' Fortnight, makes his feature debut with this psychological drama about a young Iranian man who wants to seduce a Danish woman so he can stay in the country. Producer Lassen, of Good Company Films, said, "Milad has always been interested in characters under pressure…he portrays them with a lot of nuance. You find themes of identity and belonging in his films, he's got very strong characters but elements of genre in this first feature." The film will be delivered by late spring.
Sales: Alma Cinema, almacinema.com
The Eternal Road (Fin), dir Antti-Jussi Annila, prod Ilkka Matila
This epic, based on true events, is about a man who returns to Finland from America during the Great Depression, who is then beaten by fascists and forced to settle in the Soviet Union. Annila said, "This 1930s Soviet Union is different than we all thought, it's run by Americans and immigrants." Annila's past films include The Jade Warrior and Sauna. The Eternal Road will be readied for a September release in Finland.
Sales: TrustNordisk, info@trustnordisk.com
The Guilty (Den), dir Gustav Moller, prod Lina Flint
A real-time, contained thriller about an alarm dispatcher (Jakob Cedergren) who races against time to save a kidnapped woman. The film is the first feature from Nordisk's new talent arm Spring and it also marks Moller's feature debut. The director said, "It's a one-location film but hopefully it won't feel that way…The idea would be that the strongest images in the film would be in the audience's mind." The film will be delivered in May.
No sales company attached yet, contact flint@nordiskfilmspring.com
The Outlaws (Nor), dir/prod Henrik Martin Dahlsbakken
The 1920s-set story is about a 17-year-old who meets an older drifter and is pulled into a failed train robbery. Dahlsbakken said, "It's based on true events in Norway but it's sort of a Badlands/Bonnie & Clyde type story. It's a thriller and a love story. I wanted to explore these two guys' relationship between all these events." The film will be ready by the end of the year.
Sales: LevelK, niklas@levelk.dk
The Real Estate (Swe), dirs Axel Petersen and Mans Mansson; prod Sigrid Helleday, Mans Mansson
The story follows a 67 year old woman who suddenly finds herself running the family's real estate business, with complicated tenants. Mansson (The Yard) said, "What she thought was a cash cow becomes a curse, it's set in the midst of the Stockholm real estate bubble…She gets stuck in this swamp of problems." The film will be delivered in late spring.
No sales company attached yet; contact sigridhelleday@gmail.com
The Square (Swe), dir Ruben Ostlund, prods Erik Hemmendorff, Philippe Bober
Ostlund's fifth feature is about a museum's creative director (Claes Bang) who hires a PR agency to promote a unique exhibition. The team describes the film as "an elegant and telling satire addressing topics of responsibility and trust." Ostlund said "the film is trying to raise questions about responsibility on an individual level and at the same time, on the society level." The cast also includes Dominic West as a famous artist and Elisabeth Moss as a journalist. The film, which shot for 67 days, could be ready by late spring and seems a shoo-in for Cannes Competition if it is ready in time.
Sales: Coproduction Office, office@ coproductionoffice.eu
The Swan (Ice), dir Ása Helga Hjörleifsdóttir, prods Birgitta Bjornsdottir, Hlin Johannesdottir
The story, adapted from a popular 1991 novel, is about a wayward 9-year-old girl sent to a relative's farm for the summer, where she becomes entangled in a drama she can't fully understand. Hjörleifsdóttir said, "She is almost like a criminal in exile in a nowhere place — but she experiences the conflict between what's expected from you and what you feel or think."
No sales attached yet, contact birgitta@vintagepictures.is
The Unknown Soldier (Fin), dir Aku Louhimies, prods Aku Louhimeies, Mikko Tenhunen
This war epic is based on Väinö Linna's famous novel about Finnish soldiers in the Second World War. Louhimies said, "I was interested in how people change in extreme conditions… When I went through my late grandfather's letters, I saw what kind of man was he before he went to war. I found it interesting how even his letters changed during the war. That was a personal connection why I wanted to make the film." The film is still shooting but will be finished by late spring.
Sales: Beta Cinema, beta@betacinema.com