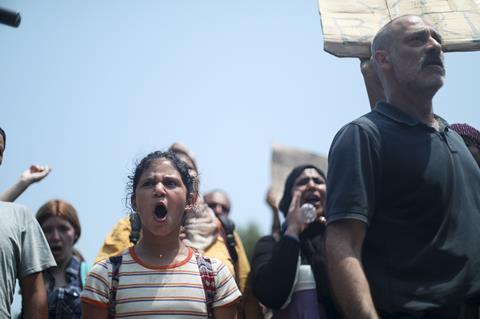 The 46th Goteborg Film Festival (Jan 27-Feb 5) will kick off with the world premiere of Exodus, directed by Abbe Hassan, about a smuggler who tries to save a Syrian girl; the closing film will be Camino, directed by Birgitte Stærmose, about a 30-year-old woman on a long hike with her father to honour her mother's last wish.
Goteborg will screen nearly 250 films in 700 screenings, making it the largest film festival in Scandinavia.
About 50 of the films – including all in the International Competition – will be available for audiences online across Sweden.
Exodus is also included in the nine-film Nordic Competition, one of its four competitions (see full lists below).
Swedish director Jan Troell, who is 91 and has extensive credits including The Emigrants, Here Is Your Life and It Capitano, will receive the festival's Nordic Honorary Dragon Award and participate in a directors talk.
Other guests attending the festival include Ruben Ostlund, who is the festival's new honorary president and will do a screening in which he directs the live audience; Alicia Vikander, who will meet the current and new participants of the Alicia Vikander Film Lab; and Nordic Competition jury president Zar Amir Ebrahimi, who stars in Holy Spider.
The special thematic focus this year is Homecoming, including films such as R.M.N. by Cristian Mungiu; Pamfir by Dmytro Sukholytky-Subchok; Godland by Hlynur Pálmason; and The Future Tense by Joe Lawlor and Christine Molloy.
Nordic Competition
Exodus, dir Abbe Hassan (Swe)
Let the River Flow (Ellos Eatnu), dir Ole Giæver (Nor)
Empire, dir Frederikke Aspöck (Den-Swe-Sp)
Munch, dir Henrik Martin Dahlsbakken (Nor)
Unruly, dir Malou Reymann (Den-Swe)
Four Little Adults, dir: Selma Vilhunen (Fin-Swe-Fr)
Godland, dir Hlynur Pálmason (Den-Ice-Fr-Swe)
Copenhagen Does Not Exist, dir Martin Skovbjerg (Den)
Dogborn, dir: Isabella Carbonell (Swe)
Ingmar Bergman competition
International debuts with an existential theme and dynamic cinematic expression
The Fishbowl, dir Glorimar Marrero Sanchez (PR/Sp)
Girl, dir Adura Onashile (UK)
Archeology of Love, dir Wanmin Lee (S Kor, Fr)
When it Melts, dir Veerle Baetens (Bel/Neth)
La Palisiada, dir Philip Sotnychenko (Ukr)
Sister, What Grows Where the Land is Sick?, dir Franciska Eliassen (Nor)
Suro, dir Mikel Gurrea (Sp)
Runner, dir Marian Mathias (US-Fr-Ger)
Nordic Documentary Competition
Hypermoon, dir Mia Engberg (Swe)
The King, dir Karin af Klintberg (Swe)
Apolonia, Apolonia, dir Lea Glob (Den-Pol-Fr)
The Brother (Bong Thom), dir Zaradasht Ahmed (Nor-Swe-Neth)
Labor, dir Tove Pils (Swe)
Monica in the South Seas, dir Mika Taanila and Sami van Ingen (Fin)
International Competition
Corsage dir Marie Kreutzer (Aus-Fr-Ger-Lux)
Small, Slow But Steady, dir Shô Miyake (Jap-Fr)
1976, dir Manuela Martelli (Chil-Arg)
The Five Devils, dir Léa Mysius (Fr)
Earthlings, dir Steve Dougthon (US)
Sorcery, dir Christopher Murray (Chil-Mex-Ger)
L'immensità, dir Emanuele Crialese (It-Fr)
The Passengers of the Night, dir Mikhaël Hers (Fr)
The Blue Caftan, dir Maryam Touzani (Mor-Fr-Bel-Den)
Blaze, dir Del Kathryn Barton (Aus)
Pamfir, dir Dmytro Sukholytkyy-Sobchuk (Ukr-Fr-Pol-Ger)
Eismayer, dir David Wagner (Aus)
Brother, dir Clement Virgo (Can)
Subtraction, dir Mani Haghighi (Iran-Fr)
More Than Ever, dir Emily Atef (Fr-Ger-Lux-Nor)
The Happiest Man in the World, dir Teona Strugar Mitevska (N Mac-Bel-Slov)
Love and Mathematics, dir Claudia Sainte-Luce (Mex)
Burning Days, dir Emin Alper (Tur-Fr-Ger-Neth)