Hanne Palmquist talks plans for HBO Nordic and Sherlock Holmes heads to Finland.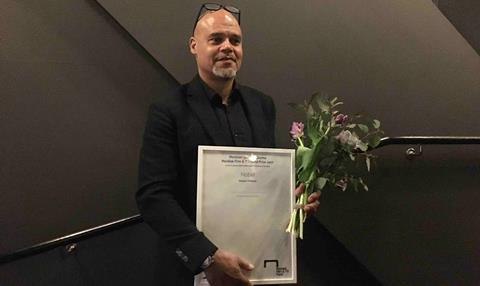 Goteborg Film Festival's first Nordic award for Best TV Drama Script, worth $23,000 (SEK 200,000) and funded by the Nordisk Film & TV Fond, has been presented to Nobel screenwriters Mette M Bolstad and Stephen Uhlander.
NRK's Nobel is a Homeland-style drama about a Norwegian Lieutenant returning home from duty in Afghanistan who discovers a political conspiracy.
The prize's jury included Lars Blomgren of Filmlance, producer Gudrun Giddings, consultant Isabelle Pechcou and critic Leena Virtanen.
They said of Nobel: "The script was precise, well-structured and solid. This is a strong, unpredictable drama with a sense of fresh realism. The story was thrilling and worked well also as a metaphor of the global instability between war and peace…This TV series has an impressive complexity in the scriptwriting, no loose ends and no inconsistency. There is no filter to the truth. It is so transparent, but still intriguing. Raw and honest."
The other nominees for the award were:
The Bonus Family (Sweden), screenwriter Jesper Harrie
The Day Will Come (Denmark), screenwriter Soren Sveistrup
Prisoners (Iceland), screenwriters Ragnar Bragason and Margret Ornolfsdottir
Love and Order (Finland), screenwriters Kaarina Hazard and Leea Klemola
The presentation wrapped Goteborg's two-day TV Drama Vision conference, which included speakers such as Rome and Versailles producer Anne Thomopoulos; Viaplay programme director Fredrik Ljungberg; and Pieter van Huyck, head of drama at Belgium's De Mensen. Projects previewed include Sweden's Our Time Is Now, Iceland's Prisoners, Finland's Love and Order, Denmark's The Day Will Come, and Norway's Occupied 2.
HBO Nordic ready for action
Hanne Palmquist, commissioning editor and VP of the recently launched HBO Nordic, said she expects to greenlight the company's first projects by this summer, with a view to start airing in late 2018 or early 2019.
The SVoD company's subscribers will be drawn from Denmark, Norway, Sweden and Finland but content initially will be commissioned from only the three Scandinavian countries of Denmark, Norway, and Sweden, which historically have shared more successful programmes than their Finnish neighbours.
HBO Nordic will build up to making two or three original series per year, "but it will depends on the size of each series," Palmquist added. HBO Nordic will fully finance some projects as well as co-producing others.
"We are not aiming to have a very big and broad development slate. We are trying to be quite selective when we enter a project, and be closely involved creatively," she said.
Palmquist, the former CEO of Nordisk Film & TV Fond and commissioning editor at the Danish Film Institute, took up the post on August 1. She added, "We are quite flexible, it's not just a one-hour format, we're interested in getting into half hour or even shorter webisodes for younger audiences. The best of all worlds is when the content decides the format, not the format deciding the content.
"It's not to be defined as a specific genre, we are not defining ourselves in those terms. It's far more a tone and a feel, " she continued. "Some of the keywords are authentic, thought-provoking, bold, brave, witty, and passionate. I also want to say we are really looking for original authorial voices and strong point of views from the talent."
A Scandi Sherlock
Director Juha Wuolijoki of Finland's Snapper Films presented Sherlock North, a Nordic take on Sherlock Holmes that he is now developing and co-writing with Jenny Dahlström.
The idea was inspired by Sir Arthur Conan Doyle's 1903 story The Adventure Of The Empty House, in which the famous detective fakes his death to elude Moriarity, and takes a boat to Scandinavia and assumes a new identity as a man called Sigerson.
The story will be updated to contemporary times, and will feature Johanna Watson, a Finnish doctor who returns to her small hometown and becomes Sherlock's close ally after he becomes fascinated by a local police case.
"It's a contemporary Sherlock Holmes in Finnish Lapland bordering Sweden and Norway," Wuolijoki said. "It's the Nordic crime genre but it's also comedy, it's not too dark or violent…It's a fish out of water story more than anything else." Holmes adapts from fast-paced London life to small-town Finland, sometimes with the help of cocaine.
The 10 x 60-minute series, to shoot in English and Finnish, is being developed in collaboration with the Conan Doyle Estate.
Wuolijoki's feature film credits are Christmas Story, Hella W and Zarra's Law