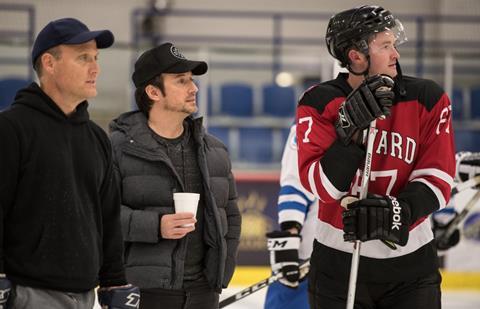 Gravitas Ventures has acquired worldwide rights to the coming-of-age sports film Odd Man Rush featuring the children of ice hockey legends Wayne Gretzky and Mario Lemieux.
The company has scheduled a September 1 release coinciding with the Canadian release through Pacific Northwest Pictures on the same day.
Based on Bill Keenan's bestselling memoir of the same name, Odd Man Rush stars Jack Mulhern as an ice hockey player who lands in Sweden's minor professional leagues.
A relationship with the girl at the local market (Elektra Jannson Kilbey) forces him to confront the reality of his childhood NHL dreams before the hockey gods intervene. The cast includes Dylan Playfair, Elektra Jannson Kilbey, Trevor Gretzky and Alexa Lemieux.
Doug Dearth directed and Keenan and Dearth adapted the screenplay.
Slater Brothers Entertainment's Todd and Grant Slater (She's In Portland) produced alongside Jonathan Black (Unleashed) and Karen and Howard Baldwin (Mr. Hockey).
Todd Slater brokered the deal with CAA Media Finance on behalf of the filmmakers. Three Points Capital assisted in the financing of the film.