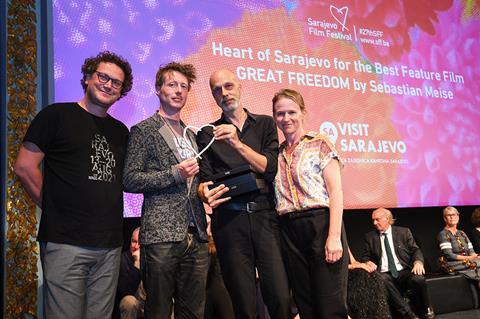 Sebastian Miese's Austrian-German drama Great Freedom has won the Sarajevo Film Festival's top prize, the Heart of Sarajevo for best feature film.
The 2021 winners were announced at an awards ceremony last night (August 20). The film received its world premiere at Cannes last month, where it played in Un Certain Regard and won the jury prize.
Scroll down for full list of winners
The love story tracks the persecution of homosexuality in Germany over the decades following the Second World War. It is the Austrian director's second film following Still Life and is sold by The Match Factory. The award comes with a prize of €16,000 ($18,700).
Austria's Georg Friedrich won Sarajevo's best actor prize for his role in Great Freedom as an imprisoned convicted murderer who forms a relationship with his long-time cellmate, who has been jailed for being gay. Friedrich is known for winning the Berlinale's Silver Bear in 2017 for his performance in Thomas Arslan's Bright Nights.
Great Freedom also won the CICAE Award during the festival.
Serbia's Milica Tomović picked up the best director award and €10,000 ($11,700) for her comedy drama Celts, which premiered in the Berlinale's Panorama strand in March.
The best actress award was shared by the three leads of The Hill Where Lionesses Roar - Flaka Latifi, Era Balaj and Urate Shabani, who each made their feature debut in the Kosovo-set drama. French-Kosovan filmmaker Luàna Bajrami directed the feature, which premiered in Directors' Fortnight at Cannes.
The awards were chosen by a jury that comprised US writer/director Mike Cahill, Hungarian writer/director Lili Horvát, Viennale artistic director Eva Sangiorgi and Austrian Film Commission executive director Martin Schweighofer, presided over by Serbian actress Jasna Duricic.
Marta Popivoda's Germany-France co-production Landscapes Of Resistance took the best documentary prize while the special jury award went to Stefan Pavlovic's Looking For Horses. Sarajevo's Human Rights Award went to Ahmet Necdet Cupur's documentary Les Enfants Terribles.
The festival previously awarded an honorary Heart of Sarajevo to director Wim Wenders.
The 27th Sarajevo Film Festival opened on August 13 with the world premiere of Danis Tanovic's Not So Friendly Neighbourhood Affair and closes tonight with Dragan Bjelogrlic's Serbian feature Toma.
Sarajevo 2021 winners
Competition programme – feature film
Best feature film – Great Freedom (Ger-Austria)
Dir: Sebastian Miese
Best director – Milica Tomović, Celts (Serb)
Best actress – Flaka Latifi, Era Balaj and Urate Shabani, The Hill Where Lionesses Roar (Kos-Fr)
Best actor – Georg Friedrich, Great Freedom (Ger-Austria)
Competition programme – documentary film
Best documentary – Landscapes Of Resistance (Ger-Fr)
Dir: Marta Popivoda
Special jury award – Looking For Horses (Neth-Fr-B&H)
Dir: Stefan Pavlovic
Special jury mention – The Same Dream (Rom)
Dir: Vlad Petri
Human rights award – Les Enfants Terribles (Tur-Ger-Fr)
Dir: Ahmet Necdet Cupur
Competition programme – student film
Best student film – Summer Planning (Rom)
Dir: Alexandru Mironescu