Festival's Mix Programme $65,000 production grant was awarded to Rony and Riyad.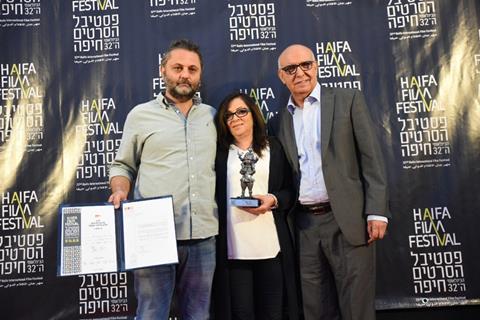 The 32nd Haifa International Film Festival came to a close with Maha Haj's Personal Affairs winning the Haifa Cultural Fund Award for the Best Feature Film in the Israeli feature competition. It comes with a $26,000 prize.
Haj's feature debut – which screened in Cannes Un Certain Regard – is about a Palestinian family coming to grips with their different circumstances.
Best debut feature with $13,000 is awarded to the film Bar Bahar-In Between by Maysaloun Hamoud.
Best script went to writer/director Eitan Anner's A Quiet Heart.
Best Actor was awarded to Norman Issa and Moshe Ivgy for The 90 Minute War; Best Actress was Noa Koler for Through The Wall.
The Cinematography prize went to Ziv Berkovich for Home Port.
In the Israeli documentary competition, the Rozalia Katz Award for Best Documentary Film with $7,800 went to Lillian. Poetess, directed and produced by Ilan Peled and Yair Qedar.
In the Carmel International Film Competition, best film (with $10,400) was The Distinguished Citizen directed by Gastón Duprat and Mariano Cohn. The Spain-Argentina production, which competed in Venice, is about a Nobel prize-winning author who returns to his small Argentine hometown.
In the new competition "Between Jewish and Israeli Identity," the Tobias Spencer Award (with $5,200) went to Raphael Nadjari's Night Song (France/Canada).
In the Mediterranean Golden Anchor Competition, best film was Mustafa Kara's Cold Of Kalandar from Turkey, which also won the Fedeora award for best foreign film.
Haifa's unique Mix Program, started by the festival with the Gesher Multicultural Film Fund and the Israeli Scriptwriters Guild, encourages creative collaboration between Jewish and Arab filmmakers.
A $65,000 production grant was awarded to Rony and Riyad, from writer/director Inbar Horesh, co-writer Nizar Helaey and producers Haim Mecklberg and Estee Yacov-Mecklberg. The romantic drama follows a Jewish dancer and Arab teacher who fall in love.
A $10,400 grant went to writer/director Rukaya Sabbah and producer Itai Tamir for their film Perception about "an Arab police detective as he investigates the killing of an Arab lawyer in this murder mystery set two days after the Yom Kippur riots in the city of Acre."