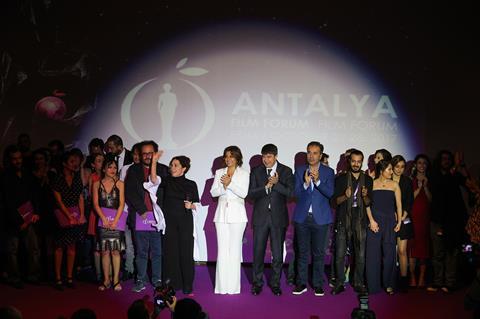 Halit Eke's oil smuggling drama No Land and Nisan Dag's When I Am Done Dying, a youthful romance set against the rapping culture of Istanbul's historic Sulukule neighbourhood, have won the top prizes at the fourth edition of the Antalya Film Forum.
The industry programme, aimed at supporting the development of Turkish film projects, ran Oct 22-26 during the Antalya Film Festival under the directorship of respected Turkish producer Zeynep Atakan.
A total of $97,000 was awarded across 15 award categories.
No Land and When I Am Done Dying received $8,415 (30,000 Turkish Lira) each in the fiction pitching platform category
A contemporary drama set against the backdrop of the oil fields of southeast Turkey, or Turkish-Kurdistan, Eke's No Land revolves around a young farmer who gets involved in stealing oil from the installations that threaten his family's land and livelihood to pay off his debts.
The film is produced by Ziya Cemre Kutluay at Istanbul-based b.i.t. arts, whose previous credits include Onur Saylak's refugee-trafficker drama More, which premiered at Karlovy Vary this year.
"Oil theft, or oil smuggling, is not a common issue and has not been visualised like this before so I'm very excited to be working on this project," said Kutluay.
When I Am Done Dying is set against the backdrop of Istanbul's Sulukule neighbourhood, one of the poorest areas in the city which was traditionally home to the local Roma community.
Dag, whose previous credits include award-winning Across The Sea which sold to Amazon, will tap into Sulukule's vibrant rapping scene for this impossible love story tale between a young boy from the neighbourhood and an upper-class girl.
The project grew out of a documentary, Dag made on the Sulukule rapping scene for MTV, which led to her teaching animation to children in the neighbourhood.
"Sulukele is one of the most dangerous slums in city. It is mostly Muslim and very conservative but there is a very prominent Hip Hop sub-culture, especially among the young generation," explained Dag, who wants to cast the main roles out the neighbourhood's Hip Hop scene.
"These kids will be doing a rap battle on a street corner but then if they hear a call to prayer at the mosque, they will stop to pay their respects."
Muge Ozen of Solis Film, who is a 2017 participant in the Eave producers workshop, is producing with US producer Jessica Caldwell on board in an associate role.
Other prizes
The $28,000 Work in Progress prize went to Sefa Ozturk Colak's debut feature Trust about a married couple whose marriage is put to the test when the wife's former partner resurfaces in her life. It is produced by Serkan Acar and Dilek Aydin.
In the documentary pitching platform category, the winners were Tayfur Aydin's 12 Years Later and Serdar Kokceoglu's Mimaroglu. Both projects received a $8,415 award.
12 Years Later is set against the backdrop of the Kurdish border city of Sirnak, which regularly witnesses clashes between Turkish forces security forces and Kurdish separatists.
It revisits a group of young adults some 12 years after they took part in a cinema and theatre workshop, in which they expressed their ideas about war and their future, to see where they are in their lives today. Actor-turned-producer Mevlut Akkaya is lead producing.
Kokceoglu's Mimaroglu explores the life and work of late Turkish musician and electronic music pioneer Ilhan Mimaroglu and his peace activist wife of 51-years Gungor Mimaroglu. It is produced by Esin Uslu and Dilek Aydin.
In the projects looking for producers category, aimed at projects in the early stages of development, Ismail Doruk's romantic drama 60 Days and Tugce Aydın's The Life of Madame X, were each awarded $14,025.
In 60 Days, Latif and Semiha's arranged marriage hits complications when the bride is discovered not to be a virgin on her wedding day.
Under Turkish tradition, Semiha could be returned to her family in disgrace but to protect her from the wrath of a violent brother, Latif agrees to go ahead with the ceremony and then divorce 60 days later on the basis of incompatibility, but then he truly falls in love.
The Life of Madame X delves into the secret backstories of personal items belonging to non-Muslim women who lived in Anatolia in the early 20th century.
In the short film work in progress category, Semih Gülen's Hit Me Baby, following a young female boxer as she tries out for Turkey's national team, won the $1,402 prize.
The city of Antalya's Sümer Tilmaç Antalya Film Support Fund award, worth $28,051 and aimed at encouraging film shoots in the area, went to Emre Akay's thriller The Hunt, about a young woman on the run from a violent husband and his friends in a fight for survival in a patriarchal society.
Some 200 international industry professionals attended this year's edition of the forum including Paris-based producer Cedomir Kolar of A.S.A.P, Jerusalem Film Festival artistic director Elad Samorzik, script and project development consultant Claudia Landsberger at Baseworx For Film, UK producer Cat Villiers and Dutch producer Raymond van der Kaaij of Revolver Amsterdam.
"The Forum is the catalyst for early interaction with the international film industry. It is an area of the festival that is a driver for the Turkish industry in the international market," commented the Antalya Film Festival's artistic director Mike Downey.