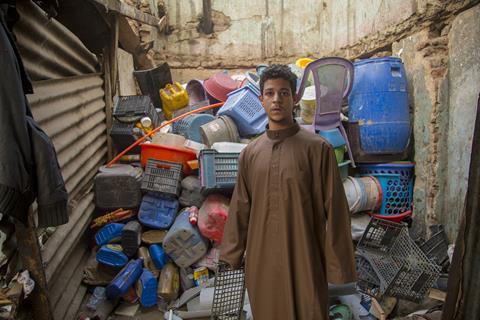 Bulgarian director Stephan Komandarev's drama project Made In EU and Egyptian Ahmed Fawzi Saleh's Hamlet From The Slums are among 15 projects selected for the 2022 L'Atelier co-production forum, set to be held during the Cannes Film Festival in May.
Part of Cannes' Cinefondation film development initiative, L'Atelier was launched in 2005 to support emerging filmmakers, from newcomers to high-profile names, who are offered expert advice and the opportunity to meet potential co-production partners and funding sources during the festival.
This year's projects include Made In EU, a coproduction between Bulgaria's Argo Film and Germany's 42Film, which was selected for the Les Arcs Coproductions Village in 2021. Komandarev's Directions played in Un Certain Regard at Cannes in 2017.
Hamlet From The Slums follows an 18-year-old's struggles in the slums of Cairo, as he grapples with his sexuality and the threat of urban renewal hanging over his home.
Israeli director Michal Vinik's You Are My Everything has also been selected. The TorinoFilmLab project follows a mother living in an Israeli suburb, who is concerned about her 18-year-old son being drafted into the army. Vinik's Valeria Gets Married, about a Ukrainian woman who gets cold feet about her impending marriage to an Israeli man she met online, is in the running for a Cannes Official Selection spot.
L'Atelier 2022 projects
Anna Ist (Neth) dir. Rosanne Pel
Chimbo cheBere (The Hyenas Song) (ex Akashinga) (Zimbabwe) dir. Naishe Nyamubaya
Cotton Queen (Sudan) dir. Suzannah Mirghani
Guria (Geo) dir. Levan Koguashvili
Hamlet From The Slums (Egy) dir. Ahmed Fawzi Saleh
Made In EU (Bul) dir. Stephan Komandarev
Philax (Turkey) dir. Rûken Tekeş
Sam (Phil) dir. E del Mundo
The Beer Girl In Yangon (My) dir. Sein Lyan Tun
The Blind Ferryman (Iraq-Switz) dir. Ali Al-Fatlawi
The Doubt (Palestine-Isr) dir. Ihab Jadallah
The Forest (Czech) dir. Tomas Weinreb, Petr Kazda
The Last Tears Of The Deceased (Ethiopia) dir. Beza Hailu Lemma
Where The River Begins (Col) dir. Juan Andres Arango
You Are My Everything (Isr) dir. Michal Vinik