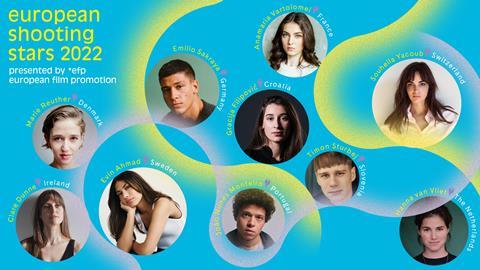 European Film Promotion (EFP) has revealed the 10 young actors it has selected for the 25th anniversary edition of European Shooting Stars.
The emerging talents list includes France's Anamaria Vartolomei, star of Audrey Diwan's Venice Golden Lion winner Happening, and Ireland's Clare Dunne, star and co-writer of 2020 feature Herself who also has a leading role AMC's Dublin-set crime series Kin.
In total, seven actresses and three actors have been named 2022 Shooting Stars, also including Denmark's Marie Reuther who made her lead debut in HBO's first Danish-language thriller Kamikaze.
Other European acting talent on the list includes Hanna Van Vliet from The Netherlands, selected on the strength of her performance in Anne+, which she also co-created, and Portuguese actor João Nunes Monteiro, who featured in Marueen Fazendeiro's The Tsugua Diaries, a Cannes Directors' Fortnight premiere last summer.

The selected group will now be presented during the opening weekend of the 72nd Berlinale (February 11-14) in a restructured hybrid programme, which is one of many adjustments the festival is making due to ongoing Covid challenges.
This year's Shooting Stars jury was made up of Swedish-Georgian filmmaker Levan Akin, casting director Timka Grin, former Italian European Shooting Star Sara Serraiocco, producer Bernard Michaux and film scholar and curator Yun-hua Chen.
The 2022 European Shooting Stars:
Croatia: Gracija Filipović (Murina)
Denmark: Marie Reuther (Kamikaze)
France: Anamaria Vartolomei (Happening)
Germany: Emilio Sakraya (The Salvation Of The World As We Know It)
Ireland: Clare Dunne (Herself, Kin)
The Netherlands: Hanna van Vliet (Anne+)
Portugal: João Nunes Monteiro (The Tsugua Diaries)
Slovenia: Timon Sturbej (Riders/Spring Dreaming)
Sweden: Evin Ahmad (Snabba Cash)
Switzerland: Souheila Yacoub (The Braves)