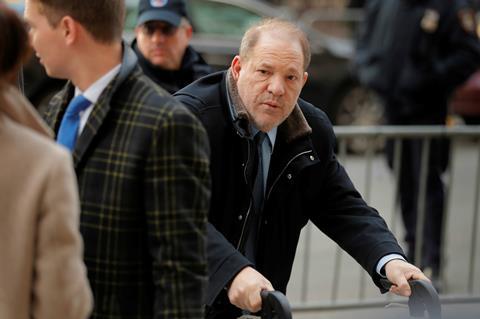 Harvey Weinstein and The Weinstein Company Holdings have reached an $18.9m settlement with a number of women who accused the imprisoned former mogul of sexual misconduct and harassment.
The settlement results from a civil case filed in 2018 by the New York attorney general's office against Weinstein, Bob Weinstein and The Weinstein Company, and a class action lawsuit filed by a number of women in late 2017.
The settlement has gone before a New York court for approval. Should that approval be granted, the money will form a fund from which women will be able to confidentially file for damages.
The women who signed confidentiality agreements will also be allowed to speak about their experiences.
"Harvey Weinstein and The Weinstein Company failed their female employees," said New York attorney general Letitia James. "After all the harassment, threats and discrimination, these survivors are finally receiving some justice."
Weinstein was sentenced to 23 years imprisonment in March after a Manhattan jury convicted him of third-degree rape and first-degree sexual assault.