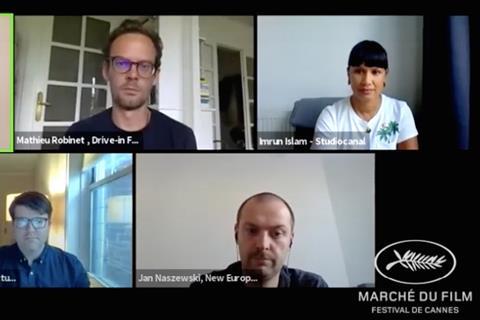 While the industry waits for festivals and cinemas to come back to full health after the Covid pandemic, there are some bright spots to consider during this unprecedented time, said a panel of experts at the online discussion 'A conversation on the near future of film distribution across all streams' held in partnership with the Cannes Marche and Screen International last week.
Those include smart collaborations and revenue shares for VoD launches, event-ifciation of online and cinema releases, and audience appetite for genre films and documentaries. Buyers are still filling slates for 2021 and finished product is in demand.
Jan Naszewski, CEO of New Europe Film Sales, said he has seen some of New Europe's titles move to online-only releases during the pandemic. They included Curzon Home Cinema's release of two acclaimed Icelandic dramas, The County and A White, White Day. "We were very open to allowing all that…We want to get the films out there…You have to react to the market and to see what's happening and also allow those movies to use the momentum they had."
For Corpus Christi, New Europe's Oscar-nominated Polish drama, he explained: "In France, they had a strong opening the first week of about 35,000 admissions. And then the cinemas closed so it's very hard to recreate that kind of word of mouth and buzz. That movie will return into France on 200 screens, but I'm very curious about what's going to happen and what the result is going to be."
He says that VoD still can't replicate a cinema hit. He pointed to new Polish filmThe Hater (not sold by New Europe) that opened just before lockdown and then went on premium VoD, setting records with sales of about 200,000. "That movie would have made like a million admissions [at cinemas]. Theatrical has been for many years our main source of income and it still is. We're hoping very much that the cinemas will return in that sense."
He also said that especially for first and second- time filmmakers, festival launches can be so important. New Europe accepted the Cannes Label 2020 for Magnus von Horn's Sweat. And they, unlike some others with the Label, pushed it during the online Marche. "We got reviews and we got lots of offers. That movie really stood out because we gave it a lot of energy. I'm very happy with it."
Naszewski said his virtual Cannes Marche had been busy, not just with Sweat but with buyers lining-up for pre-sales on Icelandic film Lamb, which will be ready for 2021. "It's an elevated genre movie so it kind of has an edge." He said buyers were 'browsing' a lot this market and "even though so there was some money flowing around I don't think they were crazy deals."
Imrun Islam, senior manager, digital sales, UK and Ireland at Studiocanal, said much of her work in digital sales has been steady during the Covid crisis. "It's been business as usual. People are still coming to me for content, I still have the same engagement from my clients. In my world, it's probably been a bit busier I would say, we haven't been adversely affected in a negative way."
With most production still on hiatus, she said: "I think finished content is extremely important. particularly in the SVoD world." That's not just newly finished content but also library material. "There is a need to fill gaps in schedules…and I do expect this effect is going to continue. At least until mid next year."
Studiocanal UK didn't move any of this theatrical releases to VOD during the lockdown. "We still find theatrical distribution a very big part of how we get our films seen. So we haven't been tempted or gone down that route." But, she added, "Never say never, I don't know what's going to happen in the future. I do think that the strides that big studios have made have been great for us to see and great to understand how distribution can change. We'll modify over the next year or two. But I think cinemas are a big home for our films and I don't think that's going anywhere, soon."
US distributor Magnolia Pictures did decide to move some of its films online while cinemas have been shut. Head of theatrical distribution and marketing Neal Block spoke about the case of Romanian film The Whistlers, which had just opened in a few markets including New York and Los Angeles when the lockdown started. "The Whistlersis such a great movie, and it needs reviews and it needs champions and it needs a theatrical audiences. So, we were not going to have that and we knew that postponing the release wouldn't have worked because who knows how long you're going to postpone it and what other films are going to be in the marketplace once theatres reopen?," Block explained.
Magnolia had already spent money to promote the film in cinemas, "so, we, like a number of other distributors – struck on this idea of virtual cinema."
He explained. "Essentially, we create what are mini transactional VOD platforms like micro platforms for each theatre. And we will create a unique landing page for each theatre, where their patrons can rent the film, and then a percentage of the net proceeds will go back to the theatre for every rental generated through that page." That initiative has now grown to more than 400 cinemas.
The worry now is that this kind of model has grown so much in the past few months and "the marketplace became a little bit too inundated with other titles. I think you have to be a really special film to stand out in the virtual cinema world now," Block added.
Magnolia is also partnering with several huge non-profit organisations including the NAACP and the United Negro College Fund to spread the reach for its new documentary release, John Lewis: Good Trouble. "We'll see a larger spread around the country," he said.
For forthcoming releases, Magnolia – already known for day-and-date launches – will look at "VOD, theatrical and virtual hybrids all at once. That's just the reality of where we are right now," Block added.
Block said Magnolia had been looking to make new acquisitions during the Marche. "We're always looking for really good genre titles. I don't think now is the time to really go and make big risky moves or come out of our comfort zone. So we have acquired some documentaries and some genre films over the last couple of months, and we will continue to do that." Some of the documentaries recently acquired are Tribeca selection Stray sold by Dogwoof and Crock Of Gold – A Few Rounds With Shane MacGowan, sold by HanWay.
He continued, "Our strategy is, if something's available and we feel like we can make some noise with it, and the price is reasonable. Covid hasn't really changed our strategy, except we're perhaps more risk averse than normal."
France-based Mathieu Robinet was inspired during lockdown to launch a drive-in cinema as a pop-up in the Place des Quinconces in Bordeaux in south-west France. Robinet, who previously worked for Bac and is setting up a new company now, noted drive-ins had never previously been huge in France, and had shut 30 years ago.
He said, "I wanted to recreate a desire of getting together in front of the screen…the sense of cinema is to watch a film to get together and that's what makes it so magical."
The novelty of the new initiative attracted lots of good media attention and the drive-in ran for nine nights and showed 10 films, drawing around 4,000 spectators in total.
"The cool thing about it was that we only screened arthouse films," Robinet said, pointing to titles including Tomboy, Whiplash, Hippocrate: Diary Of A French Doctor . He was heartened to see young audiences turning up. "That was really exhilarating. I was really hopeful when I saw up that there was a future for us to to [connect with audiences we thought we lost to the platforms] with new ways of approaching them. We need to be eventful. And by doing that, we can get people back in theatres…We are social animals, we need to get out. And that's what cinema is."
With French cinemas reopening, and exhibitors calling for the drive-in cinena to close, future events are off for now, but he is still encouraged by the audience reaction they had during the series. "We have to be creative and inventive to make those films thrilling to the audience. I see a lot of opportunity here. This an exciting time for all of us."