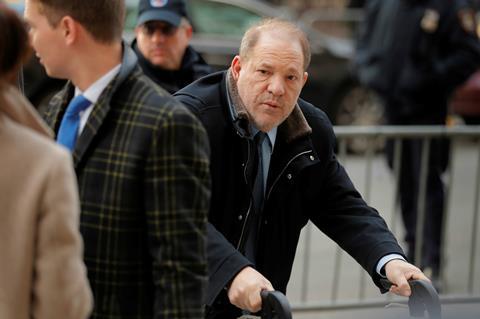 Harvey Weinstein on Monday (April 5) filed an appeal against his conviction for rape and sexual assault and alleged among others things that one juror in particular should not have taken part in the original trial.
Nearly 13 months after he was sentenced to 23 years for third degree rape and first degree sexual assault, the disgraced former Hollywood mogul – who faces a hearing on April 9 over extradition to Los Angeles on 11 separate counts including rape – has come out fighting.
Weinstein, 69, has asked the New York Supreme Court appellate division to reverse the conviction, dismiss the charge of third degree rape as time-barred, and order a new trial on a single count of first degree criminal sexual act.
Weinstein's legal team argued their client was denied his constitutional right to be tried by a fair and impartial jury when the trial court of James Burke denied his challenge to Juror No. 11, who had written a book about predatory behaviour of older men and was dishonest in the process leading up to empanelment.
Weinstein's legal team further claimed their client was stripped of the presumption of innocence when the trial court allowed the jury to hear "excessive and disparate" evidence that they claimed was designed solely to "breed contempt" for their client.
This refers to the "prior bad acts" evidence admitted from witnesses whose complaints did not form the basis of criminal charges.
In other points, Weinstein's lawyers took issue with aspects of expert testimony heard and unheard, and brought up aspects of the charges brought against Weinstein they claim fell foul of the statute of limitations.
They also argued that the guilty verdicts were against the weight of the evidence and that the sentence was unduly harsh.
It is understood the Manhattan District Attorney's office will respond in the next week or so.
Weinstein is serving his prison sentence at Wende Correctional Facility in New York state.