Hollywood boss also praised Oscar boycott director Asghar Farhadi during speech in London.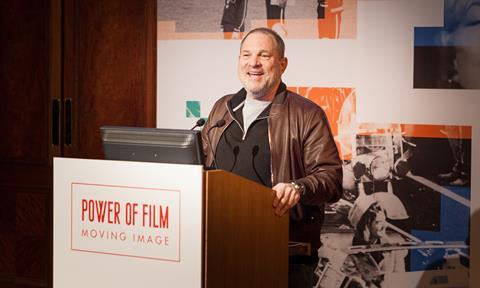 Harvey Weinstein spoke about Donald Trump's immigration ban, visa problems for the star of Lion and his favourite 'film' of the year at an industry event in London yesterday (Feb 9).
The co-chairman of The Weinstein Company (TWC) criticised the President's controversial visa ban and offered his support to Asghar Farhadi, the Iranian director of The Salesman who is boycotting the Oscars because of the policy.
Delivering a keynote speech at the Power Of Film And Moving Image conference, held at The Royal Institution, he said:
"If that ban sticks it will be terrible. We've already seen [the effect with] this wonderful movie The Salesman [nominated for best foreign-language film]. The director at this point can probably come in now before the appeals court rules but he couldn't come in before.
"So when you start to lose talent, especially the director of an Academy Award-nominated movie and a man who's won the Academy Award [for A Separation in 2012]… Iranian movies like The Salesman go a long way – better than ballistic missile tests – in uniting our two peoples.
"We can point to that film and say, 'This was made by an Iranian filmmaker, starring Iranian actors, look what the people are doing, look what this amazing director has done'. As a world community, we should support that."
Farhadi told The New York Times he will not attend the 89th Academy Awards in Hollywood on February 26 in protest over "unjust conditions forced upon some of my compatriots and the citizens of the other six countries" by Trump's executive orders on immigration.
Weinstein was speaking before a US federal appeals court rejected President Trump's attempt to reinstate his travel ban on nationals from seven mainly Muslim countries.
Visa problems
The TWC boss also shed some light on Lion star Sunny Pawar's struggle to obtain a visa to enter the United States for the film's premiere in November 2016.
Eight-year-old Pawar, from India, was denied a US visa before the Department of Homeland Security reversed the decision two days later.
Weinstein said that former Secretary of State John Kerry and current Democratic senator Chuck Schumer helped bring Pawar into America.
He said: "Trying to get little Sunny Pawar out of India after Trump won turned out to be a major undertaking.
"They wouldn't let him out of the country – the State Department completely changed the rules or started to do different things and it took an extraordinary effort between senator Schumer and former Secretary of State John Kerry who were able to get Sunny out.
"He's the cutest kid in the world, not exactly somebody you want to keep out of America but I guess people have their reasons."
Paddington, Planet Earth and protests
During the speech and Q&A, Weinstein noted that projects like the well-reviewed Paddington, which The Weinstein Company distributed in North America, helped the company fund some of the riskier projects on its slate.
He said: "We also do movies like Paddington, there's no politics involved in that. It enables us to do some of the other stuff that we want to do."
Weinstein also revealed that his favourite "movie" of the year was the BBC TV documentary Planet Earth. He said: "Planet Earth [is] so moving and astounding. If that was up for best picture [at the Oscars] I'd withdraw Lion immediately! Planet Earth is probably the best movie I've seen this year, it's so incredibly well done."
Finally, the movie mogul joked that he's anticipating protests for upcoming project Mary Magdalene, which sees Joaquin Phoenix play Jesus Christ opposite Rooney Mara, with Lion helmer Garth Davis directing. TWC are distributing in the US with Universal taking international.
Weinstein, whose film Dogma was denounced as "blasphemous" by the Catholic League back in 1999, said of Mary Magdalene: "It's a very different interpretation of the traditional story as we know it."
He added jokingly: "I'll probably take a vacation around the time the film comes out."
Weinstein's TWC was in the headlines this week after it emerged that a subsidiary of fellow bluechip film outfit FilmNation is suing the company over its release of Matthew McConaughey drama Gold.