Joachim Trier's drama Louder Than Bombs won four prizes including Best Director, while The Wave scooped Best Film.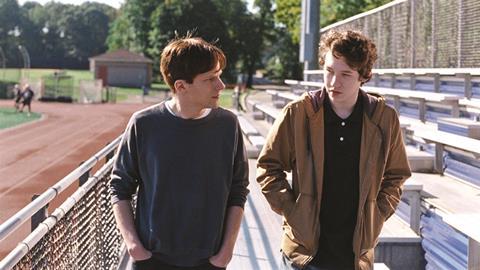 Scroll down for full list
Joachim Trier's Louder than Bombs [pictured] starring Jesse Eisenberg and Gabriel Byrne won four Amanda awards at the 44th Norwegian Film Festival (Aug 20-16), including Best Director, Best Screenplay, Best Cinematography and Best Editing.
In 2015, the film was the first Norwegian feature to play in competition at Cannes for 36 years.
Marking the first English language film made by Trier, Louder Than Bombs follows a father and his two sons who are made to come to terms with the death of their mother, a notable war photographer.
Roar Uthaug's The Wave took the night's top prize, Best Norwegian Film in Theatrical Release. Submitted by Norway to last year's Academy Awards for the best foreign-language category, it depicts the 1934 Tafjord Tsunami which resulted in the death of 40 people.
Rune Denstad Langlo's Welcome To Norway took two awards for Best Actor (Anders Baasmo Christiansen) and Best Actor in a Supporting Role (Olivier Mukuta).
The 2016 Amanda Award winners:
Best Children's Film:
Two Buddies and a Badger
Produced by Eric Vogel for Tordenfilm, directed by Rasmus Sivertsen and Rune Spaans.
Best Documentary
Dugma – the Button
Directed by Paul Refsdal
Best Cinematography
Jakob Ihre
Louder Than Bombs
Best Actor in a Supporting Role
Olivier Mukuta
Welcome to Norway
Best Screenplay
Eskil Vogt and Joachim Trier
Louder Than Bombs
Best Actress in a Supporting Role
Maria Bock
Revenge
Best Actor
Anders Baasmo Christiansen
Welcome to Norway
Best Actress
Liv Bernoft Osa
Pyromaniac
The People's Amanda
El Clásico
Directed by Halkawt Mustafa
Best Norwegian Film in Theatrical Release
The Wave
Produced by Martin Sundland and Are Heidenstrøm for Fantefilm Fiksjon, directed by Roar Uthaug.
The Amanda Committee Honorary Award
Actress Anne Marit Jacobsen
Awards presented at City Hall:
Best Editing
Olivier Bugge Coutté
Louder Than Bombs
Best Music
Trond Bjerknæs
El Clàsico
Best Sound Design
Christian Schaanning
The Wave
Beste scenografi/produksjonsdesign
Karl Júliusson
Doktor Proktors tidsbadekar
Best Visual Effects
Lars Erik Hansen
The Wave
Best Foreign Film in Theatrical Release
Virgin Mountain(Iceland)
Directed by Dagur Kári, distributed by Europafilm
Best Short Film
Cold Shivers
Directed and produced by Marius Myrmel
Best Director
Joachim Trier
Louder Than Bombs
The Amanda Committee's Golden Clapper ("Gullklapper")
Norsk Film Kostyme (Norwegian film costume)