Enhanced tax rebate has resulted in a mini-production boom.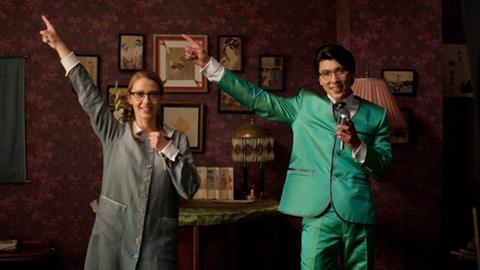 After troubled times, Hungarian film is on the mend. That was the message from Hungarian Film Fund CEO Agnes Havas at this year's European Film Market (EFM).
Local market share for Hungarian films is still low (precise figures for 2014 are not yet available) but the industry is enjoying a mini-production boom.
The enhanced 25% tax rebate is helping draw foreign production to the country. Ridley Scott has been in Budapest shooting his new sci-fi thriller The Martian for Twentieth Century Fox, starring Matt Damon, Jessica Chastain, Chiwetel Ejiofor and Kristen Wiig.
Scripted by Drew Goddard, and adapted from the Andy Weir book, it is the story of an astronaut stranded on a Martian colony. Scott recently gave a film masterclass in Budapest.
Also shooting in Hungary are Pernilla August's Serious Game, Jonathan Mostow's Hunter's Prayer starring Sam Worthington and Alan Ball's new HBO pilot, Virtuoso.
Meanwhile, local production is reviving. "I look at 2014 with happiness in my mind and in my heart," said Havas.
She pointed to the success last year of Whatever Happened To Timi, which posted 100,000 admissions; Kornel Mundruczo's Cannes Un Certain Regard Winner White God, also a local success; and Gabor Reisz's debut feature, For Some Inexplicable Reason, which premiered in Karlovy Vary, was a local box-office success, and was screened at this year's EFM.
In 2015, around 20 new Hungarian films are expected to be released in local cinemas.
Local movies being seen in Hungarian cinemas this year include Károly Ujj Mészáros Liza, the Fox-Fairy; Peter Gardos' Fever At Dawn; Ibolya Fekete's Mom And Other Loonies; The Wednesday Child by Lili Horváth; and Lily Lane by Bence Fliegauf .
There are also some new feature documentaries, among them Tittita (aka Music Saves You) by Tamás Almási.
The Hungarian Film Fund was at the EFM representing (among other titles) German Shepherd rescue dog film Paw, directed by Robert Pejo; and Liza, The Fox Fairy by Károly Ujj Mészáros.
The Fund, founded in 2011, has an annual budget of around €16m.
"I feel a pretty secure situation," added Havas. "The money is stable and there is a strong will for the Hungarian Film Fund to be continued."
The Film Fund boss added that Hungary has "a smoothly developing film industry now with both older and younger filmmakers making their films".