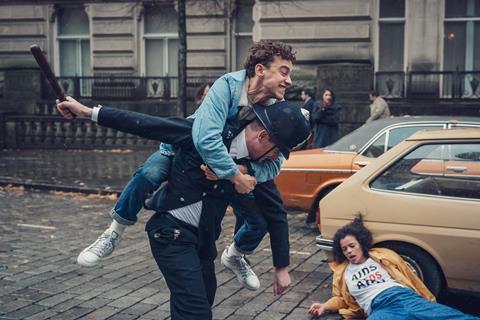 Warner Bros Discovery has closed HBO Max's international originals team, which was behind deals such as buying US rights to It's A Sin, as part of 70 layoffs under chief content officer Casey Bloys.
Bloys, who leads on content for HBO and HBO Max, is overseeing a 14% cut to his programming operations, with senior vice-president of international originals Jeniffer Kim's team one of the worst hit.
An internal memo from Bloys stated that in light of WBD's "sizable international footprint" under international chief Gerhard Zeiler, HBO Max will "no longer have a US team dedicated to pursuing these [originals] opportunities".
Under Kim, the division was responsible for sourcing high-profile global titles for HBO Max and was the streaming partner behind Channel 4's smash hit It's A Sin and CBC's Peabody Award-winning comedy Sort Of.
Bloys wrote: "I extend my sincere gratitude to Jen and her team for all of their inspired work. Going forward, similar to the model employed at HBO for titles such as Years and Years, I May Destroy You, and My Brilliant Friend, the individual drama and comedy teams will evaluate and pursue any international co-productions they may find valuable outside of Warner Bros. Discovery."
The move comes a month after HBO Max halted originals in the Nordics, Central Europe, Netherlands and Turkey, which – along with Bloys' layoffs – are part of chief exec David Zaslav's $3bn post-merger cost-saving measures.
Elsewhere, the HBO Max non-fiction and live-action family originals and content acquisitions teams have been reduced or, in the case of casting, cut completely.
Non-fiction originals, led by Jennifer O'Connell, "will not add new reality/documentaries to the HBO Max slate", with renewal decisions for existing reality programming subject to "traditional measures of success".
HBO Max acquisitions is seeing a "significant reduction in the size of the team", including the departure of Michael Quigley, executive vice-president of content acquisition.
Bloys said this reflected an "evolving need as the industry moves away from third-party pay deals and acquisitions…as a company we leverage our own library from the Warner Bros portfolio".
Royce Battleman, senior vice-president of content acquisition, will head the newly restructured department reporting to Glenn Whitehead, president, business affairs and production for HBO & HBO Max.
Key figures hold onto positions
HBO Max originals chief Sarah Aubrey, who has been there from the beginning, keeps her oversight of the drama slate and expands her duties to take on a strategic global role. She will work with Zeiler to identify and deliver an international programming strategy.
Joey Chavez, executive vice-president of programming, will continue to report to Aubrey as the lead for Max Originals drama.
Max comedy lead Suzanna Makkos will report into HBO's comedy chief and executive vice-president of programming Amy Gravitt. The move aligns scripted comedy slate under one strengthened team.
Besides Gravitt's new team, the HBO leadership is unaffected, with drama boss Francesca Orsi, documentary chiefs Nancy Abraham and Lisa Heller, and late-night, talk and specials head Nina Rosenstein continuing.
"As we contemplate the Discovery content offering joining HBO Max for an eventual combined platform, we have had to make the incredibly difficult decision to disband or restructure the following teams, none of which reflects the contributions of the individuals impacted here," Bloys concluded.
"Although I am confident these structural changes will allow us to sustain a thriving business model, these decisions have been extremely painful to make.
"We operate in an environment where we must adapt in real-time to industry and company exigencies. None of this lessens the blow of parting ways with such talented, trusted, hardworking, and celebrated teammates. I extend to each of them my deepest appreciation as they transition to their next opportunity."
This story first appeared on Screen's sister site Broadcast