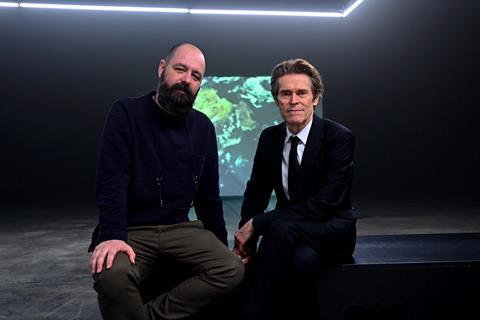 Greek producers Heretic have just wrapped their first English-language production, Inside, starring Willem Dafoe.
Vasilis Katsoupis makes his fiction feature directorial debut, from a script written by Ben Hopkins based on an original idea by Katsoupis.
Bankside has boarded international sales and Square One Entertainment will distribute in German-speaking territories.
The under-the-radar project wrapped principal photography on June 1 after a Covid-safe seven-week shoot at Cologne's MMC TV & Film Studios. The film will be delivered in spring 2022.
The high-concept psychological suspense drama is about a high-end art thief, Nemo (Dafoe), who becomes trapped in a luxury, high-tech penthouse in New York's Times Square after his heist does not go as planned. He is locked inside this luxury house, adorned with exquisite works of art that he covets and admires, but now he must use all his cunning and invention to survive for months on his own.
Producers are Giorgos Karnavas and Konstantinos Kontovrakis for Heretic (Greece); Marcos Kantis for Schiwago (Germany); Dries Phlypo for A Private View (Belgium).
Executive producers are Katsoupis, Charles Breitkreuz, Jim Stark and Stephen Kelliher. Co-producers are Bastie Griese, Jens Wolf, Neshe Demir of MMC Movies and associate producers are Dan Wechsler Jamal Zeinal-Zade and Andreas Roald of Bord Carde films/Sovereign Films.
Backers include Film- und Medienstiftung NRW, Greek Film Center, Screen Flanders, Eurimages, ERT, EKOME, the German Federal Film Fund, the Belgium Tax Shelter, MFG Medien und Filmgesellschaft Baden- Wurttemberg; and Creative Europe/MEDIA.
The film was developed by producer and Heretic founding partner Karnavas as part of his participation at the Inside Pictures programme in 2017.
The production is working with UK cinematographer Steven Annis (Color Out Of Space) and with Italy's Leonardo Bigazzi as art curator.
Katsoupis has directed hundreds of commercials and music videos and previously directed the feature documentary My Friend Larry Gus.
Heretic's past credits include Wasted Youth, Son Of Sofia, Pari and Kala Azar and the company is now executive producing Ruben Ostlund's Triangle Of Sadness. Heretic's sales arm has worked on films including Radu Jude's 2021 Golden Bear winner Bad Luck Banging Or Loony Porn.
Karnavas said: "Inside is our first English-language film to be developed and produced from start to finish by Heretic. The film was designed to be both artistically challenging and accessible to international audiences. Bringing together Willem Dafoe, for what is essentially a one-man show, with debut-director Vassilis Katsoupis in the middle of the Covid-pandemic may sound impossible but it has instead been a dream."