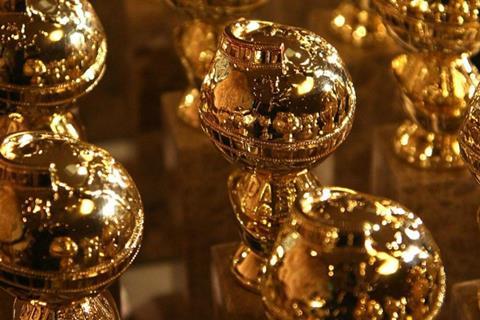 The Hollywood Foreign Press Association (HFPA) has tweaked rules governing eligibility of foreign-language Golden Globe submissions while the landscape remains disrupted due to the coronavirus pandemic.
The HFPA has suspended the requirement that a contender receive a theatrical release from March 15 "until a date to be determined by HFPA when cinemas in that country have generally reopened", and ruled that submissions may be released in any country in any format.
The permissible formats cover streaming and digital platforms, PPV, cable and broadcast TV, in line with a more general rule change introduced by the group in late March.
The submission must be released in the country of origin during the 15-month period from October 1 to December 31 prior to the awards.
The HFPA's reminders list committee will consider the status of the rules change on a case-by-case basis, on the recommendation of the foreign-language film committee when compiling the annual Golden Globe reminders list in autumn.
The group has suspended the requirement that contenders must screen for voting HFPA members in a theatre or screening room in Los Angeles. Instead distributors must contact the HFPA to arrange a screening date on the official HFPA calendar, by which time distributors must provide all members with a screening link or a DVD copy of the film so that members may view it at home.
Foreign-language contenders must be screened for all active and lifetime HFPA members and should not be submitted for Golden Globe consideration until an official screening date for HFPA members has been approved by the organisation.
This alternate screening procedure is in effect from March 15 until a date to be determined by HFPA when cinemas in the Los Angeles area have generally reopened. Speculation is that theatres in the US may reopen in July based on prior public guidance by the major theatre chains.
Some have already reopened in the state of Texas and others may follow in regions where state governors relax lockdown restrictions.
According to the HFPA website, "Foreign language motion pictures screened for HFPA members after November 1 each year need not be (and may not request that they be) the only event at that time on the HFPA members' calendar"; and
"Foreign language motion pictures should be screened and made available as early in the year as possible to avoid the end of year crush but in no event later than the date given in the official Golden Globe Awards Timetable. However, foreign language motion pictures do not need to satisfy the one-week from release date standard for official screenings for English language motion pictures."
The HFPA will continue to assess the impact of the pandemic on distribution and exhibition and may make other temporary tweaks to rules as considered appropriate.