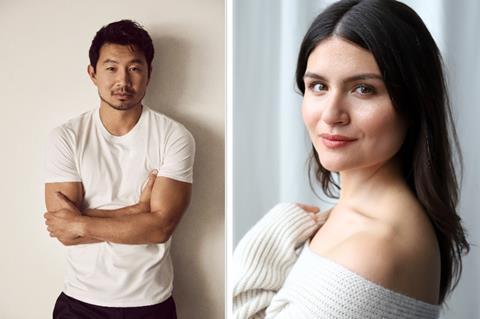 Highland Film Group has come on board to co-finance and has acquired worldwide rights to romance One True Loves starring Phillipa Soo from Hamilton, Simu Liu from this week's Marvel Studios release Shang-Chi And The Legend Of The Ten Rings, and Luke Bracey from Holidate.
Highland will launch international sales at Toronto International Film Festival next week while distribution division The Avenue which launched last year will release in the US.
Andy Fickman (Parental Guidance) will direct from the adapted screenplay by Alex J. Reid and Taylor Jenkins Reid based on Taylor Jenkins Reid's novel about Emma (Soo), who has found happiness with her childhood best friend Sam (Liu) four years after her high school sweetheart Jesse (Bracey) was presumed dead in a helicopter accident.
When Emma is told Jesse is alive, she must choose between a life she thought was gone forever and one that has just begun.
Production is scheduled to commence on October 11 in North Carolina. Volition Media Partners' Adam Beasley and Michael Jefferson, Willie Kutner, Fickman, Betsy Sullenger and Sarah Finn are producing.
Executive producers are Taylor Jenkins Reid (Daisy Jones & The Six), Alex J. Reid and Highland Film Group's Delphine Perrier and Arianne Fraser serve as executive producers.
"We all have had someone in our lives who has impacted our hearts – past, present and future – but what if there were more than one person?" said Fickman. "Having Taylor Jenkins Reid's beautiful book as our Northern Star and with a powerful cast lead by Phillipa Soo, Simu Liu and Luke Bracey, we have the gift and the opportunity to take our worldwide audience on an unforgettable journey of a lifetime."
"To bring this film to life through international sales, domestic distribution and also partnering with producers to finance the film is a wonderful opportunity for us here at Highland," said CEO Arianne Fraser. "This uniquely and diversely talented group of performers is the best team to bring Reid's poignant tale to the big screen. Andy is a world-class director who can beautifully depict the deeply intertwined heartbreak and joy of life."
Highland COO Delphine Perrier added, "There couldn't be a better time to embrace this deeply romantic story than when we are all reconnecting with loved ones and finding happiness and love in our lives."
Highland's production and sales slate includes Neil Marshall's The Lair, Renny Harlin's The Misfits, Edward Drake's Gasoline Alley, and Herbert James Winterstern's Supercell.
The Avenue's first release was martial arts sci-fi Jiu Jitsu starring Nicolas Cage and Frank Grillo. Recent titles include The Misfits as a joint release with Paramount Pictures.