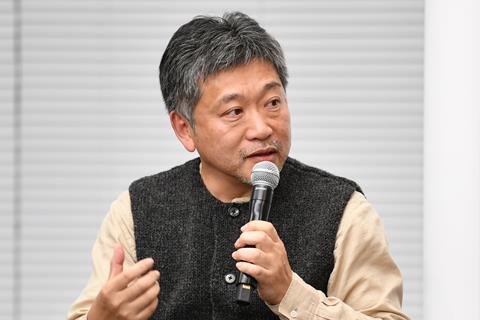 Hirokazu Kore-eda, fresh off his Cannes win with Broker, has announced a new group pushing for reforms in the Japanese film industry which is seeing a rise in harassment allegations cases.
Kore-eda and other Japanese directors including Suwa Nobuhiro, Atsushi Funahashi and Sode Yukiko spoke at a press conference yesterday (June 14) in Tokyo, according to local reports.
The group is pushing for the establishment of an industry body modelled on France's National Centre for Cinema and the Moving Image (CNC). The organisation promotes and supports its local industry, funded by portions of box office ticket sales and distribution rights. The Korean Film Council (KOFIC), an agency which similarly operates on government-secured funding, was also brought up as a possible model.
"Many Japanese movies are the work of film lovers who do it for little return. The industry is taking advantage of their enthusiasm, but that cannot continue," said Kore-eda.
"It's impossible to envision a future for those working long hours in low-paying film production sites," said Nobuhiro. "While some film companies are benefitting, others continue to be dealt with lower budgets."
The group plans to reach out to government and industry entities with their proposal. They also unveiled draft guidelines to prevent harassment including in auditions or while shooting violent or sexual scenes.
"We understand that we have allowed harassment and violence by directors, producers and other power structures within the industry to go unaddressed," said Funahashi. "This should change throughout the industry."