Warner Bros' climactic Hobbit outing posts chart-topping $15.3m (£9.76m) bow; StudioCanal's Paddington becomes distributor's highest grossing release of all time.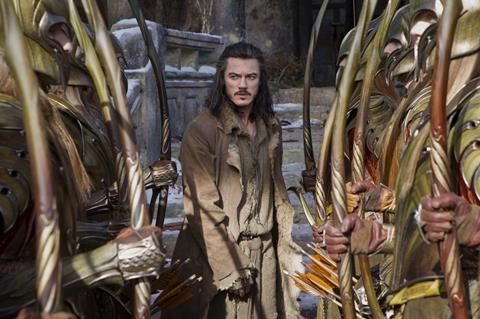 It may not have hit the commercial heights of The Lord of the Rings trilogy, but there's no denying The Hobbit trilogy's opening consistency as The Hobbit: The Battle of the Five Armies debuted top of the UK box office.
Warner Bros' climactic outing posted a healthy $15.3m (£9.76m) debut from its 597 sites to comfortably lead the chart. That's ahead of The Desolation of Smaug's $14.6m (£9.3m) opening from 580 sites, but behind An Unexpected Journey's $18.2m (£11.6m) from 598 sites.
However, An Unexpected Journey's debut included $3.3m (£2.09m) in previews so, based solely on Fri-Sun figures, The Battle of the Five Armies opened ahead of Unexpected Journey's Fri-Sun tally of $14.9m (£9.5m).
Both The Desolation of Smaug ($67.4m/£42.9m) and An Unexpected Journey ($81.2m/£51.7m) failed to challenge even the lowest grossing performer of the LOTR trilogy (The Two Towers' $90.4m/£57.6m), meaning that The Battle of the Five Armies is unlikely to do so either.
An Unexpected Journey fell almost 50% (excluding previews) in its second weekend to stand at $37.2m (£23.7m) and if The Battle of the Five Armies can match or better that, then it at least stands a chance of becoming The Hobbit trilogy's best performer.
Also for Warner Bros, Get Santa recorded a minimal drop on its way to a $703,000 (£448,000) second weekend for $1.9m (£1.2m) to date, which bodes well for the festive outing up to and including Christmas.
Horrible Bosses 2 and Interstellar stand at $5.2m (£3.3m) and $31m (£19.7m), respectively.
STUDIOCANAL
While it was prevented from a hat-trick of number one weekends, Paddington can console itself with the fact that it is now StudioCanal's highest grossing release of all time in the UK.
The big screen outing for the marmalade-loving bear took an additional $4.5m (£2.9m) for $22.4m (£14.3m) after three weeks in play, meaning it has now surpassed Tinker Tailor Soldier Spy's final UK result of $22.3m (£14.2m) in 2011.
With Christmas and school holidays just around the corner, Paddington is showing no signs of slowing down and will prove a formidable presence for upcoming family openers Night at the Museum: Secret of the Tomb and Annie.
Also for StudioCanal, The Imitation Game stands at $19.5m (£12.4m) following a $837,000 (£533,674) fifth weekend.
LIONSGATE
Dropping around 50% with the arrival of The Hobbit, The Hunger Games: Mockingjay Part 1 recorded a $1.7m (£1.1m) fourth weekend.
Lionsgate's adaptation is now up to $42.7m (£27.2m) in its attempt to hunt down Catching Fire as the series' highest grossing outing in the UK. Catching Fire stood at $45.1m (£28.8m) at the same stage in its run.
FOX
Falling to fourth with a 28% drop, Penguins of Madagascar posted a $1.6m (£1.05m) second weekend. Fox's spin-off is now up to $4.7m (£3m) and will be hoping for similar holds over the coming weeks to have a chance of hitting £10m.
Also for Fox, The Pyramid dropped 59% to dig up an extra $96,000 (£61,332) for $569,000 (£363,193) after ten days in play, while Gone Girl has now reached $34.9m (£22.26m).
DISNEY
Tinker Bell and the Legend of the NeverBeast flew in with a solid, if unspectacular, $627,000 (£400,000) UK bow from its 372 sites through Disney. That's less than half the opening of the other 2014 outing for the fairy, Tinker Bell and the Pirate Fairy's $1.5m (£966,920) from 405 sites.
Also for Disney, Frozen continued its re-release with a $105,000 (£67,000) weekend for $64.5m (£41.17m) to date.
EONE
With the lowest drop of all films in the top ten at 16%, Nativity 3: Dude, Where's My Donkey?! enjoyed a $598,000 (£381,673) fifth weekend. eOne's threequel stands at $8.9m (£5.7m) and has overtaken the first Nativity!'s UK result, but is likely to fall short of Nativity 2: Danger in the Manger!'s $14.4m (£9.2m).
Also for eOne, Mr. Turner has now amassed $9.9m (£6.3m) after seven weeks in play.
ENTERTAINMENT
Falling over 50% in its second weekend, Entertainment's St. Vincent grossed $228,000 (£145,657) for $1.2m (£780,002) after ten days in play.
BFI
Coinciding with the BFI's Sci-Fi: Days of Fear and Wonder season, Blade Runner: The Final Cut held preview screenings on Sunday [Dec 14] at 130 sites (as well as one screening at the BFI IMAX on Dec 11] and grossed $158,000 (£101,131) ahead of its general release next year on April 3.
Also for BFI, their re-release of 2001: A Space Odyssey has now taken $427,000 (£272,929).
UNIVERSAL
Unsurprisingly dropping a hefty 77% after its soft opening, Universal's Black Sea added $88,000 (£56,000) for $745,000 (£475,000), meaning it has at least avoided becoming Kevin Macdonald's lowest-grossing feature outing.
ARTIFICIAL EYE
Sundance 2014 audience award winner The Green Prince enjoyed a $26,000 (£16,359) UK debut, including $5,100 (£3,245) in previews, from its 12 sites through Artificial Eye.
PARAMOUNT
Men, Women & Children couldn't recover from its weak bow last weekend, taking just $16,000 (£10,364) for $214,000 (£136,470) after ten days in play through Paramount.
SODA PICTURES
Released in eight sites through Soda Pictures, Electricity took $9,600 (£6,118) on its UK bow, including just over $3,100 (£2,000) in previews.
METRODOME
The Grandmaster is up to $119,000 (£75,973) following a $9,400 (£5,967) second weekend through Metrodome.
DOGWOOF
Locarno 2013 double winner Manakamana posted a strong UK opening of $9,000 (£5,727) from its nine sites through Dogwoof.
SONY
From its one-site release, Sony's Merchants of Doubt grossed $507 (£323) on its UK bow.
UPCOMING RELEASES
This week sees saturation releases for Fox's Night at the Museum: Secret of the Tomb and Universal's Dumb and Dumber To.
Soda Pictures' Kon-Tiki, Park Circus' re-release of Guys and Dolls and IG Interactive Entertainment's P.K. all receive limited releases.