World's second longest-serving film festival director died last week while attending Graz film festival.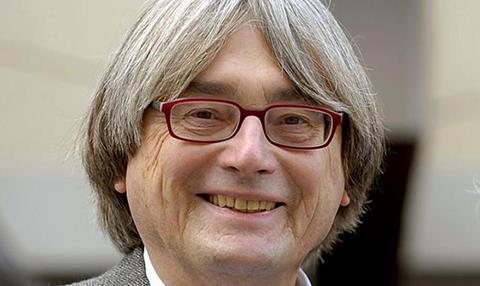 Filmmakers in Germany and beyond are mourning the passing of Heinz Badewitz, the founder of the Hof Film Days, who died unexpectedly last week at the age of 74 whilst attending last week's Diagonale - Festival of Austrian Film in Graz.
Badewitz was the world's second longest-serving film festival director after Chicago's Michael Kutza (who launched his festival in 1964) and was planning Hof's 50th anniversary in October.
Hailing from Hof in Northern Franconia, Badewitz had moved to Munich in the early 1960s to train as a cameraman and soon became part of the Munich film scene, later working as location manager on such films as Wim Wenders' Kings Of The Road and The American Friend, and assistant director for Bob Fosse's Cabaret and Norman Jewison's Rollerball.
In addition, he was involved in the selection of German films for the Berlinale since 1976, overseeing the showcase of German films in the Marché du Film in Cannes, and was on the jury for the German Films' Next Generation programme of shorts by German student filmmakers.
The important role played by Badewitz in the development of German cinema over the past 50 years had been recognised by several awards, including the Honorary German Film Award in 1998, the Berlinale Kamera in 2001, the German Film Critics' Association's Honorary Award in 2010, and the FIRST STEPS Honorary Award in 2014
High spirits
In an interview with the author in 1998, Badewitz recalled that Hof was "one of the festivals in Germany that wasn't founded. It simply happened as a result of high spirits."
Initially, the idea back in May 1967 was to organise a showcase of films from the Munich film scene and the first edition was so successful that Badewitz found himself being entrusted with hosting the annual gathering for the German film family in the following years even though he had never actively put himself forward to be the festival director.
"Everyone - whether it was Reinhard Hauff or Wim Wenders - said 'Heinz, you do it'," Badewitz said in the 1998 interview.
While other festivals such as Oldenburg, Hamburg and Braunschwheig may have since appeared in the autumn calendar and begun competing with Hof for film titles, the Film Days under Badewitz's direction have always had a very special place in the heart of German filmmakers, distributors, cinema-owners and critics alike.
Home of Films
Wim Wenders summed up the festival's atmosphere which was bound up so closely with Badewitz's own personality, when he suggested that Hof meant 'Home of Films' - or 'Heinz organises a festival'.
"[Werner] Herzog was once asked what Hof is for him and he said that it is the kitchen-cum-living-room of the German cinema where people feel at ease," Badewitz observed in the 1998 interviews. "My credo has always been: a film festival should not operate only on a commercial basis. We don't only take famous names. A festival which only uses names isn't a good festival. A good festival should make new stars, new names."
Indeed, generations of German filmmakers are indebted to the Badewitz's neverending curiosity about new talents and his loyalty to directors during both the ups and downs of their careers.
Writing for the Film Days' publication to mark the 40th anniversary in 2006, Tom Tykwer recalled that "without Heinz, I would not have been able to understand what kind of films I was actually making. And without Hof I would not have been ready for the big wide world outside," while Florian Henckel von Donnersmarck pointed out that he met many of his collaborators on his later Oscar-winning The Lives Of Others when presenting his shorts in Hof.
"There is always a highly critical but also thoughtful and intelligent audience," he remembered fondly, "and above all, there is übervater Heinz Badewitz, ever ready to hug his directors and to comfort or congratulate them, whatever the case may be."
Home from home
The little town in Northern Franconia also became a 'home from home' for the many international filmmakers who have made the journey to Film Days over the past five decades.
In the early 1970s, Badewitz played a key role in introducing the works of such US indies as John Waters, Russ Meyer, George A. Romero, Paul Bartel, John Carpenter and David Lynch to German audiences for the first time.
Many of its retrospectives were dedicated to US independent filmmakers, starting with Brian de Palma in 1976 and including such directors as Sam Fuller, John Sayles, Henry Jaglom and Bob Rafelson in subsequent years, but Badewitz also payed homage to other international filmmakers ranging from Atom Egoyan through Clara Law and Paul Cox to Costa Gavras and Mike Leigh.
Speaking to the author in 2006 about attending his Hof retrospective in 1993, Mike Leigh spoke fondly of the festival's "incredible informality. It has a wonderful 'hands-on', serious, 'no messing about' approach to filmmaking."
Maverick John Waters quipped when attending with Polyester in 1981 that, "for a director, attending Hof is like winning a demented vacation on an American quiz show," while Peter Jackson, the subject of the retrospective in 1994, praised Hof as "a festival free of the pretence and arrogance that spoils many film festivals around the world."
German and international filmmakers' stay at the festival have invariably included a visit to the traditional football match held on the Saturday morning between a team drawn from the ranks of the assembled film industry (FC Filmtage Hof) vs. the local lads from Hof.
Werner Herzog held the record for the number of goals scored until he was overtaken by Sönke Wortmann, with such filmmakers as Michael Caton-Jones, John Carpenter Wim Wenders, Rainer Werner Fassbinder and Tom Tykwer displaying their own brand of nifty footwork on the pitch.
And Badewitz would be there standing on the touchline in all weathers following proceedings and then announcing the score in the Central Kino before the main screening on the Saturday evening.
Although Hof without Heinz would seem an almost unimaginable prospect, the festival organisation under Rainer Huebsch is planning to continue with preparations for the 50th anniversary (25-30 October, 2016) as a tribute to the late festival director.