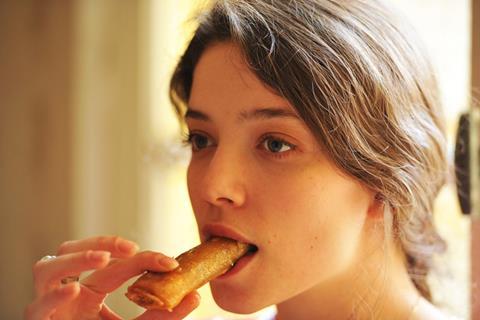 Venice's Giornate Degli Autori, now under the stewardship of Gaia Furrer, has announced its official selection under the title The Days Of Courage in a nod to the power and creativity of filmmaking amid the coronavirus pandemic.
The selection of the 17th edition, which like the concurrent Venice Film Festival will run as a physical event, includes Bruce LaBruce's out of competition closing film Saint-Narcisse and a short film from Atlantics director Mati Diop.
Kamir Aïnouz's Honey Cigar (pictured) will open the competition, a 10-strong field that includes The Stonebreaker from Italian twins Gianluca and Massimiliano De Serio, Hungarian director Lili Horvath's (The Wednesday Child) Together For An Unknown Period Of Time, and Merawi Gerima's US debut and Slamdance selection Residue.
The Miu Miu Women's Tales shorts sidebar includes new work from Atlantics director Mati Diop (In My Room), and Malgorzata Szumowska (Nightwalk).
Overall there are five debut films and 10 films directed by women from the entire official selection, which encompasses 25 nationalities.
Venice Days will run alongside Venice Film Festival from September 2-12.
COMPETITION
Honey Cigar (France/Algeria, dir. Kamir Aïnouz)
Opening film
The Stonebreaker (Italy/France/Belgium, dirs. Gianluca and Massimiliano Serio)
Residue (US, dir. Merawi Gerima)

Preparations To Be Together For An Unknown Period Of Time (Hungary, dir. Lili Horvat)

Oasis (Serbia/The Netherlands/France/Bosnia-Herzegovina, dir. Ivan Ilkic)

Mama (China, dir. Li Dongmei)

200 Meters (Palestine/Italy, dir. Ameen Nayfeh)
My Tender Matador (Chile/Argentina/Mexico, dir. Rodrigo Sepulveda)
Conference (Russia/Estonia/Italy/UK, dir. Ivan I. Tverdovskij)
The Whaler Boy (Russia/Poland/Belgium, dir. Philipp Yuryev)
OUT OF COMPETITION
Saint-Narcisse (Canada, dir. Bruce LaBruce)
Closing film

MIU MIU WOMEN'S TALES
Nightwalk (Italy/Poland, dir. Malgorzata Skumowska)
In My Room (Italy/France, Mati Diop).