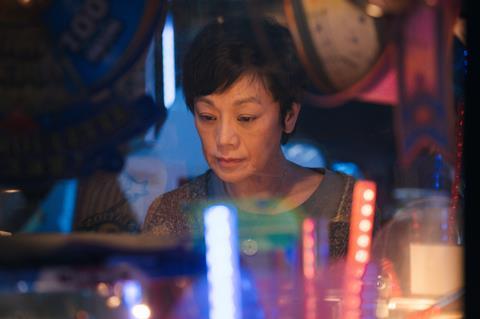 Trinity CineAsia has picked up Sylvia Chang-starring film A Light Never Goes Out for the UK and Ireland from Hong Kong's Entertaining Power.
Chang picked up the Golden Horse best actress award last November for her performance as a grieving widow who learns the craft of making neon lights in order to carry on her late husband's efforts to restore one of the neon signs that have been disappearing in Hong Kong.
The UK-based Trinity CineAsia saw an upward trend for Hong Kong films last summer when it released Chilli Laugh Story, approaching $100,000 at the box office, which it then surpassed with The Sparring Partner ($110,000) and Mama's Affair ($140,000).
Saville Chan, the producer of A Light Never Goes Out, said: "This movie is a story about transforming sorrow into wishes. Hopefully, friends who are longing for Hong Kong in the UK will find solace in it."
Cedric Behrel, co-founder and director of Trinity CineAsia, is at Hong Kong Filmart this week looking for Asian films with a focus on homegrown Hong Kong local films and an eye out for Korean content.
"In the UK, smaller films can punch above their weight if they have a known director or festival award," he said. "This is a very touching Hong Kong drama, connecting viewers with a history that can resonate with our viewers in the UK and Ireland as well."