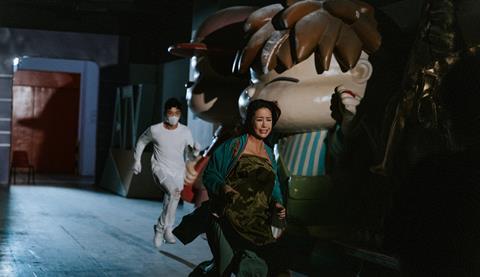 Hong Kong's oldest broadcaster Asia Television (ATV) is returning to production with a slate of film and TV projects developed in partnership with UK production company Phoenix Waters Productions.
The first project, suspense thriller Lockdown, has already wrapped and is in post-production after shooting during the pandemic in the UK, US, Hong Kong, Italy and Japan. The primarily English-language film revolves around an actor who enters a video audition and must pass a series of tests to keep those around him alive. Some of his alt-right opinions are challenged along the way.
Directed by Bizhan Tong, the film was produced and co-financed by ATV, Phoenix Waters and YG Capital, an asset management firm with a shareholding in ATV. Tong, the formerly UK-based founder and CEO of Phoenix Waters, joined ATV last year as an executive producer.
Xander Berkeley (The Walking Dead) heads the cast of the film, which also includes John Savage, Jumayn Hunter, Alix Wilton Regan, Kevin Leslie, Pamela Nomvete and Hong Kong actress Anita Chui.
Tong hired separate production teams in each country the film shot in and was the only crew member who travelled between locations. "Thanks to Zoom, we were able to have cast and technical meetings all across the globe, with time differences as the only obstacle," Tong said.
"Doing it this way was much safer. We had one actor we had to recast before shooting, after they were told to self-isolate, but as none of the rest of us had met in person at that point, we were able to continue with the production."
Lockdown kicks off a slate of films, drama series and variety shows being developed jointly by ATV and Phoenix Waters, with the aim of revitalising the Hong Kong broadcaster, while appealing to international as well as local audiences.
Founded in the 1950s as Rediffusion Television, ATV was one of two major terrestrial broadcasters in Hong Kong, along with TVB, and was known for shows such as Central Affairs, My Date With A Vampire and the local version of Who Wants To Be A Millionaire.
However, the service went off air in 2016 when its licence was not renewed by local regulators following a string of financial and other difficulties. It has been operating as a digital service through a mobile app and streaming since 2017 and recently renovated its studio facilities in the Tai Po district of Hong Kong.
"ATV, strategically in partnership with Phoenix Waters Productions, has devised a business model that is global in outlook, developing projects that engage our local market while thriving on collaborative opportunities to bring local stories to global audiences," said ATV executive director Jonas Chan.
"By revitalising our existing IPs and creating new contents for ATV's library, we aim to be a studio that nurtures creative talent, supports productions from across the globe through the use of our revamped facilities, and create high-quality, fiscally-sound projects that meet our investors' needs."
Other projects being developed with Phoenix Waters include Forensic Psychologist, a Cantonese-language series scheduled to start shooting in January, about a psychologist who interviews defendants to assess if they are mentally fit to stand trial. The two partners are also developing an English-language version of the show with UK producer Debbie Mason and writer Stephen Belber (Match).
Also in development are two remakes of Richard Linklater's Tape (2001), which Belber scripted, one set in the UK and one in Hong Kong, along with Hong Kong-set shows Crypto Keepers, pitting bitcoin enthusiasts against bankers, and a mini-series about a group of UK travellers who run up against a triad family. There are also plans to resurrect some popular ATV formats across drama, talent contests and talk shows.