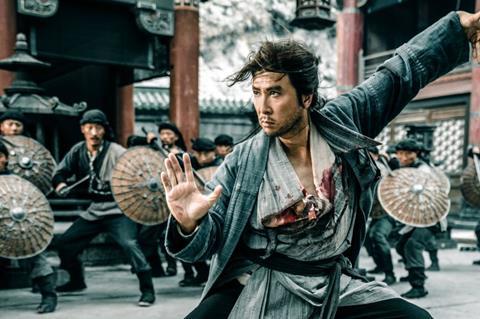 Well Go USA Entertainment has acquired North America distribution rights to Sakra, the latest wuxia action feature led by martial arts star Donnie Yen.
Well Go, which has previously distributed Yen's hit Ip Man films, plans to release Sakra in select theatres this spring. The deal was struck with Mandarin Motion Pictures on behalf of the filmmakers.
Based on the classic wuxia novel Demi-Gods And Semi-Devils by Louis Cha (known worldwide by his pen name Jin Yong), it marks the first time Yen has stepped back into a directorial role in nearly two decades.
Yen also produces alongside veteran Hong Kong filmmaker Wong Jing and stars as Qiao Feng — whose name provides the film's Chinese title — a tragic hero accused of killing his adoptive parents. He goes on the run and vows to discover more about his own origin story and the enemies attempting to frame him for murder from the shadows.
Chen Yuqi from TV series Heavenly Sword And Dragon Slaying Sabre and Cya Liu of Limbo co-star alongside Ray Lui and Tsui Siu Ming. Kenji Tanigaki and Yan Hua served as action directors, with Yen's Action Team on board for stunts.
The film received a release in Hong Kong over Chinese New Year and has taken a combined $518,525 (including South Korea) to date.