Anton Bormatov's social drama Kicking In taken out of competition over "human rights" issues.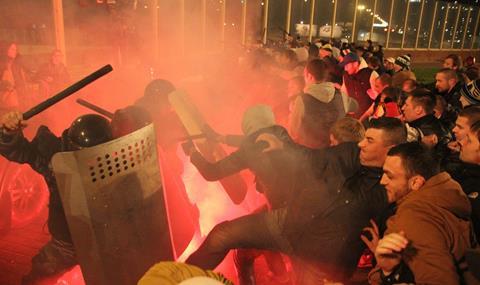 Russian football hooligan film Kicking In (Okolofutbola) was excluded from consideration by the jury of the the Saint-Petersburg International Film Festival (SPIFF), it has emerged.
The second edition of the festival ended last night [Sept 22] with the declaration from jury president Sergei Bodrov.
The international jury refused to consider Anton Bormatov's social drama based on real events in the world of football hooligans because of the authors' position which was "not in line with modern European humanistic values and human rights".
The festival had organised a sidebar - "Section 22 frames" - dedicated to films about football and one commentator asked why Bormatov's film hadn't been shown here. The film was produced by the Saint-Petersburg-based producer Sergei Selyanov of CTB, who was in Moscow at the same time for the film's premiere in the October cinema.
Kicking In will be released by Nashe Kino in Russian cinemas this Thursday [Sept 26].
Golden Cage wins
The International Jury was unanimous in agreeing on the winner of this year's Grand Prix. The Golden Angel was awarded to Mexican director Diego Quemada-Diez's feature debut The Golden Cage (La Jaula de Oro) whose international sales are handled by Films Boutique.
The audience award went to Wakolda, from Argentine film-maker Lucia Puenzo, which had premiered in Cannes' Un Certain Regard.
The Russian Film Critics' Prize was awarded to Yariv Horowitz's debut, Rock The Casbah, also handled internationally by Films Boutique.
Led by Bodrov, the jury also included European Film Academy managing director Marion Döring, Swiss film-maker Christoph Schaub, Tribeca Film Festival's Geoff Gilmore and Juris Poskus.
Other awards are listed at www.festival-spb.ru.
Low points
While SPIFF's organisers were satisfied with the enthusiastic audience response to their film programme, the festival's second edition had its low points out of its own control.
US actor Wentworth Miller, who had been invited as a guest of honour, turned down the opportunity to travel to Saint-Petersburg. The Prison Break star and writer of Park Chan-wook's Stoker cited Russian president Vladimir Putin's recently introduced anti-gay "propoganda" legislation as the reason why he - "as a gay man" - could not attend.
In addition, US director Oliver Stone was a last-minute no-show "for family reasons".
Industry events
Saint-Petersburg hosted a further three international film events last week at the same time as SPIFF: the first edition of the Northern Seas Film Forum; the Beginning International Festival of Debut and Student Films; and the 15th edition of KinoExpo International Convention and Trade Show.
KinoExpo's programme included presentations of such new Russian releases as Kicking In, Belka And Strelka: Space Dogs. Lunar Adventures and The Three Musketeers.
Distributor Bazelevs gave delegates the opportunity to appear as extras in a episode of the forthcoming sequel Christmas Trees 3, which was shot during the convention.
As SPIFF was winding down, the city's traditional documentary film festival Message To Man (Sept 21-28) - now under the direction of director-producer Alexei Uchitel - opened at the newly launched Velikan Film Center.
More than 200 films are being shown in eight days, with 100 premieres and such guests as Ulrich Seidl, , Marat Gelman, Alain Berliner and Kseniya Sobchak.
The winners of the International Competition will be decided by a jury headed by Mira Nair and including Semih Kaplanoglu, Jonathan Rosenbaum and Niko von Glasow.
JV creature Russian animation studio
Russia's Luxor Cinema Company and Argus International have joined forces to launch a new animation studio - LA Studio - to produce traditional 2D and 3D animation projects for cinema and television.
According to Russian press reports, LA Studio already has partnerships with studios in Canada, India and France and is hiring European and American animators to train its workforce.