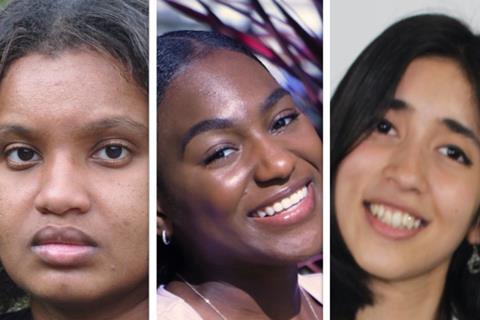 The Horizon Award co-founders Cassian Elwes, Lynette Howell Taylor, and Christine Vachon announced the winners of the 6th Annual Horizon Award to support emerging female filmmakers at Sundance on Sunday (26).
Zawan Mahmoud and Viviane Charlestin are the two directors honoured, as well as Eaza Shukla for the Animation Award. Founding supporter The Adrienne Shelly Foundation returned this year with a $6,000 grant for the two winners.
The award enables two young women to experience an all-expenses-paid mentorship at the festival, in addition to a cash prize and continued support towards a sustainable career in film, TV, and media.
The co-founders chose the winners with the help of Sundance Feature Film Director Michelle Satter from a shortlist compiled by a roster of judges including Dee Rees, director of Sundance entry The Last Thing He Wanted.
Charlestin's project is Black Sparrow. The first-year undergraduate student of Loyola Marymount University is a first-generation Haitian-American director, writer, producer, and actor originally from Florida.
Mahmoud's project is A Woman's Revolution. Born in Sudan, she lived in several countries including Yemen and Ethiopia before relocating to the United States. She is a 2019 Adobe Creativity Scholar and student at the University of Washington.
Shukla is honoured for her animation project Regifted. She was raised in India by her grandparents and moved to the US when she was 18, to pursue an education in computer animation at Ringling College of Art and Design.
Horizon Award organisers reached out to schools worldwide resulting in close to 300 submissions from leading film schools and regional community colleges including London Film School, Polish National Film School in Lodz Poland, Tel Aviv University, NYU, USC, UCLA, and Florida State.
Co-founder and producer Howell Taylor said: "This year, we continue to lift up underrepresented women, both in front of and behind the camera. We are eternally grateful for all the companies and individuals who support the Horizon Award for all that it stands for. It is an honour to be a part of this for the past six years, and I am humbled and inspired by everyone who generously gives their time and money towards this endeavor."
Co-Founder and producer Elwes added: "I'm so proud of what we've accomplished with the Horizon Award. Each year it goes from strength to strength both in the quality and quantity of the submissions. One day there will equality for female directors in our business. Until then we will keep trying to make a difference."
The co-founders thanked sponsors Adrienne Shelly Foundation, The Black List, Carnegie Mellon University, Creative Mind Group, Endeavor Content, HBO, MPAA, ReFrame, ShivHans Pictures, Sundance Institute, Alexander White Agency, and Women In Film Los Angeles.