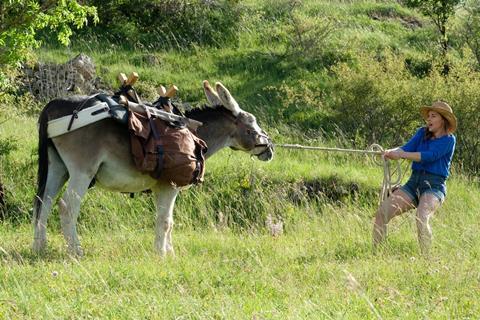 Mourir Peut Attendre, which translates as 'Dying Can Wait' is the French title for the James Bond film No Time To Die, and unexpectedly apt.
As in the rest of the world, French exhibitors had high hopes for the new Bond title as the only major US production left on the release calendar for this autumn, as they battle to stay afloat in the face of historically low admissions and a lack of crowd-drawing blockbusters.
The move of the Bond film to April 2021 is a huge blow but unlike in the UK there are no plans as yet for any major circuits to suspend or limit their activities in the same way as Cineworld, Picturehouse or Odeon, although a handful of independent theatres have temporarily closed.
"The talk is not about cinemas shutting down, at least not for now," said Marc-Olivier Sebbag, managing director of national exhibitors body La Fédération Nationale des Cinémas Francais (FNCF).
A major factor behind this robustness is undoubtedly promised state aid, which consists of a €50m compensation scheme covering box office losses and another €34.3m contingency fund, aimed at helping theatres keep their cash flows ticking over while business is slow.
Another key factor, however, has also been the steady stream of French comedies and dramas hitting cinemas in recent weeks. These films have filled the programming gaps left by cancelled or postponed theatrical releases of US titles such as Mulan, Wonder Woman 1984 and Black Widow, and are doing good business.
Cannes 2020 label comedy-drama My Donkey, My Lover & I, for example, has drawn some 475,000 spectators since September 16 for an approximate gross of $3.7m, according to local site CBO Box Office. Benoit Delepine and Gustave Kerverne's Delete History drew 500,000 spectators for a gross of $3.9m over six weeks following its release at the end of August, which is on a par with the performances of their previous films.
Additionally, the comedy-drama Mama Weed, starring Isabelle Huppert, has sold around 360,000 tickets, for a gross of around $2.8m, following its release on September 9. This weekend, Pathé comedy My Cousin, starring Vincent Lindon and François Damiens, topped the weekend box office chart with some 175,000 admissions for a gross of $1.4m.
"French cinema has played a bigger role in filling release schedules and drawing spectators," said Sebbag. "These are good figures. With more space in cinemas and films staying longer on screens, we're beginning to see results which aren't normal but aren't completely out of kilter either."
According to recent figures released by France's National Cinema Centre (CNC) last Friday (October 2), the French box office was at 50% of its pre-Covid-19 levels for September.
The body said there had been an estimated 5.5 million cinema admissions in France in September, equivalent to a gross of around $43m, against 11.2 million admissions in September 2019.
It further estimated there have been some 18 million admissions (equivalent to a gross of around $142m) since French cinemas reopened on June 22, after a 14-week hiatus due to Covid-19 – a 63% drop on the same period last year. Its data for the first nine months of 2020 shows the box office was down 62.7%, registering 56 million spectators against 150.6 million for the same period in 2019. Year on year, for the period running to end-September, it's down 43%, with spectators running at 118 million against 208 million.
Christopher Nolan's Tenet has also played its part in supporting the French box office, clocking 2.1 million admissions since the end of August, for a gross of $16.8m. Sebbag acknowledges US blockbusters will be essential to fully revive the box office.
"Business won't be able to truly take off again without the blockbusters but there are sufficient numbers of French films to maintain an activity of resistance, if not turn a profit, and keep the habit of cinema-going alive."
Local films
In the meantime, a diverse selection of local films is lining up for theatrical release over the coming weeks, including actor Laurent Lafitte's directorial debut The Origin Of The World (Studiocanal); genre titles such as The Swarm (The Jokers/Capricci); and several Cannes 2020 label films including Maïwenn's DNA, Lucas Belvaux's Home Front and Gagarine, the debut feature of Fanny Liatard and Jérémy Trouilh.
Another bright spot will be the release of Trolls World Tour by Universal Pictures International. France's theatrical release on October 14 will coincide with the half-term school break. France is one of the only countries in the world where the family animation will be given a full theatrical window after Universal decided to release it directly on premium VoD in a number of territories on April 6 at the height of the global lockdown.
A number of local family-focused titles will also launch in the same holiday period including Rémi Chayé's Calamity, A Childhood Of Martha Jane Cannary for Gebeka Films, Nicolas Vanier's Poly (SND), following the adventures of a pony and young girl, and Joann Sfar's The Little Vampire (Studiocanal).
Another major non-US release of the coming weeks will be the Korean blockbuster, zombie thriller Peninsula, Yeon Sang-ho's follow-up to 2016 hit Train To Busan, on 500 prints for ARP Sélection.
The situation remains tough for French exhibitors nonetheless, especially for mainstream independent theatres reliant on blockbuster titles.
Alexandre Hellmann, owner-manager of Le Grand Rex cinema and live entertainment venue in central Paris, said it was "still too early" to confirm his plans for the venue over the coming weeks and months.
"I'm still studying the government compensation scheme and what we need to do to get it," he said, noting that in order to be eligible cinemas have to remain up and running, with at least 70% of their normal programme volume intact.
"For the rest… it's a catastrophe but we have to hold on," he added.
In the meantime, a surge in Covid-19 cases across France since early September has seen the government progressively ratchet up localised lockdown measures in recent weeks.
Paris and its outer suburbs (known as the La Couronne de Paris) will be subject to a fresh wave of restrictions as of Tuesday morning (October 6), including the closure of bars, cafes, swimming pools, gyms, gaming rooms and dance halls for the next two weeks.
Cinemas and theatres have been excluded from these measures for now because of the strict hygiene measures. It now remains to be seen if France's famously cinephile population keeps heading to the cinemas