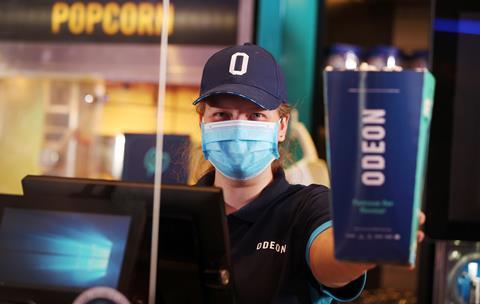 UK exhibitor Odeon is set to close around a quarter of its cinemas during the week, following Cineworld's move to shutter its venues across the UK and UK.
The cinema chain, which is owned by AMC Theaters and has 122 sites in the UK and 11 in Ireland, declined to comment on reports that first surfaced on Monday.
But sources told Screen that around a quarter of the estate (30+ venues) will limit operating to Thursday to Sunday or Friday to Sunday from October 9.
Members of Odeon's Limitless subscription scheme received notification of the decision at the end of last week.
Odeon employs more than 5,400 people in the UK and Ireland.
It closely follows a decision by Cineworld to "temporary suspend operations" at its 127 sites in the UK and 536 Regal cinemas in the US from October 8. This includes boutique chain Picturehouse, which is owned by Cineworld.
The move has been prompted by a lack of tentpole releases, which have been postponed due to the ongoing Covid-19 pandemic, and the decision by MGM, Universal and James Bond producers Eon to push the release of No Time To Die from November to April 2021.
Meanwhile, speaking to reporters in London today, UK prime minster Boris Johnson said: "Supporting local cinemas – I think we've already put £30 million in, but what I would say to people is that local cinemas do now have ways of making their shows go on in a Covid-secure way and I'd encourage people to go out to the cinema, enjoy themselves and support those businesses."