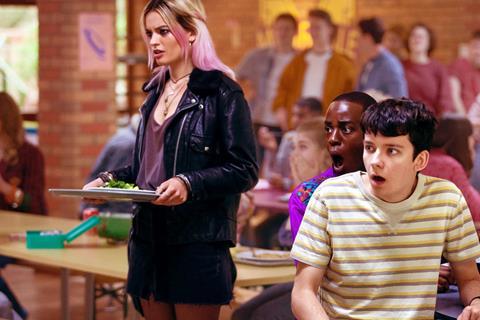 Cindy Holland has revealed Netflix's approach to setting budgets and cancelling shows and underlined its commitment to teen programming.
Appearing as the keynote speaker at INTV in Jerusalem, the SVoD's vice president for original content shed light on the way in which Netflix uses data to help decide how much financial backing to give each commission and whether to hand shows a second series.
"If you order a lot of shows, then there are going to be a few that get cancelled," she said.
"We have projection models that help us to assess the size of the audience that we think will show up and if they don't, we have to consider the point of continuing to invest in something that isn't performing.
"We are trying to stretch our investment dollars as far as we can to maximise the money our members give us each month."
Holland said she "absolutely" checks the overnight performance of her shows, but waits for 28 days until deciding whether a show has reached its targets.
However, she stressed that the "intuition" of its team of execs trumps blunt numbers when it comes to commissioning decisions.
"Humans are making the decisions about what we choose to invest in," she said. "The key questions are: is this a great idea, could it run for a number of years and do we trust the creative team to deliver?
"But we'd be foolish not to use the information about what people like to watch that we have built up over many years."
She said the data helped Netflix identify "white spaces", pointing to its push into teen programming such as 13 Reasons Why, Stranger Things and Sex Education.
"There was a space between children, tweens, and adult," she said. "The US networks weren't investing heavily, so we started thinking about making content with high production value that talks to teenagers."
Avoiding bottleneck
As Netflix continues to expand, Holland is determined to avoid a bottleneck of decision-making at the top of the organisation and maintain the fast time to market it has become known for.
"We have dozens of people with the power to greenlight and licence shows," she said. "We are trying to build a culture of freedom to delegate responsibility as far down in the organisation as we can to create a community that is welcoming to creators. It's a very distributed creative decision-making policy."
She also warned traditional broadcasters that they must evolve into on-demand streaming or risk being left behind.
"We are leading the way in the on-demand television revolution and those companies that stay rooted in historical distribution models will find themselves quite challenged. They will exist for a while but the future is in on-demand."
This story first appeared on Screen's sister site Broadcast