Hollywood superheroes may dominate the top spots at the French box office, but a local-language film about a feminist politician and Holocaust survivor has managed to woo audiences to become one of the leading French films of the year.
Olivier Dahan's Simone: A Woman of the Century (Simone, Le Voyage Du Siècle), released by Warner Bros. France, has sold more than 2.4 million tickets to date and is now the number two French film year on year - behind local comedy Serial (Bad) Weddings 3. It is still going strong after over 14 weeks in theatres, despite its dark theme.
The film is the story of Simone Veil (1927-2017), former president of the European Parliament, who is best known for her crucial role in passing abortion legislation in France and was also active in protecting other marginalised groups.
The story explores Veil's political career, but also her lesser-known work as a young magistrate in the early 1950s and her more personal story of surviving deportation to Auschwitz and Bergen-Belsen, overcoming misogyny and balancing life as a working mother and justice crusader. The film cuts back and forth across time, jumping between a young Veil, played by breakout star Rebecca Marder, and her older self played by Elsa Zylberstein in heavy make-up.
The film was produced by Romain Le Grand, Vivien Aslanian and Marco Pacchioni of Paris-based Marvelous Productions, whose credits include All Inclusive, License To Build and Carmen) with France 2 Cinema, France 3 Cinema and Belgium's Scope Pictures also on board. Dahan penned the script and Other Angle Pictures handles international sales.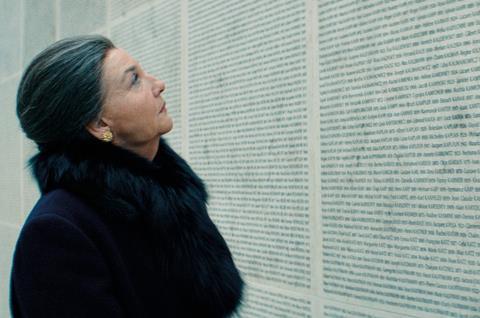 From script to screen
Zylberstein had been looking to work on a film about Veil for years and approached Marvelous with the concept. Marvelous co-founder and producer Le Grand says they immediately thought of Dahan to direct and write.
Dahan had already directed biopics of two prominent women: Edith Piaf with the Oscar-winning La Vie En Rose, starring Marion Cotillard, and Grace Kelly with Grace Of Monaco starring Nicole Kidman.
But when Dahan first began to talk about the film to the industry, the reactions to his intentions to bring the Holocaust to the big screen were predominately negative. "They said: 'We've already seen this so many times on screen. But Schindler's List was nearly 30 years ago and The Pianist almost 20. And not everyone saw Son Of Saul. I wanted to address 15-20 year-olds."
Dahan drew from his own personal family history: the director's grandmother, father and uncles were all French Jews who were chased by police during World War II and narrowly avoided being sent to the same concentration camps where Simone Veil's own mother, father and brother died.
While the film has been marketed as more of an ode to a feminist icon than a Holocaust drama, for Dahan: "It's a film about the Holocaust. It all comes back to that. All of her political battles were because her mother died essentially in her arms in the camps so from then on, she didn't support any form of injustice."
Le Grand says that from costumes to production design to the director himself, a great deal of research was involved to make sure representations of the Holocaust were historically accurate.
Dahan says the film itself is designed to be more entrapment than escapist. "There's no comedy in Simone. I really wanted to suffocate the spectator. I like it when films are physical experiences. My goal isn't entertainment. It's about sharing something spectacular with the audience," he explains.
La Vie (mostly) En Rose
The €16 million film is one of the biggest in terms of budget and production scale for Warner Bros in France to date. Simone also marks Dahan's return to the big screen, nearly a decade after the tumultuous release of Grace Of Monaco starring Nicole Kidman. Dahan had a very public battle with Harvey Weinstein over Grace Of Monaco's final cut. He says for Simone, Marvelous and Warner Bros let him tell the story he wanted.
"We followed his choices and his vision. The idea was striking a balance between Simone Veil's political battles and her personal story and Olivier Dahan managed to do this," says Pierre Branco, general manager of Warner Bros France, Benelux and Africa.
For his part, Dahan says he was able to "make the movie I had in my head since the beginning." However, he adds that the process was far from seamless: "Freedom isn't given. I have to impose it. I had to fight hard to make the Simone people are seeing in theatres."
Dahan describes his directing process as follows: "I improvise when I'm filming. I don't have a storyboard or script on the set. For me, directing is editing. The language of cinema isn't shooting a film – it is assembling it brick by brick. Cinema is editing. Directors who don't edit are only doing half the work."
A long journey to theatres
Principal photography was completed in early 2020 and Dahan used the period of national lockdown in France to edit and finish the film in late 2020. Simone was first slated for release in 2021 but the studio delayed its launch till autumn 2022 until the worst of the Covid waves were over.
"We wanted to give it every fighting chance because we thought it had the capacity to find its audience so we deliberately waited until October, hoping the situation would be better and people would return to theatres," says Branco.
The film launched in October on 600 screens then continued on to 1,700 cinemas. Even 13 weeks after its release, the film is still towards the top of the French box office and going strong on more than 500 screens. Branco says the film is thriving naturally. "We're not doing any more marketing at this point. Word of mouth for the film has been excellent."
Trending on TikTok
Simone has been an unexpected hit with younger audiences, with 17% of ticket sales to the 15-24 year old age range. It's a figure Branco calls very high for a film that's not necessarily made for a youth or family audience.
The studio's approach to marketing to younger audiences was twofold. First, it focused on educators, particularly in the field of history or gender studies. In parallel, they reinforced their digital campaigns, striking a first-ever partnership with TikTok for a French title during the film's Paris premiere. "We have TikTok exclusive content that put the subjects dealt with in the film into contemporary context," Branco explains.
Quotes from the film – mostly real words attributed to Simone Veil – were trending on the platform for weeks after the film's release. Instead of taking selfies, "Young girls on TikTok have been posting quotes from the film," says Dahan.
Le Grand adds: "In France, many people under age 20 have never heard of the Holocaust. So the fact that, because of this film, 16 year-olds are posting Simone Veil quotes on TikTok gives us goosebumps."
Simone's next steps
Warner Bros is now eyeing the film's rollout internationally with the option of a second run on HBO Max.
Other Angle Pictures has sold the film across the board and it has just been released in Belgium, Switzerland and Spain. Samuel Goldwyn Films has North American rights and is planning a slow rollout in the US, starting with film festivals early in the year then wider to theatres in the autumn.
As for Dahan's next move, after spending two years writing, shooting and editing such a serious story about a dark time in history, the filmmaker says he is open to a "lighter" next project. "I always say I want something lighter, but end up doing something complicated both thematically and technically."
Dahan says he hasn't yet decided what his next film will be, but is leaning towards a book adaptation that follows a love story over 30 years produced by longtime collaborators Alain Goldman's Legende Films which also produced La Vie En Rose.
Next up for Warner Bros France in 2023 is a trifecta of films from young female directors including Lea Domenach's anticipated Bernadette, about the famed French first lady, starring Catherine Deneuve, also co-produced by Marvelous who have had a first-look deal with the studio since 2017. Warner Bros will also release Jennifer Devoldere's Sage-Homme and Mélissa Drigeard's Hawaii, an ensemble comedy drama that stars The Artist's Bérénice Béjo.
Simone: A Woman Of The Century may be a success story in French cinemas, but Dahan just wants it to be seen by as many people as possible, whatever that may look like. "The industry is evolving so we have to evolve with it. I made my film to be seen in a movie theatre, but it can also be watched on a phone. What's interesting about the theatre isn't the size of the screen – it's seeing it with other people."