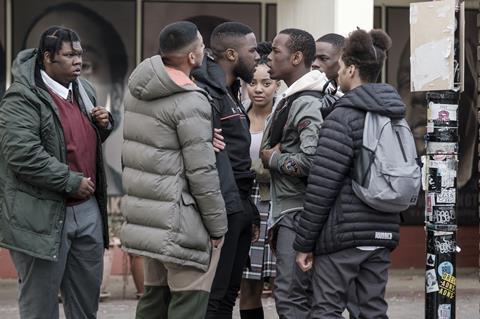 Targeted campaigns and frank conversations between director Rapman and UK exhibitors helped London gang drama Blue Story achieve success at the box office, the film's distributor Paramount Pictures has revealed.
"The movie became – whether you like the phrase or not – the biggest 'urban movie' of all time in the UK," said Richard Aseme, vice president of international theatrical marketing and distribution at Paramount Pictures, at the UK Cinema Association (UKCA) conference in London on Wednesday (March 4).
Blue Story has taken more than $6m at the UK box office ahead of its US release via Paramount on March 20.
Inspired by writer-director Rapman's YouTube series, the story follows two friends who become rivals in a street war. It sparked controversy following its UK release last November it was linked to a violent clash between gangs of youths at Vue's Star Cinema in Birmingham.
"With regards to what we actually did, there were a number of things – cultural ambassadors, affinity groups," said Aseme. "We treated it as a big movie. We did everything we possibly could in every part of the media mix."
Aseme explained that Rapman spoke frankly with UK exhibitors ahead of the release of the film and recalled: "Rapman said: 'You are all too old to understand what this is but your kids will know. They will know who is in this movie.' He referenced [TV series] Top Boy."
"The whole project started and ends with him but there were lots of people who enabled it – producers, distribution people and the studio," added Aseme. "We realised there was something there, even if we didn't fundamentally understand it. We could see from the numbers, the engagement.
"I remember going to a greenlight meeting for the UK. It was phenomenal what Rapman had already achieved. The idea was to give someone like that – a true artist – more resources. It was worth the risk, which in this case paid off in droves."
Paramount combined traditional and grassroots marketing on Blue Story. The film had a London premiere and was advertised on the side of buses, the London Underground and on TV while also being given "a huge digital push".
"We were able to segment our audience and to send different messages, particularly online, to different groups," said Aseme.
"We made a definitive push to get this movie played broad. It has done very, very well in the Netherlands. It has played in South Africa and Nigeria and we have the US launch of the movie in three weeks."
Knife crime initiative
Aseme was talking on a UKCA panel called 'Engaging Black and Minority Ethnic Audiences'. On the same panel, Tyrone Walker-Hebborn, owner of the Genesis Cinema in east London, gave details of how his cinema teamed with cinema advertising agency Digital Cinema Media (DCM) on an initiative to use Blue Story to address knife crime in the capital.
"DCM came to us with an idea of trying to use the film – as there's obviously a lot of youth crime in London – to bring young people in and to see if they could work with Rapman and the film to try to educate them to not get into knife crime," said Walker-Hebborn.
With this in mind, the Mayor of London's City Hall and DCM created the 'LDN Filmmakers Project' to enable young Londoners to make short films focusing on what growing up in the city means today. Six of these shorts were shown alongside Blue Story at a launch event at the Genesis Cinema.
"They were really positive films," enthused Walker-Hebborn. "It was a fantastic event with friends and family. There was a really, really positive message.
"We were obviously then mortified when there was that terrible incident [at the Star Cinema] … but overall, I think the black community got behind it and realised they weren't just going to take the bad press. I think [the incident] actually helped the film over-achieve."
Sharon Reid, director of marketing and partnerships at Cinema First, moderated the panel. She observed Blue Story "even did well on [cinema promotion initiative] Meerkat Movies redemptions and normally their heartland is family," in refernece to how strong word of mouth helped turn Blue Story into a mainstream success.