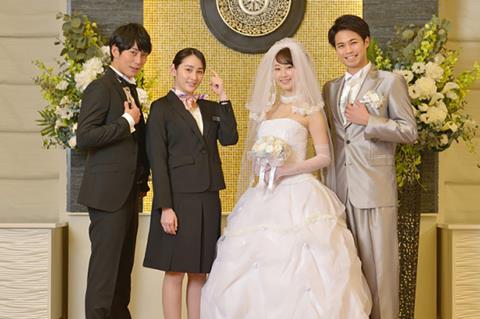 How To Bring Women Back Into A Good Humor, a Japanese comedy about a couple who can't stop arguing over their wedding plans, won the audience award at the 11th Okinawa International Movie Festival (OIMF), which wrapped on Sunday night (April 21).
Veteran actor Eiji Okuda presented the award to director Shusuke Arita, who said when accepting the prize: "If there're men who aren't getting along with their wives and are thinking about getting a divorce, seeing this movie can make them change their minds".
Films which received their world premieres at OIMF included Yuichi Hibi's Erica 38, which is based on the true story of a Japanese hostess who turns con woman and flees to Thailand starring Shoplifters' Kiki Kirin in her last film before she passed away last September; and Small Island, Big Song, a documentary by director Tim Cole and producer Chen Baobao who travelled across the Pacific and Indian Oceans to record indigenous music which shares an ancient seafaring ancestry.
Other filmmakers' attending with their projects included Zhang Luoping's debut feature Sun Flower, about a father and son in rural China; 2018 Thai comedy hit Bikeman directed by Prueksa Amaruji and starring Pachara Chirathivat; and Japanese filmmaker Ujicha's Violence Voyager, which is described as the world's first geki-mation (paper cutouts) animated feature film.
Among the eight films (from 15 minutes to just over on hour) in the Creators Factory U-25 Competition for filmmakers aged 25 or below, Trash, a sci-fi set in the 26th century won both the audience award and the first special jury prize. The first special jury prize went to Filament, while the grand prize went to Nana-chan.
The closing ceremony at Naminoue Umisora Park was attended by Okinawa governor Denny Tamaki and Naha mayor Mikiko Shiroma and Hiroshi Osaki, CEO of the festival's organisers Yoshimoto Kogyo.
OIMF, which ran April 18-21, was hosted by Japan's media and entertainment giant Yoshimoto Kogyo and consisted of not only film screenings, but also live performances, concerts, fashion, sports, and photography events.