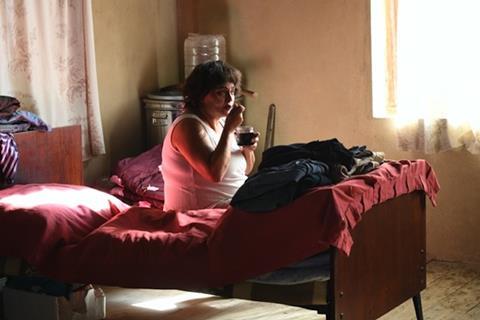 International Film Festival Rotterdam (IFFR) development resource the Hubert Bals Fund has chosen 10 projects for its autumn selection – the final one under the stewardship of outgoing IFFR Pro head Marit van den Elshout.
The projects, selected from 520 submissions, will each receive a €10,000 grant to be spent on project development.
Scroll down for the selected titles
Titles include Blackbird Blackbird Blackberry from Georgian filmmaker Elene Naveriani, based on a novel by Georgian author and feminist activist Tamta Melashili. The film tells the story of a single woman in her late 40s who is stuck in a backward Georgian town, and discovers love for the first time.
It was part of the Crossroads Co-Production Forum at Thessaloniki International Film Festival earlier this month; Naveriani's debut feature I Am Truly A Drop Of Sun On Earth had its international premiere as part of the Bright Future Competition at IFFR 2017.
Also selected is Fidelidad, the new project from Belgian-Guatemalan director Cesar Diaz, who won the Camera d'Or at Cannes 2019 for Nuestras Madres.
Fidelidad became the first central American project selected for the Cannes Cinefondation's L'Atelier development lab earlier this year; it will depict a love triangle between two best friends and a girlfriend, told in reverse chronological order.
The selection includes seven female and four male directors, with five of the directors making their first feature films.
Five of the 10 projects with plans for Dutch collaboration will receive extra support from the Netherlands Film Fund; while a recent IFFR partnership with Brazilian filmmaking support organisation Projeto Paradiso will provide an additional €10,000 support for Karen Suzane and Clara Ferrer's Four Girls, the one selected Brazilian project.
It will be the final edition of the Hubert Bals Fund overseen by IFFR Pro head Marit van den Elshout, who will step down after the 2022 festival following a 20-year stint at IFFR. Esther Bannenberg is the fund's interim manager.
The Netherlands Film Fund and Hubert Bals Fund co-production scheme has also selected three projects previously supported in development by the Hubert Bals Fund, for awards of €75,000; the projects are listed below.
Hubert Bals Fund autumn 2021 awards
Script and Project Development selection
Blackbird Blackbird Blackberry (Swi-Geo) dir. Elene Naveriani
The Burning Giants (Thai) dir. Phuttiphong Aroonpheng
Cero cincuenta (Arg) dir. Mariana Rojas
Elephants In The Fog (Nep) dir. Abinash Bikram Shah
Estoy bien (Chile) dir. Alicia Scherson
Fidelidad (Gua) dir. Cesar Diaz
Four Girls (Braz) dir. Karen Suzane, Clara Ferrer
Monisme (Indo) dir. Riar Rizaldi
Nunca sere policia (Chile) dir. Carolina Moscoso
Penc 13 (Sen-S Afr) dir. Selly Raby Kane
NFF+HBF Co-production scheme
Tiger Stripes (Mal-Indo-Sing-Ger-Fr-Neth) dir. Amanda Nell Eu
Xenos (Den-Gr-Neth) dir. Mahdi Fleifel
Ze (Fr-Mong-Neth-Ger) dir. Lkhagvadulam Purev-Ochir