The Starz Original series becomes available to stream from Wednesday.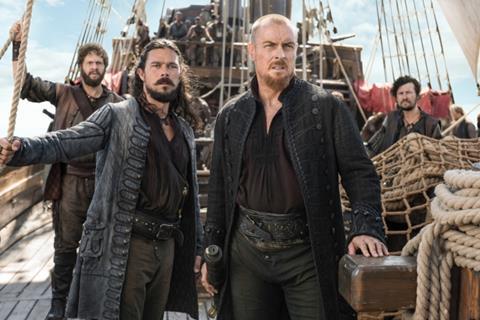 In a deal with Lionsgate, Hulu has acquired the subscription streaming rights to the Starz Original series.
All episodes from previous seasons of Black Sails will be available to stream on Hulu starting on Wednesday. Hulu has also secured rights to the fourth and final season when it becomes available.
Toby Stephens, Hannah New, Luke Arnold, Jessica Parker Kennedy, Tom Hopper, Ray Stevenson and Luke Roberts star in the series, which takes place 20 years prior to Robert Louis Stevenson's classic, Treasure Island, and follows the most feared pirate of the day, Captain Flint.
Black Sails has garnered a strong fan following, averaging 3.6m multiplatform viewers per episode.
The series has also been nominated for multiple Emmys and won in 2014 and 2016 for outstanding sound editing and in 2014 for outstanding special and visual effects in a supporting role.
It was also nominated for the 2016 GLAAD Awards for outstanding drama series.
Jonathan E. Steinberg and Robert Levine created the show and serve as executive producers. Michael Bay and his Platinum Dunes partners Brad Fuller and Andrew Form also serve as executive producers, along with Chris Symes, Brad Caleb Kane and Dan Shotz.