Lionsgate's fantasy-adventure becomes first film since Les Misérables to record four weeks at number one; Universal's By the Sea flops with $38,000 (£24,770) from its 102 sites.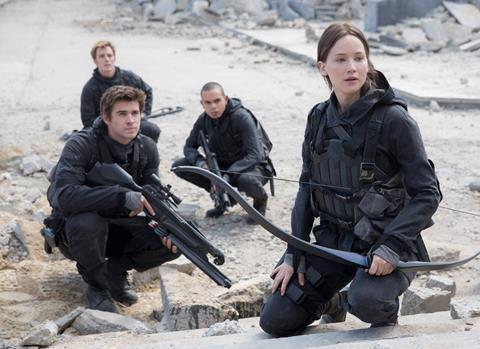 LIONSGATE
The Hunger Games: Mockingjay - Part 2 led an identical week-on-week top five at the UK box office as it retained top spot for the fourth straight week.
Lionsgate's final chapter in the young adult franchise gathered an extra $1.95m (£1.29m) as it became the first film since Les Misérables in Jan-Feb 2013 to hold the number one spot for four weeks in a row.
Mockingjay - Part 2 is now up to a sturdy $38.6m (£25.5m) but will need to hold firm in the face of Star Wars: The Force Awakens to have any chance of hitting £30m.
Also for Lionsgate, Brooklyn is up to $7.3m (£4.82m) after six weeks in play.
DISNEY
The Good Dinosaur recorded a solid hold, dropping just 25% with a $1.93m (£1.27m) third weekend.
Disney's latest Pixar offering is now up to $10.2m (£6.75m) but will soon be competing for families at Christmas with The Peanuts Movie.
Though it narrowly missed out on the top spot, it did pull in more admissions than Mockingjay over Sat-Sun due to its younger audience and lower ticket price.
SONY
Falling a slim 35% in its seventh weekend, Sony's Spectre took a further $1.2m (£805,000) for a storming $139.5m (£92m) to date.
The latest James Bond mission will be hit by this week's arrival of Star Wars: The Force Awakens, but still stands a great chance of overtaking Avatar's $142.6m (£94m) as the UK's second highest grossing film ever.
Also for Sony, The Lady in the Van dropped just 33% on its way to a $481,000 (£317,000) fifth weekend for an excellent $17.1m (£11.3m) to date. It could still overtake Philomena's $17.3m (£11.44m) result.
The Night Before grossed $238,000 (£157,000) for a ten-day tally of $946,000 (£624,000), while Grandma posted a disappointing UK bow of $55,000 (£36,000) from its 79 sites.
FOX
With another slim drop of 27%, Bridge of Spies remained in fourth with a non-final third weekend of $1.2m (£782,029).
Fox's potential awards contender is up to $8.2m (£5.43m) and in terms of Steven Spielberg outings in the UK, it has overtaken Munich's $6.5m (£4.27m) with The Terminal and Lincoln next in its sights.
Also for Fox, Snoopy and Charlie Brown: A Peanuts Movie took $633,000 (£417,788) in its second weekend of previews and has now banked $1.1m (£719,628) towards its opening.
Victor Frankenstein and the re-release of Home Alone have grossed $1.2m (£811,605) and $213,000 (£140,837), respectively.
EONE
Christmas with the Coopers held well in its second weekend with a minimal drop of 15% (excluding previews) for $709,000 (£467,324).
eOne's festive offering is now up to $2.2m (£1.44m) and should enjoy another week of solid returns before fading post-Christmas.
WARNER BROS
In its third weekend, Warner Bros' Black Mass added $443,000 (£292,000) for $4.5m (£3m) to date.
UNIVERSAL
Holding reasonably well (-35%) given its soft opening, Universal's festive horror Krampus scared up $413,000 (£272,425) for a ten-day tally of $1.5m (£957,060).
Also for Universal, By the Sea opened with a weak $38,000 (£24,770) from its 102 sites resulting in a $369 (£243) site average. Given its minimal marketing and soft reviews, it's perhaps unsurprising that the film has mimicked its low domestic performance.
Sisters started its UK run on Saturday [Dec 12], but the figures for Sat-Thurs will be added onto its opening this coming week and reported then.
STUDIOCANAL
Dropping just over 30% in its third weekend, Studiocanal's Carol added $362,000 (£239,102) for $2.7m (£1.77m) to date.
SODA PICTURES
Including $9,800 (£6,475) in previews (including its LFF IMAX screening), Soda Pictures' The Forbidden Room posted a UK bow of $14,000 (£8,979) from its eight sites.
CURZON ARTIFICIAL EYE
Released in 11 sites through Curzon Artificial Eye, Ice and the Sky recorded a non-final UK debut of $4,400 (£2,920).
UPCOMING RELEASES
This week sees the highly anticipated release for Disney's Star Wars: The Force Awakens (opens Dec 17), with most other films understandably avoiding opening this weekend.
Studiocanal's Belle & Sebastian - The Adventure Continues, Bulldog Film Distributors' Sparks & Embers and Arrow Media's Sherpa are among those receiving a limited release.