Pacific Rim star and daughter of Don Johnson and Melanie Griffith land lead roles in the adaptation of E.L. James' erotic novel.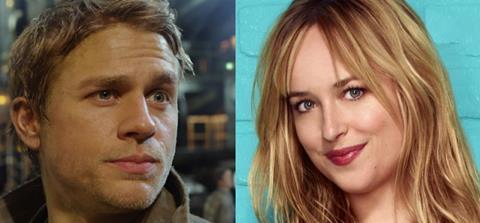 Pacific Rim star Charlie Hunnam and Dakota Johnson are to star as Christian Grey and Anastasia Steele in Fifty Shades of Grey.
Writing on Twitter, British author E.L. James said: "I am delighted to let you know that the lovely Dakota Johnson has agreed to be our Anastasia in the film adaptation of Fifty Shades of Grey."
The 23-year-old actress is best known for roles in The Social Network and 21 Jump Street. She also played one of the title roles in Fox sitcom Ben and Kate, which was cancelled earlier this year after one season.
She is currently filming a modern-day re-telling of Shakespeare's Cymbeline and also stars in an adaptation of video game Need for Speed, opposite Breaking Bad star Aaron Paul, which is set for release in March 2014.
Less than an hour after James' tweet, it was announced that Hunnam would play opposite Johnson.
The 33-year-old English actor first came to prominence in UK TV series Queer As Folk. Following roles in features such as Nicholas Nickleby, Cold Mountain and Children of Men, he starred in US series Sons of Anarchy before taking a leading role in Guillermo del Toro blockbuster Pacific Rim.
Fifty Shades of Grey will be directed by Sam Taylor-Johnson (Nowhere Boy) and will be released by Universal and Focus Features on Aug 1, 2014.
Producers are Michael De Luca, Dana Brunetti and E.L. James. The script was written by Kelly Marcel.
The 2011 novel traces the relationship between a college graduate, Anastasia Steele, and a young business magnate, Christian Grey. It is notable for its explicitly erotic scenes including bondage and sado-masochism.
The trilogy was completed with Fifty Shades Darker and Fifty Shades Freed, both published in 2012. The series has sold more than 70 million copies worldwide, with book rights sold in nearly 40 countries.