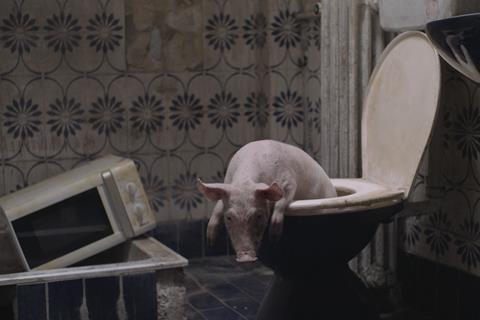 New work from Arlington Road director Mark Pellington and films from Iran, Poland, Italy and Canada are among the line-up of 28 features at Slamdance 2022 set to take place in person in Park City, Utah, alongside virtual screenings from January 20-30, 2022.
The 27th edition will also showcase 79 shorts, and seven episodes. The feature selection showcases 13 world, six North American and four US premieres selected from more than 1,579 feature submissions from around the world including Iran, Italy, Poland, Canada and China.
All competition films are feature-length directorial debuts without US distribution, budgeted under $1m. Calling Slamdance the "anti-algorithm", co-founder Peter Baxter said: "This year our programmers gravitated towards films that embody the true DIY spirit of guerrilla filmmaking and push the boundaries of what's possible in storytelling."
Narrative Features, Documentary Features and Episodes sections are eligible for the Audience Award while all films and projects are eligible for the George Sparks Spirit of Slamdance Award voted on by filmmakers at the festival, and the AGBO Fellowship which provides a $25,000 cash prize, mentorship from the Russos and their team, and office space. The 2021 fellowship was awarded to Agnieszka Polska's debut feature Hurrah, We Are Still Alive!
In addition to the competition films, Slamdance announced selections for its fourth annual Breakouts section, featuring films by seasoned directors – nearly half of whom are alumni of the festival – who "demonstrate a determined vision of filmmaking that is distinctly their own". The festival also brings an expanded second Unstoppable programme from creators with visible and non-visible disabilities.
New this year is immersive storytelling experience Blockchain Fairy Tales presented by Columbia University's Digital Storytelling Lab.
The 2022 Slamdance feature programme appears below. All synopses provided by the festival. Films are from the US and are world premieres unless indicated otherwise.
Narrative Features
Actual People
Dir: Kit Zauhar
During her final week of college, Riley goes to great lengths to win the affections of a boy from her hometown of Philly, and ends up confronting her escalating anxieties about her love life, family, and future.
Cast: Kit Zauhar, Scott Albrecht, Audrey Kang, Vivian Zauhar, Henry Fulton Winship, Isabelle Barbier, Fraser Jones
North American premiere
Goodafternoon Sweetdream (SK)
Dir: Bang Seung Hyeon
Following her father's death, Ye Won hangs out with her friends, but her mind is elsewhere.
Cast: Son Ye Won, Kim Woo Kyeom, Sung San Hee, Yang Min Ju, Bang Seung Hyeon
Hannah Ha Ha
Dirs: Jordan Tetewsky, Joshua Pikovsky
A woman living with her father is pulled in different directions by her older brother who returns closer to home and imposes his lifestyle choices on the family.
Cast: Hannah Lee Thompson, Roger Mancusi, Avram Tetewsky, Charlie Robinson, Jake Stern, Petr Favazza, Peter Cole, and Chuck Fazzio
Honeycomb (Can)
Dir: Avalon Fast
Five girls stray from society on the hunt for something more special…. you can find them if you follow the sound.
Cast: Rowan Wales, Sophie Bawks-Smith, Jillian Frank, Destini Stewart, Mari Geraghty, Jaris Wales, Henri Gillespi, Max Graham
Love Tasting (Pol)
Dir: Dawid Nickel
A group of lost (and nowhere near found) high school friends are waiting by the pool for junior prom. After just one week of this utterly horrible phase of human life — the teenage years — nothing will be the same again.
Cast: Sandra Drzymalska, Mikołaj Matczak, Michał Sitnicki, Nel Kaczmarek, Kuba Wróblewski, Agnieszka Żulewska
US premiere
Snow White Dies At The End (pictured, Nth Mac-Cyp)
Dir: Kristijan Risteski
In a society where almost everybody farts backwards, six stubborn, proper-farting citizens pay a harsh price for being resolute to staying true to their own values.
Cast: Natasha Petrovic, Verica Nedeska, Sashko Kocev, Deniz Abdula, Ivica Dimitrijevic, David Janakiev, Valentin Kostadinovski
The Civil Dead
Dir: Clay Tatum
A misanthropic struggling photographer just wants to watch TV and eat candy while his wife is out of town, but when a desperate old pal resurfaces, his plans are thwarted, with spooky consequences.
Cast: Clay Tatum, Whitmer Thomas, Whitney Weir, Budd Diaz, Robert Longstreet
Therapy Dogs (Can)
Dir: Ethan Eng
Two best friends set out to create the ultimate senior video for their graduating class of 2019.
Cast: Justin Morrice, Ethan Eng, Kevin Tseng, Kyle Peacock, Mitchell Cidade, Sebastian Neme, Andrew Michalko, Jayden Frost
Ultrainocencia (Spa)
Dir: Manuel Arija
Does God exist? Two blessed and rather bold test subjects, Orión and Adán, intend to prove it in a scientific experiment run by a mysterious religious organisation.
Cast: Sergi Lopez, David Climent, Pablo Molinero
North American premiere
Yelling Fire In An Empty Theater
Dir: Justin Zuckerman
A young woman moves to New York and becomes entangled in her roommates' tumultuous relationship.
Cast: Isadora Leiva, Kelly Cooper, Michael Patrick Nicholson, Ryan Martin Brown, Colin Burgess, Krista Jensen
Documentary Features
Doggy Love (Iran)
Dir: Mahmoud Ghaffari
Aslan is in love with Yassi. Together, they run an underground dog shelter in Iran.
Cast: Aslan Taheri, Yassaman GhaedPanah
US premiere
Ferroequinology (UK-USA)
Dir: Alex Nevill
Two artists enthralled by the uncanny lure of locomotion set out on journeys across America, capturing slow travel in today's increasingly fast-paced society.
Cast: McNair Evans, Andrew Cross
North American premiere
Forget Me Not
Dir: Olivier Bernier
The inclusive revolution starts in the classroom. A family fights to have their son with Down syndrome included in the country's most segregated school system.
Cast: Olivier Bernier, Hilda Bernier, Emilio Bernier, Thomas Hehir, Sue Swenson, Sara Jo Soldovieri
Fury (Pol)
Dir: Krzysztof Kasior
Aleksandra Rola is a Polish MMA champion with a complicated backstory preparing for the World Championships in Las Vegas.
Cast: Aleksandra Rola, Konrad Płaza
North American premiere
Imperfect
Dirs: Brian Malone, Regan Linton
A professional company of actors with disabilities defies expectations by taking center stage in Chicago the musical.
Cast: Regan Linton, Megan McQuire, Leonard Barrett Jr., Laurice Quinn, Lucy Roucis, Adam Johnson
New Jack
Dir: Danny Lee, Noah Lee; Producer: Grant Hyun
Dealing with the repercussions of an extreme & dangerous career, faded professional wrestler New Jack navigates his way through life after the spotlight.
Cast: Jerome Young
Sylvie Of The Sunshine State
Dir: Sasha Levinson
Second grader Sylvie navigates the absurdities and emotional turbulence of her eccentric, multigenerational Jewish matriarchy, a dad who lives far away and life gone virtual, seen through the lens of her filmmaker single mom.
Cast: Sylviana Bellanca, Sasha Levinson, Aimeee Sherman, Jon Sherman, Phyllis Fratkin
Underdog
Dir: Tommy Hyde
The curiously optimistic tale of Doug Butler — a hardscrabble Vermont dairy farmer who risks losing the only home he's ever known to chase his dreams of dog mushing in Alaska.
Cast: Doug Butler
Breakouts
Be Right Back (Ger)
Dir: Frauke Havemann
With the appearance of a mysterious stranger, the absurd everyday life of four people living in an abandoned vacation resort in the woods comes apart at the seams.
Cast: Iris Boss, Inga Dietrich, Effi Rabsilber, Jack Rath, Poul Storm
Facing Monsters (Australia)
Dir: Bentley Dean
Facing Monsters is a feature length documentary that digs deep into the psyche of West Australian 'slab wave' surfer Kerby Brown, a man whose connection with the ocean runs as deep as his love for his family
Cast: Kerby Brown, Cortney Brown
US premiere
Killing The Eunuch KHAN (Iran)
Dir: Abed Abest
A serial killer uses his victims to kill more victims.
Cast: Ebarhim Azizi, Vahid Rad, Misagh Zare, Iman Basim
North American premiere
Paris is in Harlem
Dir: Christina Kallas
On the eve of New York City's controversial "No Dancing" Law getting repealed, the lives of several strangers are forever changed by a shooting at a historic jazz bar in Harlem.
Cast: Vandit Bhatt, Leon Addison Brown, Ellie Foumbi, Laura Pruden, Lauren Sowa, Souleymane Sy Savane, Steve Vause, Chris Veteri
Retrograde (Can)
Dir: Adrian Murray
A minor traffic citation spirals into an all-consuming obsession for a neurotic young woman.
Cast: Molly Reisman, Sofia Banzhaf, Bessie Cheng, Meelad Moaphi, Dean Tardioli, Erik Anderson
We Are Living Things (USA-Chin-Ita)
Dir: Antonio Tibaldi
Two immigrants living on the fringes of American society hit the road in search of the truth about a shared UFO abduction.
Cast: Jorge Antonio Guerrero, Xingchen Lyu, Zao Wang, O-Lan Jones, Paul Cooper, Manuel René Del Carmen Ordaz, Alfonso Rey, Allison Tibaldi
North American premiere
Unstoppable Features
Iron Family
Dir: Patrick Longstreth
A creative young woman with a vision rouses her family to perform an original play for their community.
Cast: Jazmine Faries, Chad Faries, Kate German, Greg Banks, Holly Harvey, Faith Peterson, Amy Brzoznowski, Carroll Ann Swanson
Poppy (NZ)
Dir: Linda Niccol
A young woman with Down syndrome is forced to employ secret strategies to achieve her ambition of becoming an apprentice motor mechanic.
Cast: Libby Hunsdale, Ari Boyland, Seb Hunter, Kali Kopae
Straighten Up And Fly Right
Dirs: Kristen Abate, Steven Tanenbaum
In a funk, Kristen, a physically disabled New York woman, walks dogs for a living but dreams of being a writer and as her life unravels, she must make a choice to fall apart or straighten up.
Cast: Kristen Abate, Steven Tanenbaum, AJ Cedeno, Mehret Marsh, Modesto Flako Jimenez, Marianna McClellan, Kerrryn Feehan, Lawrence Jansen
Spotlight
The Severing
Dir: Mark Pellington
"Pina" meets "Saw"… A dance film for the body.
Cast: Nina McNeely, Courtney Scarr.