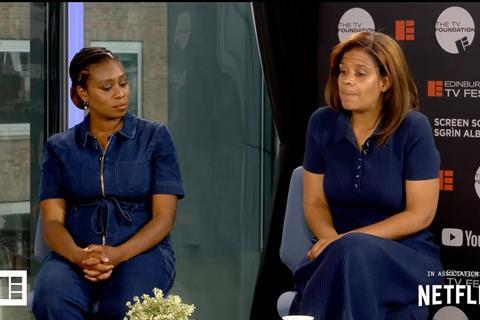 Fiona Lamptey, the London-based director of UK features at Netflix, said the US streamer was looking to "redefine what a British film looks and feels like" at the opening Spotlight Session at the Edinburgh Television Festival in Scotland today.
"Scope and ambition is my topline strategy for the UK," said Lamptey. "It's not necessarily about budget, it's about the distinctiveness of the British voice and creating opportunity,
"Genre, for example, isn't something we're as traditionally known for in the UK, but we want to create opportunites for those who want to do genre in the UK. They can definitely come to Netflix…I want to do something different, that hasn't been done before…to redefine what a British film feels and looks like."
"We have a world-beating slate coming out the UK," she continued later in the session. "I'm proud of how quickly we make decisions and move. In the seven months I've been here, I've greenlit four films. Our nimbleness is exciting."
Two of the films greenlit so far by Lamptey are Babak Anvari's I Came By, due to shoot this autumn, and Sebastian Lelio's The Wonder, starring Florence Pugh, which is now shooting.
Of whether Netflix will give the UK film slate a theatrical release she said: "It's something that we always take about. We are open with our filmmakers. Our films get funded by our subscribers and my job is to make films that go on to the service. But some films call for a theatrical and festival release and for the right films we will absolutely do that."
Lamptey joined Netflix in October 2020 as the first UK-based executive greenlighting UK features. She previously worked in TV commissioning for Channel 4,before joining Film4 as a production executive in 2009, where she earned production manager credits on titles including Kill List, Attack The Block and The Selfish Giant.
In 2011 Lamptey launched her own firm, Fruit Tree Media, through which she produced Film4's Fright Bites mini-series in 2016. Screen named her a UK & Ireland Star of Tomorrow in 2019.
Talent relationships
Lamptey was talking in a joint conversation with Anne Mensah, Netflix's vice president of original series. Both Lamptey and Mensah emphasised they were not doing a "snatch and grab" on talent. "I haven't aggressively pursued talent deals even though we have existing deals in place," said Lamptey, who pointed out she has always worked closely with new talent.
On the TV side, Mensah urged scripted indies to "always be honest" with Netflix about their ability to deliver the productions they propose. She said that producers must have the requisite scale to achieve the high-quality benchmarks demanded by the SVoD.
"Even our least expensive drama is a multimillion-pound endeavour," Mensah said. "Companies need to have the infrastructure to guarantee that is going to be delivered at the best quality."
Mensah advised indies to "find another company and team up" if they haven't "made a show at the size and scale of the show they're pitching".
"You can have the greatest idea, but unless you've got an amazing head of production or financial controller, you may not be able to realise that ambition," she added.
"When we work with littler indies we tend to do 'in collaborations' with companies that can support making sure the idea gets from script to screen in a first-class manner."
Mensah also reiterated her interest in projects which reflect the voice of their creator with unique takes on "universal themes" and said it is a fallacy that shows can have "international appeal".
"I don't know even know what international appeal is," she said. "When people send you something that they say is going to play globally, I'm [sceptical]. They don't know what is going to appeal. Specificity is everything. I lean into universal tropes of love and grief - but the specificity is what makes it good."
Channel 4 praise
Mensah added her support for the "unbelievably important" role Channel 4 plays in the broadcasting ecology but declined to share her view on whether it should be privatised.
However, Lamptey said C4 was instrumental in her securing her role at the SVoD. "It was my first job. The importance of C4 in the role it's played to why I'm here at Netflix is [clear]," she said. "I wholeheartedly support C4 as an organisation."
A version of this story first appeared on Screen's sister site Broadcast.