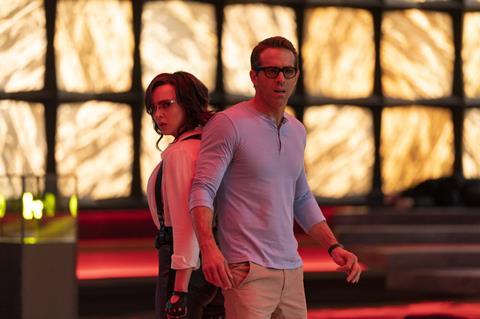 Worldwide Box Office August 20-22 2021
| Rank | Film (Distributor) | 3-day (World | Cume (World) | 3-day (Int'l) | Cume (Int'l) | Territories |
| --- | --- | --- | --- | --- | --- | --- |
| 1 | Free Guy (Disney) | $35.8m | $111.9m | $17.1m | $53.1m | 47 |
| 2 | Paw Patrol: The Movie (Par) | $25.8m | $34.5m | $12.8m | $21.5m | 34 |
| 3 | Raging Fires (various) | $13.2m | $146.6m | $13.2m | $146.5m | 4 |
| 4 | The Suicide Squad (WB) | $12.1m | $140.7m | $8.7m | $91.5m | 74 |
| 5 | Jungle Cruise (Disney) | $10.3m | $173.7m | $4.1m | $81.2m | 50 |
Credit: Comscore, all figures estimates
Disney's 'Free Guy' tops international and North America charts
While studio blockbusters including Black Widow and The Suicide Squad exhibited relatively rapid erosion at the box office this summer, Disney's Free Guy is bucking the trend in both North America and international markets. The sci-fi action comedy declined 34% in its second weekend in North America – the best hold for a $10m-plus opener over the past year. For international, box office fell just 26% in holdover markets.
For the August 20-22 weekend, Free Guy grossed an estimated $18.8m in North America, taking the domestic total to $58.8m. For international, it was an estimated $17.1m from 46 territories, and a $53.1m total to date. Combined, that gives a $111.9m global total.
Free Guy opened in five new markets – Brazil, Spain, Portugal, Uruguay and South Africa – topping the box office in the first three on that list, and opening best in Brazil (an estimated $600,000).
Among the 41 holdover territories, strongest holds were experienced in Netherlands (+14%), Belgium and Singapore (both +5%), Poland (-1%), France (-2%), Australia (-3%), Switzerland (-8%), UK and Ireland, Germany and Italy (all -10%), Taiwan, Austria and Czech Republic (all -11%), plus Norway and Sweden (both -19%).
In cumulative totals, UK/Ireland leads the way for Free Guy, with an estimated $9.8m, ahead of Russia/CIS ($6.1m), France and Japan (both $2.7m), and then Saudi Arabia and Germany (both $2.3m).
Directed by Shawn Levy, Free Guy is the notable US studio hit film this summer based on original IP. Ryan Reynolds stars as an NPC – non-player character – in an open-world videogame, who becomes the hero of his own story when he learns the truth about the world he inhabits from an active player (Jodie Comer).
Disney notes a range of restrictions including the need for vaccination passports in France and Italy (and, from today, in Germany); full or semi states of emergency affecting 90% of the Japanese market; several state-wide lockdowns in Australia, and New Zealand locked down; level-4 restrictions in South Korea; and closures in much of south-east Asia.
This coming weekend sees Free Guy open in China – welcome news for Disney after an extended period with no US studio films being awarded release dates there. Luca has also just opened there, grossing $5.1m at the weekend (see China box office report).
'Reminiscence' stumbles in opening session
Warner Bros faced a tough challenge communicating why Reminiscence – a genre hybrid starring Hugh Jackman and Rebecca Ferguson – is a must-see on the big screen. The neo-noir sci-fi thriller from Lisa Joy (co-creator of HBO's Westworld) debuted in ninth place in the global weekend chart with an estimated $5.0m, comprising an estimated $3.0m from 48 markets for international and $2.0m in North America.
Although the top result by revenue was UK and Ireland with an estimated $376,000, Warner Bros takes more encouragement from outcomes in the Middle East where Reminiscence landed third in Saudi Arabia with $330,000 and second in UAE with $221,000.
Also encouraging is that the 48 international markets so far only represent roughly 30% of the business. Another 18 territories open Reminiscence this coming weekend including France, Germany, Netherlands, Italy, Russia, Spain and South Korea.
Set in a 2030s Miami flooded by rising seas, Jackman stars as an army veteran who operates a service allowing clients to relive their memories, and who encounters a mysterious beauty (Ferguson) who may have committed violent crimes. The producer roster includes Joy's partner and Westworld co-creator Jonathan Nolan.
Local hit dominates Italian box office
Although Warner Bros suffered a disappointment with Reminiscence, the studio scored a notable hit in Italy, dominating the market with Me Contre Te – Il Mistero Della Scuola Incantata (literal translation: Me against you – the mystery of the enchanted school). The film stars Italian YouTubers Sofia Scalia and Luigi Calagna, partners who perform challenges on their locally popular channel Me Contro Te. It's a sequel to 2020 film Me Contro Te – Il Film: La Vendetta del Signor S, which grossed $10.8m at Italian cinemas.
Me Contre Te – Il Mistero Della Scuola Incantata has opened with an estimated $2.7m in Italy – the biggest opening of the Covid pandemic era. The earlier film began its run in January 2020 with $1.9m.
'Paw Patrol' boosted by global expansion
Following a $5.8m opening (including previews) in six international markets the previous weekend, Paramount's Paw Patrol: The Movie expanded significantly in its second weekend of play, adding North America and 33 new international territories.
The family film grossed an estimated $13.0m in North America and $12.8m for international. Total to date is $34.5m.
In holdover markets, Paw Patrol fell a slim 18%. Top holdover territories were France ($1.6m) and UK/Ireland ($1.4m).
Among new opening markets for Paw Patrol, Germany led the way with a chart-topping estimated $2.6m including previews, ahead of Netherlands ($1.1m including previews), Mexico, Japan and Ukraine.
Paw Patrol is based on the Canadian animated TV series, produced by Spin Master Entertainment, and carried in the US by Nickelodeon. The film opens this coming weekend in Russia and Spain. Brazil and Australia follow in September.
Paw Patrol ranks second in the weekend global box office chart, ahead of Chinese film Raging Fire, The Suicide Squad and Jungle Cruise (see chart above).
'The Boss Baby' sequel bounces back
Universal's The Bossy Baby: Family Business, aka Boss Baby 2, returns to the top 10 global box office thanks to fresh openings in Russia/CIS and France. In Russia, the film began with a hefty $5.3m estimate including previews – the biggest pandemic-era opening in the territory for an animated film (including previews).
In France, Boss Baby 2 began with an estimated $2.0m, opening in second place behind local hit Bac Nord – Cedric Jimenez's Marseille-set crime thriller which played Out of Competition in Cannes this year.
The two new territories helped Boss Baby 2 to achieve an estimated $8.4m weekend in international markets, taking the international total to $35.6m. Global tally including North America is $92.1m. Several key markets have yet to open, including Australia (which is next, on September 16), Italy, Germany, UK/Ireland and Japan.
The original The Boss Baby grossed $175m in North America, $353m in international territories and $528m worldwide.